A Day of Summer Luxury in Vail, Beaver Creek, Avon & Eagle
Luxurious resorts, world-famous golf, culinary wonders and a drop-dead gorgeous Colorado landscape combine to make the towns of Vail, Beaver Creek, Avon and Eagle the ideal place for a day of serene pleasure.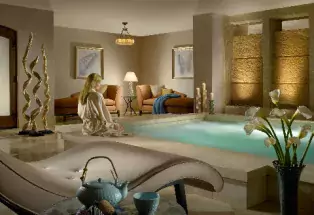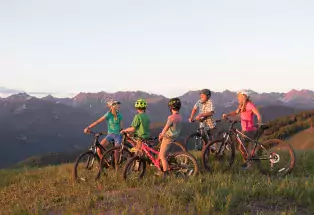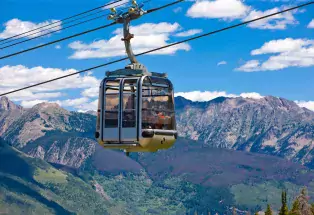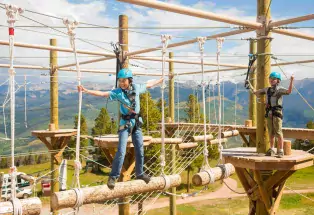 Days 1 & 2
In addition to being one of two world-famous ski mountains in the valley (Beaver Creek is the other), Vail Mountain boasts oodles of summer activities under the theme of Epic Discovery. Mini-golfing, ziplining, summer tubing and rock climbing are just some of the adventures you can expect. Take the gondola up and walk down amid colorful wildflowers, or for a more heart-pumping adventure, hike up the mountain and catch the gondola back down.
There's also off-road SUV tours and guided hikes for all abilities. As you navigate the mountain, keep an eye out for Interpretive Discovery Zones, where you can learn about this beautiful area's flora and fauna.
Or, savor Colorado's sun-drenched mountain mornings with a round at one of Eagle County's golf courses. Take on the challenging but fair par-3 river and mountain courses at EagleVail Golf Club, or tackle the Beaver Creek Golf Club's narrow Robert Trent Jones, Jr.-designed fairways.
After working up an appetite on the links or trails, relax over lunch or brunch at one of Vail's fabulous restaurants, such as Root & Flower, Sweet Basil, The Little Diner, La Tour, Mountain Standard, Alpenrose or Vail Chophouse.
Then, stroll Vail Village or nearby Beaver Creek Villages for world-class shopping — think fur coat shops, glitzy jewelry dealers and couture clothing outlets as well as more down-to-earth T-shirt shops, art galleries, home décor shops and more — open year-round.
Wind down with an alpine-inspired treatment at one of the valley's premier resort spas. After being pampered by luxuries at RockResorts Spa at The Arrabelle in Vail or the Park Hyatt Beaver Creek, you'll be refreshed and ready for an unforgettable night in the Vail Valley.
Less luxurious, but equally delightful options abound, as well: Goat Yoga at Vail Stables brings together the Zen of yoga with the adorable energy of kids (the goat kind)! The stables also have excellent horseback-riding trips, naturally. Paragon Guides' Take a Llama to Lunch hikes pair you with a llama and guide you into evergreen forests and aspen groves. And Sage Outdoor Adventures offers a fly-fishing trip on private waters.
Treat yourself to the unexpected delight of gourmet dining at 10,000 feet with a meal at Game Creek Restaurant, whose location on Vail Mountain overlooking Game Creek Bowl provides unmatched views. Beaver Creek offers another unique restaurant option at Beano's Cabin, a grand yet rustic on-mountain epicurean experience. Getting to either restaurant is half the fun, with transportation choices ranging from a gondola, wagon or horseback ride.
After dinner, get an earful of the plentiful live music around town. Vail's Shakedown Bar, King's Club and Pepi's provide the best opportunities to linger over a cocktail while watching live musicians, and be sure to check the schedules for summertime special performing arts events such as the Hot Summer Nights Concert Series, the Bravo! Vail Valley Music Festival and the Vail International Dance Festival, which brings dancers from top companies all over the world to a gorgeous outdoor stage.
Day 3
Choose another valley town for today's adventures. Avon's a treat with meandering trails and Nottingham Park, home to one of the state's most popular Fourth of July celebration, paddle boats, stand-up paddleboards, fishing and picnic spots. The Destination Jump, Splash, Learn playground in Nottingham Park, delights with natured-themed swings, zipline and climbing features.
The West Avon Preserve, just north of I-70, offers winding trails of all levels of difficulty. There's also the Walking Mountains Science Center, an innovative natural science learning campus with a stream, wetlands, pond and National Forest access, which provides the valley with a special place for learning and discovery through guided hikes, camps and other family activities.
Eagle is growing in popularity as a home base in the valley. Town Park is a hub of activity in Eagle, with yoga, a playground, cottonwood-shaded picnic areas and summer concerts. The Eagle Pool and Ice Rink is another hot spot and the launching point for the town's main trailheads for mountain bikers, trail runners and hikers. More than 100 miles of trails are can be accessed within 1 mile of town.
There's also a pump track, BMX track and the Eagle River Park whitewater park just off I-70 has waves and holes for surfing, kayaking, rafting and tubing, as well as a beach area and fire pits. Stop in to Batsons Corner Store to get the inside scoop on conditions.
Sidetrips
Check out Minturn's galleries, antique shops and everyone's favorite, the Minturn Market, which shows off local artisans, crafts, prepared foods, farms, live music and more. The town's 4-mile Everkrisp Trail delights mountain bikers and joins 222 miles of Forest Service trails nearby for hiking, biking, cross-country skiing and snowshoeing.
Red Cliff is a jumping-off point to mountain biking, cross-country skiing, wildflower hikes and more; and Edwards' Riverwalk shopping district has a relaxed feel and several specialty boutiques; Wolcott is home to Zip Adventures — six separate lines and the Canyon Plunge free-fall ride.
Gypsum has a shooting range, fishing ponds right in town limits, the Dry Lake Motocross Park and access to BLM lands. It's also home to Gypsum Creek Golf Course, often one of the first to open in the mountain region for the summer. For rock crawlers with off-road vehicles, the Middle Middle rock-crawling trail north of town looms with large boulders, undercut ledges and waterfall climbs. Farmers' markets that open in summer bring local flavors and 18 town parks are perfect for picnics.
In any season the region's 10th Mountain Division Huts provide backcountry stopovers for showshoers/skiers and hikers. Book early — these unique stopovers get snatched up fast by those looking to live in relative backcountry comfort.
Visiting in Winter?
Vail and Beaver Creek are home to two of the state's largest and most popular ski resorts. Vail practically set the standard for the modern ski-resort experience, and its famed back bowls and expansive and diverse terrain ensure fun for skiers of all levels. Beaver Creek Resort has delightful amenities like 3pm Cookie Time, wine-and-snowshoe excursions and a First Tracks program for early risers. Both towns have easy access to off-stope attractions, from snowmobiling and snow-tubing to mountain-top dining and sleigh rides.
Want More?
Check out related Colo-Road Trip itineraries: 72 Hours in Vail & Beaver Creek and A Low-Environmental-Impact Trip in the Vail Valley.
Photos: Courtesy of The Spa at the Arabelle/RockResorts; Gypsum Creek Golf Course.