Denver Neighborhood Profile: Golden Triangle Museum District
Denver's walkable Golden Triangle neighborhood is one of the city's many burgeoning arts districts — perfect places for a day of gallery hopping. Anchored by the Denver Art Museum and the Clyfford Still Museum, a dozen or so galleries, restaurants and coffeeshops, salons and bars, there's plenty to see in do in this corner of Denver.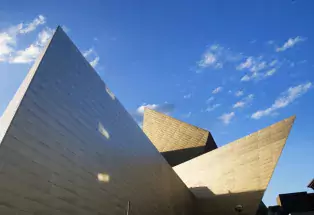 Once a cluster of single-family Victorians and bungalows, the Golden Triangle has transformed into a mixed residential and commercial neighborhood. Just south of downtown, the Golden Triangle is bordered by Speer Boulevard, Colfax Avenue and Lincoln Street. In addition to the arts offerings, the area is also home to the Denver Public Library's Michael Graves-designed main branch, the History Colorado Center, Denver Mint and the Center for Colorado Women's History.
The Kirkland Museum, which houses the works and studio of Vance Kirkland — one of Colorado's most notable artists — is another artistic gem in the neighborhood.
The mini-community's hippest attractions, however, are the diverse art galleries, all within walking distance of one another. Here are some of the gallery highlights:
Sandra Phillips Gallery: This high-end contemporary gallery showcases acclaimed Colorado art such as Frank Sampson's old-master-inspired paintings, Ania-Gola Kumor's abstractions and Anna Kaye's charcoal drawings. 47 W. 11th Ave.
Walker Fine Art: Beautiful, contemporary mixed media and sculpture in stone, steel, bronze and glass featuring regional, national and international artists. 300 W. 11th Ave.
William Havu Gallery: This airy gallery features contemporary art from regional and national artists working in a wide array of media. Top names like Argent, Daborn, Kriegsman, Metier, Steadman and Vonnegut show here. 1040 Cherokee St.
Paper Clouds Studio: Contemporary papermaking and mixed media by Denver artist Roxanne Rossi and other featured artists. 136 W. 12th Ave.
Want more?
Explore urban vacations in Colorado >>
Check out day trips from Denver >>
Find things to do in Denver with the kiddos >>