Colorado Day Trips: Short Trips From Denver
Denver makes for an ideal base of operations during a Colorado vacation. Within easy reach of Denver are a number of other notable cities and attractions.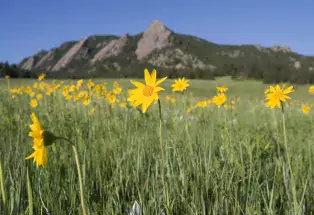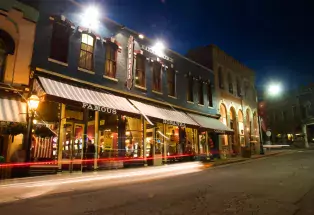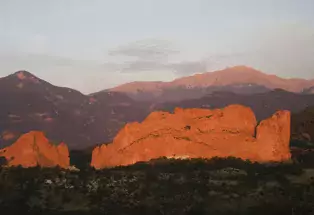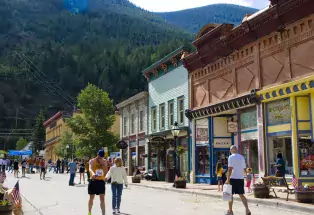 Five day-trip options, all based out of the Mile High City, include the towns of Boulder, Colorado Springs, Central City/Black Hawk and Georgetown.
Boulder: 36 Miles from Denver
• Hike through Boulder's famous mountains, the Flatirons, named by pioneer women after the flat, metal irons used to press clothes. The trailheads for the Flatirons start at the Colorado Chautauqua Park. 
• Boulder's downtown area offers amazing shopping, particularly on the town's famed Pearl Street Mall. Be entertained by street performers as you stroll along the brick covered streets, surrounded by cafes, restaurants and boutiques. 
• Stop off at the Boulder Dushanbe Teahouse for a cup of tea — there are more than 80 varieties here — and to view this ornate gift from Boulder's sister city, Dushanbe, Tajikistan, which was constructed in Tajikistan, dismantled and shipped to Boulder.
Colorado Springs: 70 Miles from Denver
• Start your visit to Colorado Springs with a round of golf or spa treatment at the luxurious and historic Broadmoor Hotel. The resort is home to three championship golf courses, and The Spa at The Broadmoor is beloved as one of the premier resort spas in the country. 
• Visit the Colorado Springs Fine Arts Center, home to more than 20,000 objects in its permanent collection, rotating exhibits and an unprecedented tactile gallery.
• Take a tour of the U.S. Air Force Academy's state-of-the-art facilities, which include laboratories, observatories, a library containing more than 700,000 volumes and the renowned cadet chapel, easily recognized with its 17 spires that soar 150 feet high.
Central City & Black Hawk: 50 Miles from Denver
• Explore the stunning scenery along the Peak to Peak scenic byway, Colorado's oldest byway and the "showcase of the Front Range." This 55-mile route provides unmatched views of the Continental Divide and its timbered approaches. Along the way, visitors will see Rocky Mountain National Park, Golden Gate Canyon State Park, the Arapaho and Roosevelt national forests, and the Indian Peaks Wilderness Area.
• Check out Central City and Black Hawk's historic buildings, the Central City Opera House, the Thomas House Museum and other details of the towns' mining-town past.
• Tempt Lady Luck at the towns' many casinos, which offer a variety of table games, slot machines and other gaming-hall favorites.
Georgetown: 48 Miles from Denver
• Make your way through obstacle-filled trails on 4x4s or ATVs near Georgetown and enjoy breathtaking vistas of Mount Evans and the surrounding mountain range. Visit historic mining sites and the remnants of Silver Creek, an 1887 mining town.
• Take a ride on the circa 1884 Georgetown Loop Railroad, one of Colorado's first visitor attractions that's considered an engineering marvel for its time. The Loop takes visitors between Georgetown and Silver Plume, scaling an elevation of 640 feet over mountainous terrain.
• Wander the shops and cafes that now occupy Georgetown's Victorian-era homes and businesses, including an old-timey soda fountain and general store.
Others to Consider:
Lakewood
RTD Commuter Rail-connected Lakewood makes a good home base between Denver and the mountains. Many take advantage of a few close-to-civilization campgrounds. For more civilized fare: The Lakewood Cultural Center hosts performances and events in pedestrian-friendly Belmar, which is home to shops and restaurants. (Colorado Mills Mall is also a hub for metro-area retail action.) 40 West Arts is the city's Certified Colorado Creative District. Two ways to experience it: The new 40W ArtLine, a 4-mile walking/bike path with interactive art, murals and large installations all along the way; and 40W Art Crawls, with First Friday art walks as well as annual large-scale art events.
Drive: 15 minutes
Castle Rock
The Outlets at Castle Rock and upscale Promenade at Castle Rock are big draws, along with The Barn's antique and specialty shops, 44 miles of trails, the year-round The Edge Ziplines & Adventure (where you can scale a 40-foot climbing wall, zip and jump from a 42-foot platform or choose to free-fall from a 75-foot platform), a pedestrian-friendly downtown, galleries, golf courses, bistros and coffee houses. Castle Rock has year-round hiking and biking trails and spectacular views from on top of The Rock — the historic namesake for the community. Stop into the visitor center for ideas on exploring the area and beyond.
Drive: 35 minutes
Evergreen 
Acres of forest and open space surround this vibrant downtown, lined with galleries, boutiques, patio cafes and bistros. The foothills community boasts miles of hiking and biking trails, and Evergreen Lake is packed with ice skaters each winter and hosts a summer concert series. For a bit of history of the area, Hiwan Heritage Park holds an 1893 log lodge that's now a museum with original and historic furnishings as well as Native American artwork.
Drive: 40 minutes
Aurora
Seek out a handful of beautiful golf courses, three gorgeous reservoirs, unique museums, U-picks, breweries, shopping at Southlands, Aurora Fox Arts Center in the Cultural Arts District and much more. Check out the Stanley Marketplace, a collection of independently owned places to eat, drink, shop and play. Take a driving tour of the Story Line, passing by farms, historic homesteads, schoolhouses and other landmarks that make it hard to believe you're in the state's third-largest city. Aurora is just minutes away from Denver International Airport by car, as well as RTD's R Line lightrail.
Drive: 25 minutes
Littleton
This tree-lined downtown somehow combines the sophistication of a relaxed urban center packed with local eats and unique boutiques with small-town charm — and, of course, plenty of craft wineries, distilleries and breweries, including Breckenridge Brewery's massive campus with brewery tours and the Farm House Restaurant. The Littleton Museum is an 1860s homestead with living-history exhibits. To get to Littleton, bike the Platte Riverside trail or take the RTD light rail.
Drive: 23 minutes
Arvada
Historic Old Town is the best way to get a taste of this hip suburb — and you can take the RTD Commuter Rail G Line straight there from Denver's Union Station. The walkable section of town is packed with restaurants, breweries and boutiques. North of this area, the Arvada Center hosts summer concerts at its outdoor amphitheater where you can grab a blanket and soak up the sounds in the grass. Elsewhere, there are 150 miles of biking/hiking trails, 4,000 acres of parks and Two Ponds National Wildlife Refuge.
Drive: 20 minutes
Brighton
One of Denver's northern gateway cities, Brighton is a mix of urban amenities (think craft breweries and a burgeoning arts scene), heritage farm activities and markets, and great outdoors experiences that include Barr Lake State Park (a great place to spot bald eagles). The Armory Performing Arts Center hosts theater, dance and music events throughout the year.
Drive: 25 minutes
Want More?
Read this guide to urban vacations in Colorado.
Check out our Field Guide itinerary: Fitness & Fun in Denver & Cities of the Rockies.