Dog-Friendly Adventures Perfect for Colorado Summers
Your summer vacation is just around the corner and, of course, you're bringing your fur baby.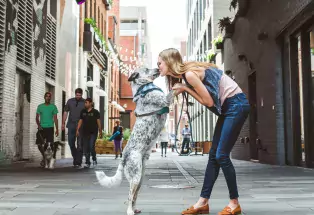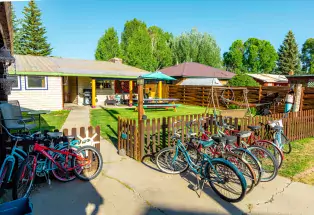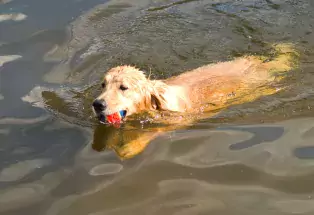 Start planning a trip to Colorado knowing our state has truly gone to the dogs. Find canine-friendly fun things to do, cool places to stay and insider safety tips to use along the way.
Pup-Approved Things To Do
Dog Parks
There's nothing better for energetic dogs than roaming and running off leash. Let them do it in the comfort of a gated park for more fun and the bonus of making new puppy pals. 
Load up Rover and head over to the Cherry Creek State Park Dog Off-Leash Area in Aurora for 107 glorious fenced acres of canine-approved pleasure — like splashing through the shallows of Cherry Creek or sprinting along the grassy trails. Note: There is a nominal fee via Colorado Parks and Wildlife for access.
Got a small four-pawed pal? Spring Canyon Dog Park in Fort Collins has a separate fenced-in area for tiny dog friends who may be shy and not want to romp with the biggies. This nearly 3-acre park also boasts a pond for swimming and a splash pad for kids.
Durango's off-leash dog area delivers acres of tongue-lolling fun at the bottom of Smelter Mountain. Take time to stroll the Animas River Trail when you're done.
Dog-Friendly Trails
The promise of trekking with your furry best friend is why you came together, right? Here's the good news: You won't have to look far to find a wealth of trails ready to welcome canine companions (just be sure to follow leash laws and pack out the poops).
Butler Gulch Trail, near Empire and 30 minutes from Winter Park, is a moderately challenging out-and-back with a rock-strewn, steady incline. Marvel at cascading creeks and the rugged backdrop with craggy Red Mountain in view. Tip: Bring trekking poles and dog basics like water, snacks and a collapsible dog bowl. 
Steamboat Springs' popular Fishhook Lake, Lost Lake and Lake Elmo Trail is best experienced June through October. You'll love this moderately demanding, 6.1-mile route for its soaring spruce trees, potpourri of wildflowers and reflective alpine lakes. It's popular with all types of trail users, from bird watchers and mountain bikers to hikers with their doggos. Tip: A high-clearance vehicle is necessary to reach the trailhead. Hit this spot midweek for less foot traffic.
Flatirons Vista Trail in Boulder is an easy loop that'll take you through a bucolic landscape peppered with cows and horseback riders — so please keep your dogs on leash. Expect startling views of the Flatirons as you meander with the pup. Tip: This pleasant hike is especially nice for older dogs since it's mostly flat.
Find more scenic Colorado dog hikes here >>
Pubs & Patio Dining
Many businesses in Colorado offer dog-friendly patios and amenities to their guests. Bring your faithful companion along for a meal, a beer or a coffee when you're done exploring for the day. 
Furry friends will find their puppy paradise at Pub Dog in Colorado Springs. This 3,000-square-foot dog park, bar and restaurant includes a fenced off-leash spot and pup-friendly dining inside. Order a bark bowl for your fluffster (made with brown rice, carrots and an unseasoned beef patty). We think the Retriever burger (bacon, cheddar, tangy bbq sauce and red onion) will be perfect for you. 
Other pet-friendly spots — like Stella's Gourmet Coffee & Such in Denver, Eddyline Brewery in Buena Vista and Coal Mine Ave. Brewing in Littleton — deliver welcoming dog-friendly patios for sunny days sipping outside.
GoPro Mountain Games 
Get your dose of four-legged athleticism at GoPro Mountain Games every summer in Vail. Dogs can compete in big-air jumping, retrieving, swimming and trail-run competitions. Pups are welcome as spectators, too! Just keep 'em on leash, be on poop patrol and please no tethering.
Summertime Safety Tips 
Know local leash laws before you go and follow the rules to keep your dog (and you) safe.
Bring enough water and snacks for the whole group, including your four-legged pack members. Collapsible water bowls, mentioned above for their importance, are easily tucked in hike sacks or even back pockets.
Let furry friends acclimate to Colorado's high elevations just as people do, especially if you're coming from somewhere much lower. Be sure not to push your pups too hard on high-elevation trails that have steep inclines. Nobody says you have to hike the whole trail.
Colorado summers can be hot, even when you're in the mountains, and lack of humidity can sometimes mask high temperatures. Be mindful, especially of the midday heat, and plan your dog-friendly jaunts for mornings and evenings when the sun isn't at its strongest.
Do your duty and Leave No Trace by picking up your dog's poo in biodegradable bags and packing it out if there are no garbage receptacles. 
Some cities and towns in Colorado have breed restrictions, as do some lodging options. Refresh yourself on local laws and hotel policies before bringing your favorite dog friend along.
Pack your vaccination records. There's a good chance you'll need those on hand for hotels and some activities.
Digs That've Gone to the Dogs
Traveling with your pup pack? There are plenty of dog-friendly Colorado accommodations that will welcome you. Here are just a handful.
The Hotel Telluride is super welcoming to furry friends of all sizes. A percentage of pet fees are donated to Second Chance Humane Society. Plus, you'll get house-made organic pet treats and your dog's name on the lobby "dog" board when you check in. How fun is that?!
Over at The Maven at Dairy Block, in Denver's historical LoDo neighborhood, they love their furry guests just as much as human ones. Tasty dog treats are given at the front desk and staffers will fill you on all the dog-friendly spots nearby. Tip: There's a two-pup limit per room.
Posting up at The Wanderlust Hostel in Gunnison means you'll be treated to the presence of its friendly resident canine named Cole. Guest pups are considered for a small fee, but you need to check ahead.
Viceroy Snowmass rolls out the red carpet for its puppy guests whenever they arrive. A leash, doggie-poo bags and house-made treats are all complimentary at check in. Plush dog beds, plus food and water bowls, can be placed in your room (remember to make the request before arrival to ensure they're available). Convenient dog walking is made possible through the hotel's concierge and, get this, you can even order fancy-shmancy dog treats through room service.
Spot more dog-friendly accommodations on our Sleep Somewhere Cool blog >>
Photo credits: The Maven at Dairy Block, Caitlin Row/Miles Partnership, The Wanderlust Hostel, Miles Partnership