Hot Springs, Family Fun & Adventure in Glenwood Springs
Glenwood Springs has all the ingredients of an unforgettable Colorado vacation. Whether you're searching for a relaxing mountain getaway, thrill-seeking excitement or pure family fun, you'll find it here. Two of the most popular attractions in town can get you started on all fronts — Glenwood Caverns Adventure Park and Iron Mountain Hot Springs.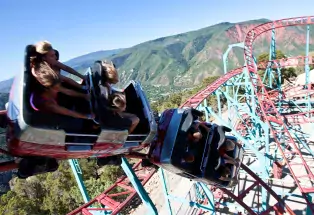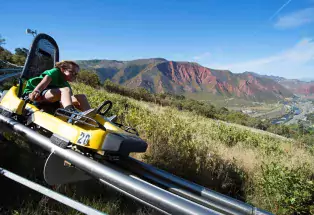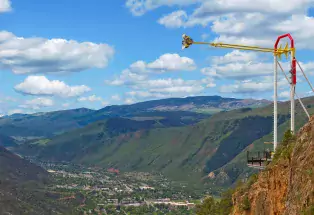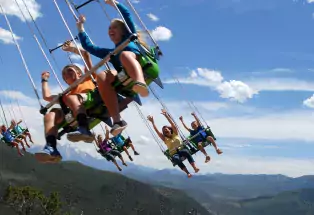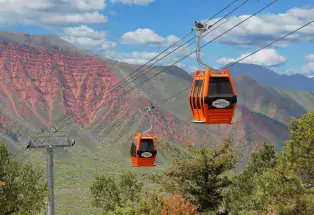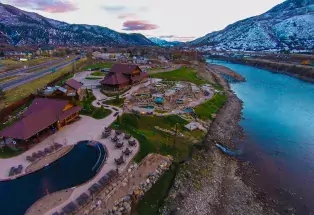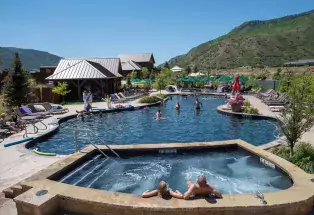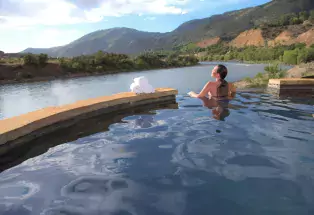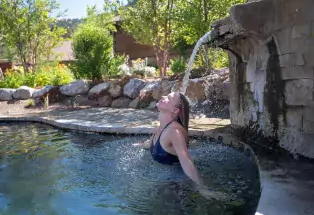 Insider's tip: Both Glenwood Caverns Adventure Park and Iron Mountain Hot Springs are open year-round, but you'll want to check their websites for details for seasonal rates and hours.
Glenwood Caverns Adventure Park
The country's only mountain-top theme park offers high-altitude fun and adventure for kids and adults alike. Make the most of your visit with a Funday Ticket, which covers your ride on the scenic Glenwood Gondola as well as unlimited turns on attractions.
Warning: Thrills Ahead. For an adrenaline rush like no other, the park has three rides perched on the edge of suspense — or Glenwood Canyon, rather — over 1,300 feet above the roaring Colorado River. Fly high on the Giant Canyon Swing at speeds of 50 mph or dare to soar through the alpine air on the Glenwood Canyon Flyer. If you're brave enough to open your eyes, you'll catch amazing vistas of the canyon's colorful sandstone walls.
Ever wonder what it's like to fly like a bird? Find out on the Soaring Eagle Zip Ride, where you'll be lifted 600 feet in the air to whoosh over the stunning high-country landscape. Experience the nation's highest elevation roller coaster, The Cliffhanger. The views are unparalleled and it will leave your heart racing and your stomach turning flips. Or get in the driver's seat when racing down 3,400 feet of bumps, waves and tight turns on the Alpine Coaster, named "one of the 10 best roller coaster rides of your life" by USA Today.
Fun for Mountaineers of All Ages. The family-friendly park has plenty of excitement for younger visitors. Littler ones can climb aboard the Wild West Express coaster or catch amazing mountain views from the Mine Wheel. Channel the spirit of the Old West with a laser-tag shootout or by panning for gemstones at the park's sluice. And don't leave without catching a show in the 4D motion theater, which packs a wild ride with moving seats, surround sound and special effects.
Note: Some rides are seasonal, so be sure to go online to learn more.  Winter Funday Tickets are available at a discounted rate from summer.
Underground Adventures. True to its name, the park is home to a living cave system that USA Today named "one of the top 10 places to go underground." Take a quarter-mile guided trek through the winding Historic Fairy Cave, which leads to a gasp-worthy panoramic view of the Roaring Fork Valley at an opening called Exclamation Point. On the King's Row Cave Tour, you'll find a massive room bedecked in geological formations like stalagmites, stalactites and soda straws. Thrill-seekers can don a lighted helmet and gear to earn spelunker status shimmying through the Wild Cave system. The reward is well worth the effort: This cave boasts amazing formations that few people ever get to see.
Insider's tip: Read up on the caves before choosing your adventure, as some tours have age restrictions and physical demands that you should consider.
Concerts & Seasonal Delights: From late November to February, you'll find the park decked out in dazzling lights for Winter on the Mountain. Cozy up next to your family and loved ones to roast s'mores over a fire pit and let the giant Christmas tree — adorned with lights that twinkle to music — get you in the holiday spirit.
Iron Mountain Hot Springs
Just down the road from the excitement of Glenwood Caverns Adventure Park, Colorado's newest hot springs are an oasis of relaxation.
Insider's tip: To provide comfortable spacing for guests, Iron Mountain Hot Springs will limit capacity using scheduled 2-1/2 hour time slots and reservations are required. So, remember to book early. They are closely following Colorado's health guidelines, so be sure to go online to learn more about operation protocols.
Soaking Pools for Days. Iron Mountain Hot Springs is home to not one, not two, but an amazing 16 all-natural soaking pools! Relax, unwind and let your cares dissolve in the 100 percent pure, thermal mineral water as you gaze at the surrounding sandstone ridges and mountaintops. Each pool is unique in size, shape and temperature — ranging from 98 to 108°F — but all offer incredible opportunities to enjoy some of Colorado's best natural treasures.
Get changed in the beautifully appointed bathhouse locker rooms, then hop in and out of the pools to find your favorite. When you need to cool down in the summer, stop by the outdoor showers at the Rejuvenation Station. Or, take a dip in the 93-degree freshwater family pool, which has gently sloping accessibility ramps, making it perfect for everyone in your crew. There's also an elevated jetted spa, which is ideal for keeping an eye out on the kids while ensuring your relaxation stays maxed.
Snacks & Sundries. When hunger strikes, you won't have to travel far to quiet those tummy rumblings. The poolside Sopris Café serves up a menu that caters to the entire family. You'll find delicious flatbread pizzas, crisp salads, light wraps and energy-boosting smoothies, while kiddos can revel in fun vacation treats like ice cream and hot cocoa and other snacks. The poolside Sand Bar has an assortment of alcoholic beverages and concessions, so you can soak in rejuvenating waters with a cold beer or glass of wine in hand.
The perfect complement to a day in Colorado's great outdoors any time of year, Iron Mountain Hot springs is your place to relax your body … restore your spirit … and rejuvenate your soul.
More about Glenwood Caverns Adventure Park