By Land or By Sea: Biking & Rafting in Glenwood Springs
Thanks to its convenient western setting, winter doesn't hit Glenwood Springs quite as soon as it does other cities. In fact, it's the mountain town with the longest biking and rafting season in all of Colorado, making it a haven for cyclists and water lovers seeking high-elevation fun.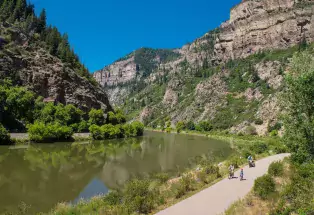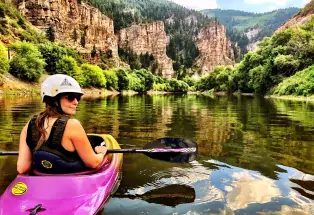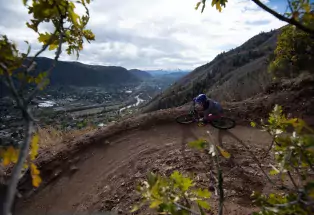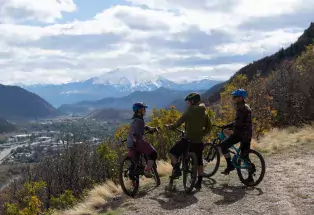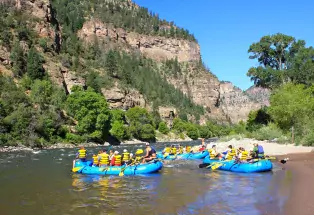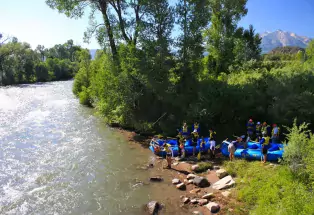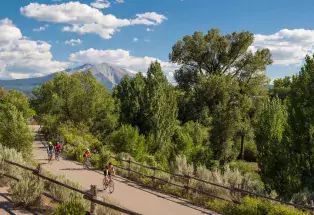 Welcome to Biking Paradise
Glenwood Springs is known just as much for its late-arriving winters as it is for its nearly non-existent mud season. That means you can hit mountain bike trails earlier in the year here than you can in other Colorado towns. There's also a wealth of open roads and paved pathways for roadies to discover.
Gear & Shuttles
At Canyon Bikes, choose from e-bikes or those that require you to provide the pedal power. They even offer trailside assistance and a shuttle service that drops you off at two-wheeling hot spots — like the Glenwood Canyon Recreation Trail — whether you rent a ride or bring your own.
Sunlight Ski & Bike Shop, a local favorite, offers every type of bike under the high-altitude sun — from top-line touring bikes and e-bikes to mountain bikes, road bikes and cruisers. Book a package combining bicycle rentals with a shuttle service to explore scenic Glenwood Canyon along the Glenwood Canyon Recreation Trail. Another combo lets you tour the Roaring Fork Valley via the Rio Grande Trail, where you can hop off to stretch your legs in Carbondale or Basalt on your way to Aspen.
Like sweet deals? Glenwood Adventure Company offers shuttle services to the coolest local trails, and if you book a bike for a full day you hitch a shuttle ride for free! You'll also find a wide selection of mechanical steeds here, including e-bikes, tandems and tag-a-longs for the kids.
Where to Shred & Shift
In 2020, Colorado's Roaring Fork Valley — which begins in Glenwood Springs — was designated an IMBA Gold-Level Ride Center™ by the International Mountain Bicycling Association thanks in part to its 300 miles of outstanding singletrack. Glenwood Springs has also been named a Silver Level Bicycle Friendly Community by the League of American Bicyclists. If you prefer to get your miles in on paved roads, you'll find plenty of options for that, too.
In search of rides specifically designed for mountain bikers? Then the South Canyon Trail System is your happy place. Catch some air on 8.3 miles of singletrack over three trails (with four more routes in the works).
Or, race the Roaring Fork River on the Rio Grande Trail's 42 paved miles of gentle inclines, taking you all the way from Glenwood Springs to Aspen. The bikeway is perfect for family rides and ripe for sightseeing. Look for bald eagles, elk herds and historic ranch buildings as you cruise.
Scout Trail is a 17-mile loop that climbs to the rim of Glenwood Canyon, where the Rocky Mountain views reward your efforts. Wrap it up by ripping down switchbacks and sandy sections that drop you near the heart of Glenwood Springs.
On the Glenwood Canyon Recreation Trail, you'll cruise alongside the rushing Colorado River as the stunning sandstone walls of the canyon rise on either side of you. Bring a fishing pole or a picnic and check out shuttle options if you only want to ride one way (16.3 miles). 
New to mountain biking? Wulfsohn Trail has your name all over it. Short-and-sweet downhills, narrow passages and gullies offer nearly 4 miles of thrills. If you're itching to stay and play a little longer, Wulfsohn offers easy access to the Red Mountain Trails. Here you can climb the training grounds of former world cycling champion Jeanne Golay. Pause at the top for a rest, as well as sweeping vistas of snow-capped peaks and awe-inspiring views of the valley. 
Climb Aboard for Whitewater Adventure
Glenwood Springs is known as the Land of Water, and not just for its natural mineral-water hot springs. The city is nestled in the confluence of the mighty Colorado River, which slices through Glenwood Canyon and creates the perfect setting for whitewater-rafting fun, while the Roaring Fork River offers miles of world-class fishing.
With rapids ranging from Class I to Class IV, all skill levels can make a splash on the water. Adding to the magic is the opportunity to spot wildlife like bighorn sheep, mink and eagles, as well as soaks in several in-river hot springs.
Practice your skills on the G-wave of the Glenwood Whitewater Activity Area, the 2009 site for the USA Freestyle Kayaking trials, or enlist the services of one of the town's experienced guides for a day filled with wet-and-wild rides.
Blue Sky Adventures offers adrenaline-charged trips that take on the Colorado's famous Shoshone Rapids, as well as milder float trips where you can sit back and soak up the scenery. Defiance Rafting Company's array runs the gamut from the Double Shoshone Half-Day (ride the rapids twice!) to the 4 o'Clock Special, timed to hit the water when there are fewer people out.
Since 1974, Whitewater Rafting, LLC has tailored their trips to the experience you're after — be it a family float or a rip-roaring tour for more experienced paddlers. Looking to make a smaller splash? Glenwood Springs' trusted river outfitters offer a variety of different trip options for all ages and adventure levels. Consider a ducky or stand-up paddleboard adventure to mix things up!
More Glenwood Springs trip ideas >>
More articles about Glenwood Springs >>