Rocky Mountain Summer Adventure: Take a Trip to Grand Lake
Grand Lake has so much to offer visitors as both a historic mountain town and a lake-lover's paradise. Surrounded by national forest lands, it's the closest town to Rocky Mountain National Park's western entrance. This means you'll have your pick of nature-loving pursuits — with the fun and amenities of a small town nearby.

 

Here's why you should put Grand Lake at the top of your list when planning your summer vacation to Colorado.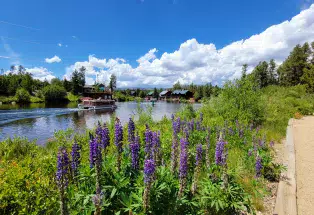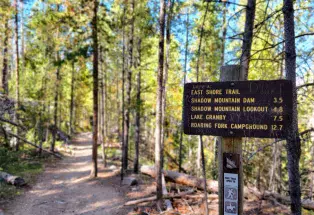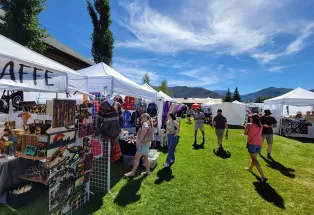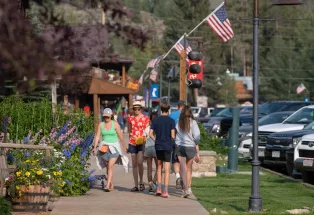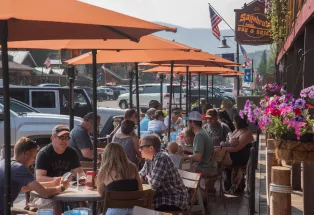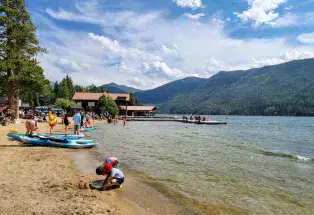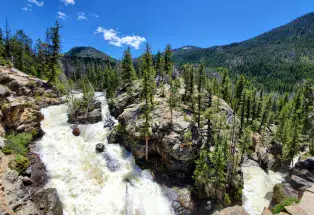 You'll never run out of things to do on the waters of Grand Lake.
Where lakes in Colorado are concerned, Grand Lake happens to be the largest natural one in the state. As the weather heats up, that's your cue to cool off with various aquatic activities. Grand Lake Marina has you covered for boat rentals, whether you choose to cruise in a pontoon or fishing boat. For a slower pace, explore the lake by kayak, canoe, pedal boat or stand-up paddleboard. No matter your vessel, the lake is a perfect place to drop a fishing line in search of kokanee salmon and several types of trout.
Spend a relaxing afternoon on the sandy shores of the Grand Lake beach, where you can kick back and watch sailboats glide to and from the nearby private Grand Lake Yacht Club. The beach is also ideal for swimming and splashing around. Another spot on the water's edge is the picturesque Point Park, where you'll find fishing access, picnic sites and an amazing view of Mount Craig — aka Mount Baldy to locals. On the Fourth of July, catch the largest display of fireworks in Colorado as they burst over the lake, brilliantly reflecting off the water.
Classic mountain lodging boasts only-in-Colorado views.
With the backdrop of a national forest and an alpine lake at your front step, you're guaranteed to have amazing scenery anywhere you choose to rest your head. For a quintessential mountain experience, check out the wide array of places to stay in Grand Lake.
Grand Lake Lodge sits just outside the entrance to Rocky Mountain National Park and has an on-site restaurant, event space, pool and multiple lodging options (like cabins and bungalows) nestled among pine trees. To be close to the action, you can't beat Western Riviera Lakeside Lodging — Grand Lake's only lakefront hotel property. For a true cabin experience with modern amenities that will have you feeling right at home, Lupine Village at Grand Lake sits just two blocks from the lake, but feels a world away from the hustle and bustle of the summer crowds. You'll be within walking distance of all the shops, restaurants and activities. If you're looking for family-friendly accomodations, Winding River Resort and Elk Creek Campground offer plenty of room to play.
View all Grand Lake lodging listings >>
The town of Grand Lake will keep you entertained with cultural attractions, mini-golf, off-road rentals and more.
The town of Grand Lake may only be one square mile, but that mile is packed with activities the whole family will enjoy. The Grand Lake boardwalk along Grand Avenue dates to 1881, and you can still admire its Wild West-style architecture complete with hitching posts — and the occasional horse hitched to them. Explore more than 60 local shops, galleries, restaurants and watering holes as you stroll.
Listen as live music floats from saloons throughout town or catch a show at the Rocky Mountain Repertory Theatre. Its full schedule of musical performances in the summer brings Broadway to the mountains. Weekends feel like summer camp for adults with Bingo in the Park held every Friday and Saturday evening in Town Park. The season is full of unique events including Fourth of July fireworks, arts-and-crafts fairs and the famous Buffalo Days.
Tap into Grand Lake's wide variety of dining options. Dig into casual barbecue at Sagebrush BBQ & Grill, unwind at a scenic patio table overlooking the lake at The Waterfront and savor mouthwatering Mexican at Charlie's Sports Bar & Grill. Find elegant riverside dining at the Historic Rapids Restaurant or celebrate a special occasion at Huntington House Tavern. And that's just naming a few of the Grand Lake restaurants you'll have to choose from.
Surrounding outdoor wonders are waiting to be explored.
One of the biggest draws to Grand Lake is its status as the western gateway to Rocky Mountain National Park. The crown jewel of Colorado encompasses more than 265,000 acres of wilderness — prime for hiking, camping, mountain biking, horseback riding and wildlife viewing. With more than a third less traffic than the Estes Park entrances, you'll be able to hit the trails early, catch a glimpse of moose in the early mornings and evenings, and hear elk bugling during mating season in the fall. Trail Ridge Road, the highest continuous paved road in the U.S., connects Grand Lake to Estes Park, cutting through the park with beautiful scenery along the way.
Don't leave the Grand Lake area without witnessing the lovely sight of waterfalls. Adams Falls feeds into the lake on its eastern side and can be seen by hiking a short distance on the East Inlet Trail. Get to the heart of Cascade Falls via North Inlet Trail, a 3.5-mile out-and-back route accessible from town. You'll be amazed at the number of small lakes and streams you'll encounter while hiking in the area. Timber Lake Trail traverses a magical waterfall before you ascend to the alpine lake. You'll lose count of how many bridges you cross on the Onahu Creek Trail.
Find more outdoorsy things to do in Grand Lake >>
Grand Lake's proximity to Denver and Boulder makes for an amazing road trip.
Being so close to the Front Range means visitors can quickly and easily reach Grand Lake for a weekend getaway. Rent a car at Denver International Airport. From Denver it takes about two hours to get to Grand Lake via I-70. Take U.S. 40 East over Berthoud Pass through Winter Park, Fraser and Granby, where you'll turn off to U.S. 34 East. This will lead you past Lake Granby, Shadow Mountain Lake and right to Grand Lake. If traveling from Estes Park, make a day of exploring the many stops along Trail Ridge Road on your way to Grand Lake. 
Want more?