SCP Hotel Colorado Springs: Your Jumping-Off Point to Wellness
Your stay at Soul Community Planet Hotel in Colorado Springs isn't just about the accommodation's healthful, good vibes — though it's certainly about that. The hotel is also the perfect jumping-off point to all the wholesome fun you can have around the Pikes Peak region.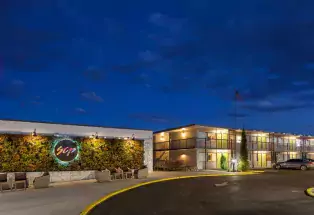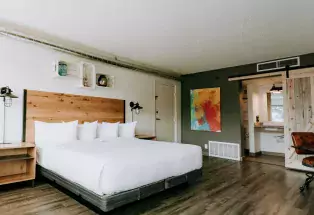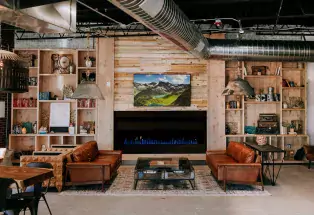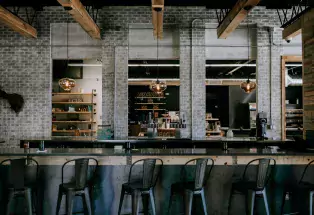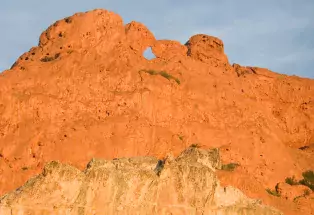 About the Hotel
If you're looking for a hotel with a holistic approach, SCP is the spot. Founded from a desire to help others on their personal wellness journeys, inspire community and support Mother Earth, this thoughtfully designed hotel offers all sorts of Zen-inducing amenities. From pet-friendly lodging and eco-friendly soaps to personal yoga mats (not to mention sustainability-minded flourishes like furniture made from beetle-kill wood), you'll find this Colorado Springs destination pays attention to the details. Living plant walls bring biophilic design and nature indoors, adding to the hotel's restful ambiance.
The expansive, on-site SCP Fit center will satisfy, too. You can ride the Peloton bikes, work out with the TRX, practice your downward-dog in the dedicated yoga room, swim muscle-lengthening laps in the heated pool (open seasonally) and much more. Then head to the 24-7 Provisions Market for locally sourced, organic grab-n-go items.
Your visit to SCP also gives back through the Every Stay Does Good program. Every time you stay, you support wellbeing in adolescents through WE Well-Being. Funding additionally lights the home of a family in need through Miracles for Kids and plants a tree in an unnaturally deforested area through One Tree Planted.
Looking for someplace to stay a bit longer? You can turn your vacation into an extended retreat with use of the SCP Commons' co-working space (that includes comfy hammock chairs, of course). There guests tackle important work tasks before roaming Colorado's grand, wide-open spaces.
Colorado Springs Day-Trip Itineraries
It's easy to make wellness a priority with all of Colorado Springs' healthy dining options, plus its enthusiasm for athleticism and the great outdoors. But first, set your daily intentions with an enlightening yoga stretch. Then, pick up an organic breakfast from the Provisions Market. Later, after a long day of adventuring, take advantage of the hotel's relaxing meditation spaces or unwind by the lobby fireplace with a Colorado craft beer. Pause in a quiet space to inhale, then exhale the present moment. And keep on the lookout for thought-provoking quotes, which are scattered across the property's many walls.
Here are three wellness-focused itineraries:
Day Trip Option 1: Garden of the Gods
Begin your day at Garden of the Gods Visitor & Nature Center, where you'll hike through 300 million years of geologic history. Meander by foot to see red-rock towers and arches along paved and gravel trails. You can also sign up for a guided nature walk.
For lunch, fill your tum with Garden of the Gods Market & Cafe's house-made quiche boasting seasonal veggies. Sip a Green Goddess smoothie made with honeydew, cucumber and kale among other healthful ingredients. 
Then it's back to Garden of the Gods, where you'll explore on four legs instead of two with a horseback ride through the park with Academy Riding Stables. Or, cool off with a Colorado craft beer from Red Leg Brewing Company on Garden of the Gods Road. 
Make dinner plans at The Burrowing Owl, known just as much as a community gathering place as it is for its delicious vegan eats. Dip your chips into cashew queso that's made by the gallon it's so popular.
Day Trip Option 2: Olympic City USA
Gain athletic inspiration with a trip to the new U.S. Olympic & Paralympic Museum. Artifacts on display span everything from medals and torches to schedules, tickets, photos and event sporting equipment. Plus, interactive displays will make you feel like you're right there at the Games!
At lunchtime, delight in a nutrient-packed sweet potato and quinoa salad from Urban Steam American Bistro that's topped with crumbly feta, candied pecans and agave-infused vinaigrette.
In the afternoon, train like a Colorado Springs elite athlete by running or biking along the scenic North Cheyenne Cañon Park trails; you just might see a cascading waterfall. Or, book a vigorous sports or deep-tissue massage to alleviate muscle soreness and rejuvenate your body. Ask a SCP Hotel staffer for nearby spa recommendations.
Try Marigold Cafe & Bakery for a dinner menu peppered with French classics like slow-braised beef bourguignon and salmon roulade (made with sauteed spinach and sun-dried tomato pesto).
Day Trip Option 3: Manitou Springs
Conquer a nearly 2,000-foot-elevation gain in under 1 mile with a heart-thumping morning hike up the towering Manitou Incline.
Then satiate mid-day hungries with a bowl of vegan green chili stew and a frothy cappuccino at Manitou's own Good Karma Cafe. 
Next, a steamy soak in the healing mineral waters of SunWater Spa will soothe your body and soul. Or, locate the historic town's treasured mineral springs, purported to have wellness benefits; bring a reusable to-go cup or Nalgene bottle to sample the springs!
Your evening meal at Cliff House Dining Room, whether you go for the sauteed sea scallops or succulent grilled Wapiti elk chop, will be unforgettable.
Want more?
Find SCP Hotel Colorado Springs' special offers, explore SCP Fit amenities and become an SCP member.