Romantic Getaways in Colorado: Historic Hotels
Like a little history served alongside your Colorado hotel stay? These storied hotels — and they are all packed with stories — preserve their turn-of-the-century charm while still offering all the modern amenities the current century's vacationers have come to expect. Their luxurious charm makes for perfect romantic getaways in Colorado.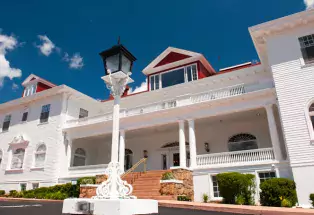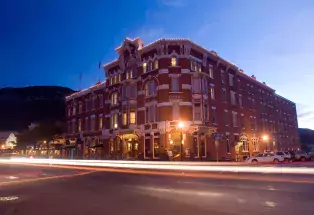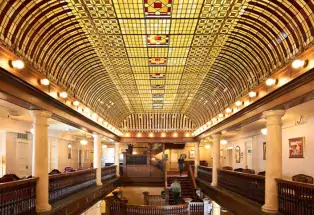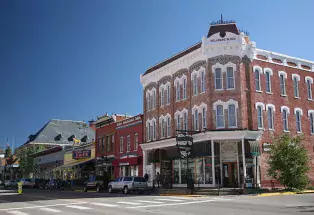 The Stanley Hotel
The elegant more-than-a-century-old, white-pillared landmark sits on a hill overlooking downtown Estes Park, just around the bend from Rocky Mountain National Park. Guided tours detail the great lengths builder F.O. Stanley (of steam-engine fame) traversed to build this beauty in its then-inaccessible mountainous setting and reveal many spooky happenings, including the reason Stephen King was inspired to write The Shining while staying in room 217.
Strater Hotel
An 1887 confection of white cornices, native red bricks and Gold Rush-era tales, the Strater Hotel in Durango has thrived in many colorful eras. Early on, it served as a winter retreat for townspeople who would close up their homes and hole up for the season in rooms heated by wood-burning stoves.
Today, hand-painted wallpapers, velvet draperies and ornate stained glass recreate the original Victorian atmosphere, and a fun night in the Diamond Belle Saloon — where servers are dressed in Old West duds — shows visitors why Western novelist Louis L'Amour always requested the room right above it.
The Brown Palace
For a touch of historical Colorado class, Denver's Brown Palace has delivered since 1892. Host to 17 U.S. presidents, The Beatles and the soldiers of the 10th Mountain Division (some of whom tried to rappel from the roof during World War II), The Brown is a world unto itself. Faucet water springs forth from its very own artesian well, baked goods are house-made in an antique carousel oven and traditional afternoon tea is still served daily in the eight-story atrium lobby.
The Broadmoor
Since 1918, The Broadmoor in Colorado Springs has been dazzling guests with over-the-top amenities. Constructed by a Philadelphia entrepreneur to echo the full-service luxury resorts he'd experienced in Europe, an unheard of feat in the U.S. at the time, the resort began with an on-site golf course (now one of three), a manmade trout-fishing lake, the largest indoor pool in the West, a collection of exotic pets roaming the grounds (they moved to the Cheyenne Mountain Zoo in 1924) and the Hawaiian Village rooftop garden and nightclub (now home to patio seating for the Golden Bee restaurant).
Delaware Hotel
Another gem established during mining boom, Leadville's 1886 Delaware Hotel also housed a few characters. Doc Holliday frequented this hotel, as well, often choosing a room where he could keep watch for anyone coming after him down Harrison Avenue. During the mining era, the hotel catered to an upscale crowd, but workaday miners were welcome to stay — as long as they washed their boots in a specially designated sink.
Hotel Boulderado
Boulder's most historical hotel was built in 1905 with the help of community stock subscriptions, $100 shares sold to those interested in promoting growth in the area with the "comfort of a first-class hotel." Luckily for that town of just 8,000, the hotel was a wild success from the start, with much-discussed details such as a cathedral-glass canopy ceiling and a cantilevered cherrywood staircase that ran (and still runs) from the basement to the fifth floor.
Other Historical Hotels in Colorado
• The Cliff House at Pikes Peak: What started as a stagecoach stop in Manitou Springs between Colorado Springs and Leadville in the late 1850s became the Cliff House in 1873 — a place where, at the height of the Gold Rush, tents were pitched to accommodate the overflow of precious-metal seekers.
• New Sheridan Hotel: Established as a wood structure in 1891, Telluride's New Sheridan Hotel met a fiery fate before being resurrected in brick in 1895. It was completely renovated in 2008, but retained Victorian-era furnishings and accouterments give it a special feel.
• Grand Imperial Hotel: This Mansard-roofed Victorian hotel in Silverton was built in 1882 to accommodate the influx of miners and related visitors, as well as the likes of Bat Masterson, Lillian Russell and Wyatt Earp. A bullet remains in the wall of the lobby, a testament to wilder times.
• Armstrong Hotel: Situated amid other historical buildings in Old Town Fort Collins, the Armstrong's three floors made it the tallest building in town when it was built in 1923. Restored in 2004, the new owners recreated original storefronts and the 1940s-era neon sign from historical photographs.
• The Oxford Hotel: Built in 1891 to service the growing city and its bustling Union Station, Denver's Oxford Hotel was a Gilded Age spectacle with frescoed walls, silver chandeliers and a "vertical railway" (an elevator).
• Beaumont Hotel: Ouray's historical hotel was built by the Ouray Real Estate & Building Association in 1886 to lure wealthy mining investors to the city with its opulence, which included gold-painted balconies, cathedral glass skylights and a sweeping oak staircase.
• General Palmer Hotel: Established in 1898 by the Civil War general who also built the Durango & Silverton Narrow Gauge Railroad, the General Palmer is a peek at the Victorian elegance of Durango's mining-boom days.
• Windsor Hotel: The tiny town of Del Norte saw its own gold and silver boom, and the block-and-a-half-long Windsor was built in 1874 — when the town was a candidate for being named Colorado's capital.
Want More?
Search all Colorado hotel listings >>
Find more romantic Colorado places >>
Explore only-in-Colorado Hotels >>