10 Romantic Denver Spots
Looking for romantic things to do in Denver? The Mile High City and romance go hand in hand. Whether you're on your first date or your 50th, here are some of our favorite spots for starry-eyed romantics in Denver.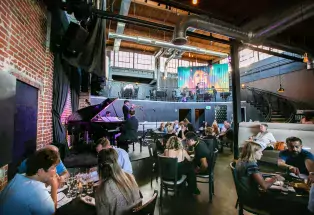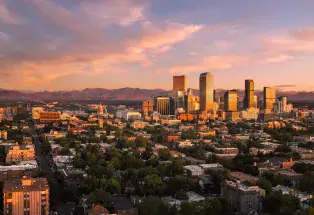 1. Denver Botanic Gardens
During the summer months, there's no better spot to snuggle than under the stars at Denver Botanic Gardens, a blooming botanical paradise in which to enjoy some of the top musical acts in the country in one of the most serene outdoor landscapes in Colorado. Pack a picnic, bring a bottle of wine and a blanket, and stretch out on the grass while listening to the likes of Melissa Etheridge, Chaka Khan, Bruce Hornsby & The Noisemakers and Gipsy Kings. The season typically runs from the beginning of June to the middle of August. Tickets sell out quickly, though you may have luck purchasing a last-minute pair at the ticket window on the evening of a show. 
2. The Spa at the Brown Palace
Downtown Denver's crown jewel, the historic Brown Palace Hotel, is also home to one of the city's most luxurious spas, the Spa at the Brown Palace. Tucked away from the hustle of the Brown's opulent lobby, the spa welcomes visitors with a soothing waterfall that sets the stage for the spa's signature soaks. These invigorating bathing treatments enlist the hotel's exclusive artesian well, located 750 feet below the lobby. 
3. Nocturne
Sway along to some smooth jazz at Nocturne, located in Denver's burgeoning River North Art District. Nocturne marries the culinary, cocktail and musical arts to create one of The Mile High City's most romantic experiences. Nocturne features live jazz every night, as well as carefully curated wine, beer and cocktail offerings and a one-of-a-kind seasonal culinary program anchored by a jazz-inspired, five-course tasting menu.
4. Barolo Grill
The lovely two-top buttressed against the flickering glow of the fireplace isn't just one of most sought-after tables in town — it's also one of the most coveted spots for an intimate tête-à-tête. Named for the wine of the Northwestern Italian province of Piedmont, Barolo Grill is a convivial restaurant, strewn with grapes from the vine, wine bottles and farmhouse touches, all of which give it an air of rustic sophistication. Executive chef Darrel Truett, whose cooking complements the expansive wine roster, turns out shareable dishes like the fritto misto — fried prawns and calamari pooled in grilled lemon crema. 
5. Bistro Vendome
Flirting habitués find fun and romance at this Larimer Square French-food temple that speaks ooh la la at every turn. Tucked into a secret back alley, Bistro Vendome's sunflower-yellow interior, with its warm golden glow of flickering candlelight, whimsical chalkboard menu, scarred hardwood floors and welcoming vibe, is an idyllic date spot. The scarlet-canopied, foliage-flush jardin is just as ambient, especially during spring and summer when the flowers are in full bloom. But no matter where you park yourself, the decadent menu — duck confit, escargot, steak tartare, mussels and frites — is a jubilee. 
6. Peaks Lounge
From the sky-scraping 27th floor of the towering Hyatt Regency Denver, you can pop the cork (or the question) while beholding heart-palpitating panoramas from Peaks Lounge, a gorgeous floor-to-ceiling-windowed bar showcasing memorable vistas of the Rocky Mountains and brightly lit city skyline. Furnished with plush, oversized sofas and chairs and illuminated by the flame of a blazing fireplace, it's a place that invites lingering, even if the altitude-high drink prices might cost you more than an engagement ring. But, oh, those views! 
7. Date-Night Scavenger Hunts
Looking for a unique date night idea? Try a scavenger hunt with Let's Roam. It's perfect for first dates as well as couples who've been together for years. It's a great way to experience the city where you can pause the hunt to have a bite or a drink.
8. Hotel Monaco
It's easy to get lucky in love at Hotel Monaco, renowned for its elegantly appointed rooms and suites bedecked with down pillows and comforters, bold color schemes (think racy reds), deluxe bath amenities and playful furnishings. Indulge in the hotel's afternoon wine hour, complete with complimentary chair massages, then slide into a booth for two at Panzano, the excellent, on-site Northern Italian restaurant. In the morning, luxuriate in a massage, either in your room or at the VEDA Salon & Spa. 
9. The Clocktower Cabaret
If you're bored with the bar scene but still fancy a classy place to sip and sup while taking in top entertainment, join the other canoodling couples at The Clocktower Cabaret, a sensually attired, Parisian-styled nightclub tucked into the basement of the historic D&F Tower in downtown Denver. The sexy showroom dazzles with its clusters of chenille-draped tables illuminated by whimsical antique chandeliers dangling cowboy boots and clocks. Everyone from piano bar crooners and vocal impressionists to vaudeville comedians and jazzy national acts grace the glittering stage. 
10. Cook Street School of Culinary Arts
An inviting downtown cooking school, the Cook Street School of Culinary Arts is beautiful and well-outfitted, making it the perfect locale for an outside-of-the-box date night. Together, you can visit different regions of the world from France and Italy to the American Southwest, learn how to bake gourmet cookies, cook a holiday feast, or take a tasting tour of craft beer, wine and spirits. 
Want more?
Read Denver's Must-Try Restaurants.
Get additional information about Denver's must-see locations and events, and order a Denver Visitor Guide.