A Full Day in RiNo: Sunrise to Sunset & Then Some
To explore one of Denver's most up-and-coming young neighborhoods, look no further than the River North Art District, or RiNo (pronounced like the animal). As if echoing its mash-up moniker, RiNo is a colorful swatch of Denver, built on urban charm and industrial renewal.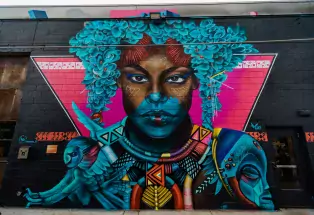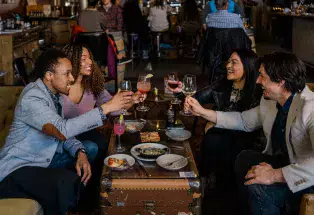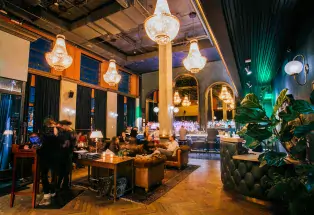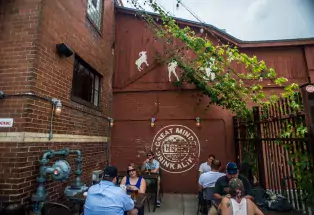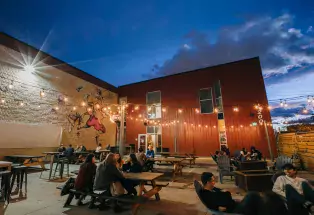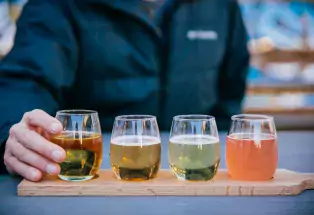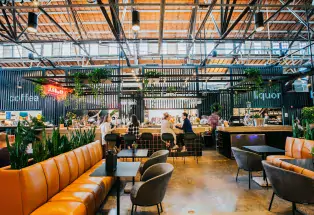 On the outside, you'll find alleys lined with curated graffiti and reclaimed warehouses splashed with vibrant murals. Open their doors to discover a wealth of inspiring maker and artist galleries, eclectic cuisine and a craft-beverage scene that reflects the creative spirit of the neighborhood.
Here are some of the many ways you can enjoy a full day in RiNo.
Insider tip: Parts of RiNo are still undergoing growth spurts, so you may want to drive to hit the highpoints. If you're dipping into one of the district's many pubs or tasting rooms, make sure you have a designated driver or use a rideshare service.
Morning 
Shake yourself from slumber, and head to The Woods Restaurant to watch the sunrise color Denver with rich purples, neon pinks and electric oranges. Located on the rooftop of The Source, the eatery offers sweet and savory breakfast fare with delicious skyline views. For non-early risers, The Source's market is a great place to grab a fancy coffee and freshly baked sticky buns before perusing the shops and galleries within. The Source actually has two market halls with separate entrances, so make sure to explore them both for the full experience.
Or, make your way to The Denver Central Market — a gourmet food hall in a reclaimed warehouse dotted with details that hint at its art deco past. Beneath the soaring ceilings of this local landmark are myriad wining and dining options, from meatball sandwiches and vegan soba noodle salads to traditional egg cremes and charcuterie boards.
Have breakfast at the market or pick up the makings of a great picnic — fresh bread, cheeses and cured meats — which you can enjoy at Denver's oldest park, Mestizo-Curtis Park. But before you leave, make sure to walk around the nearby alleys, whose walls are adorned with vivid artwork. Known as one of the most Instagrammable spots in the city, these alleyways are a core component of RiNo's charm.  
Afternoon
Kick off the afternoon at Forney Museum of Transportation, where you can see a variety of cool historical artifacts, like amphibious automobiles from the 1960s and Amelia Earhart's car. Keep things moving at the travel-themed Zeppelin Station's quarterly pop-up shop — Made in a City — featuring brands, artwork, mixology and more from cities worldwide. (Today Los Angeles. Tomorrow … Singapore? Havana?) While there, treat yourself to a culinary trip around the globe: The food hall serves up everything from Vietnamese coffees and banh mi to Nashville hot chicken and tacos al pastor.
Tuck into fresh pasta dishes at the chic Il Posto, where the mandala-adorned walls and sculptural lighting will set the mood for a few gallery visits. For a spectrum of contemporary ceramics — from delicate, spiny vases to geometric delights — visit Plinth Gallery. At fooLPRoof, you'll find an array of boundary-pushing artworks in all mediums, like pop-surrealist paintings and virtual collage.
While RiNo's known for arts, it also has a creative craft-beverage scene. Stem Ciders offers imaginative blends like chile guava and salted cucumber, and hosts special experimental tastings every first Monday of the month. Other locally loved potions include the bright IPAs and velvety stouts of Great Divide Brewing Company's Barrel Bar, along with Infinite Monkey Theorem's crisp chenin blanc and jammy malbec. Both locations offer behind-the-scenes tours and tastings, and you can also sip seasonal selections at nearby Blue Moon Brewing Company.
Early Evening
The RiNo Arts District's monthly First Friday boasts a lineup of art openings and live music, so don't miss out if you're lucky enough to be in town. If visiting RiNo has shaken and stirred your creative juices, sign up to craft your very own custom blend of red wine at Bigsby's Folly. (Though if you'd rather, you can just drink wine and nosh.)
When those dinnertime stomach rumblings start, you'll have ample options to sate your hunger. Los Chingones — home of adventurous Mexican fare like queso with rattlesnake chorizo and alligator tacos — is so popular with Denverites that it's launched three more locations after initially opening its doors in RiNo. And down the block, Work & Class marries Southern charm and Latin flavor with menu spotlights like pork and lamb meatballs over cheesy grits and poblano smashed sweet potatoes.
Late Night
When it comes to RiNo nightlife, you'll find something for everyone. If a Colorado-casual night complete with beer pong, oversized games and cornhole sounds like your dream, Bierstadt Lagerhaus has your name all over it. Along with ample amusement, you'll find traditionally brewed German-style lagers, local ciders and a menu of small bites, salads, sandwiches and more for when you get snacky.
Don't miss the concerts at The Mission Ballroom, with blockbuster shows from world-renowned artists. This mural-filled music venue has Instagram-worthy photo opps aplenty, along with an iconic disco ball and the best sound experience available. Jazz fans can unwind nightly with delicious food, an extensive wine list and smooth sets at Nocturne. In addition to seasoned performers, the club hosts an artist-in-residency program, giving young musicians a chance to stride and stroll. Seating is limited, so you'll want to make a reservation.
Ready to ramp up the volume and dance the night away? Tracks — RiNo's premier LGBTQ nightclub — is where you'll find the beat dropping like its hot in Denver, one of the most LGBTQ-friendly cities in the U.S. Spanning multiple rooms, the venue hosts themed dance nights, adult roller-skating parties and some of the hottest local circuit DJs mixing everything from hip hop and house to old-school industrial.
Want more?
Get additional information about Denver's must-see locations and events, and order a Denver Visitor Guide.
Experience the sweet sounds of Denver's eclectic music scene