Summer Activities at Colorado Ski Resorts
Coloradans like to play in thin air, where the charming lack of oxygen makes us feel thinner, smarter and better looking than we do at the lower altitudes.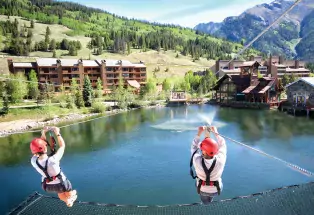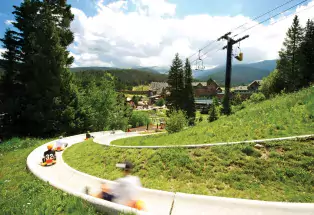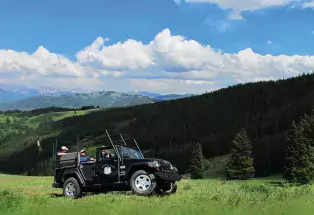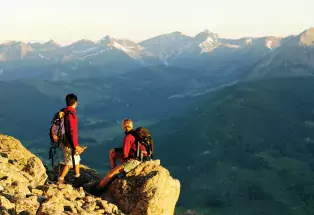 For that reason, the same sky-high Colorado ski resorts that bring us thrilling adventure each winter remain open for business in the beautiful summer vacation months with gondola-accessed mountain-top yoga, gourmet hiking lunches, wicked-awesome bike parks, challenging disc golf and more — all of which come with a hearty helping of panoramic Rocky Mountain views.
Fit a little high-altitude activity into your Colorado summer itinerary with these tippy-top-of-the-hill ideas, and check the resorts' websites for even more options. Plan your trip around each town's summer events so there's plenty to do when you come down — literally — from your mountainous high. And find 8 Ways to Love Summer in Colorado.
Mountain-bike purists will find fat-tire heaven on Keystone Bike Park's rock drops, gardens, bridges, berms, roller coasters and 60 miles of trails. The resort offers rental equipment that will give you the confidence to get out of granny gear and into a mystical singletrack zone. There's also two golf courses, ATV tours and mountain-top yoga.
You'll have to make some tough choices for how to spend your day at Purgatory, as there's too may things to fit in one day: alpine slide, zipline, mini golf, mountain-bike uplift, ropes course, bungee tramp, climbing wall, mechanical bull, gyro chair and more.
Soaring down 5,800 feet of track at speeds up to 25 miles per hour, Copper's Rocky Mountain Coaster provides thrills for the whole family with beautiful views of the Ten Mile Range. The resort also offers plenty of activities in the base area, including the Woodward WreckTangle, a ninja obstacle course for all ages.
Mount Werner's relatively flat (but un-relatively, amazingly scenic) Vista Nature Trail should only take you an hour to hike. Extend the day with a stop for lunch, a glass of wine and expansive Yampa River Valley views from the deck of Thunderhead Lodge. Also check out: scenic gondola rides, the Land Up Adventure Zone's family activities, guided hikes, sunset happy hours, Movies on the Mountain and golf.
An hour of open-air Hatha yoga at 11,000 feet helps curate that summer glow (inside and out) and gets you loose for the optional backcountry wildflower hike. Gazing at the Elk Mountains sure beats staring at the hairy-backed fellow in your regular yoga class. Grab lunch at Elk Camp or Sundeck, take a guided hike and try your hand at mountain biking, the climbing wall, disc golf and more.
Because 12,000-ish feet in elevation isn't always enough, Crested Butte has raised a five-stage zipline tour and a series of suspension bridges for added mountain-top scampering and extra "woo-hoo!" You can also take a gander at twilight lift rides, the Evolution Bike Park (which expanded to add a pump track and practice loop in summer 2016), disc golf and hiking.
Winter Park's beginner ski terrain becomes a challenging 20-hole disc golf course in the summer time. Reached via the Arrow lift, you have the option of cruising back down on the mountain on the state's largest alpine slide (with a 610-foot vertical drop). A new trestle bike park, 18-hole putting course and Friday Music Series will also keep you busy.
Scenic gondola + horseback ride + dinner at Game Creek Restaurant = quintessential Vail summer. Ride from a mountain-top corral through Vail's famous gladed Game Creek Bowl for a three-course dinner in a European-style chalet. The new Epic Discovery offers ziplines, adventure courses, a mountain coaster, climbing walls, summer tubing and more.
If you can pull away from the climbing wall, bungee trampoline, alpine slide, human maze and ziplines at the new Epic Discovery, head up Peak 9 for hiking, biking and horseback-riding trails, and then skip over to Peak 7 for happy hour on the deck at Sevens Restaurant. Or consider off-road Segway tours, lift-accessed mountain-bike trails and 4x4 tours.
Watch the sunset over the stunning box canyon 1,800 feet below from on high at Allred's, which is stashed at the top of a gondola ride in the alpine Mountain Village. Nibble on summer-specific fare like fried-green tomatoes with Asian barbecue sauce, bourbon-marinated elk short loin with huckleberry reduction and ginger-infused cocktails.
If you prefer your backcountry transit to come with brakes, pick up High-Mountain Adventure 4x4 tours at the top of the Centennial Express chairlift, where you'll wheel through a few of the Gore Mountain Range's prettiest assets on a one- or two-hour ride.
The resort's new high-speed quad lift have been fitted with mountain-bike carriers to whisk visitors to two brand-spanking new trails, giving visitors to the Grand Mesa yet another way to explore on two wheels.
Want More?
Check out other Colorado amusement parks >>