Lariat Loop
Golden
40
Golden
Year-Round
Denver & Cities of the Rockies
2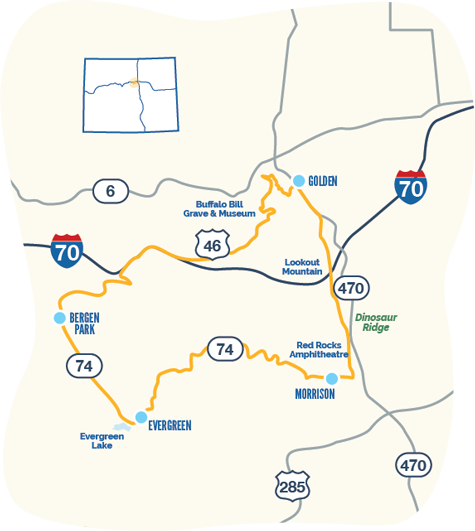 Trip Tips
The Lariat Loop offers gorgeous views year-round, though leaf-peepers will enjoy it best in fall.
Morrison's Red Rocks Park and Amphitheatre isn't just a nationally acclaimed concert venue. It's also a mecca for fitness enthusiasts! Run its rock-hewn bleachers for lung-busting endurance training or find your inner lotus with Yoga on the Rocks.
See some of this byway's highlights — and read below for many more!
On the Lariat Loop byway just west of Denver you'll find evergreens covering the foothills of the Rockies, curious crimson geology and even dinosaur tracks in an uplifted hogback rock formation. Taking its name from the old Lariat Trail, this route rises 2,000 feet from the historic downtown of Golden to the top of Lookout Mountain.
Famous for its connection to MillerCoors Brewery, the town of Golden has more to offer than just fresh beer. Long before the smell of hops and barley wafted through the streets, Golden was a frontier town.  
It's also home to the Colorado School of Mines. If you're interested in geology, you can view displays of rocks, gems and minerals at the school's mineral museum. Or absorb Western history with stops at interactive Colorado Railroad Museum and secluded Boettcher Mansion.
History buffs, take note: Wild West legend Buffalo Bill is buried at the top of Lookout Mountain, where you can visit his museum and grave. Controversy surrounds his burial site, with multiple states laying claim to this famous frontiersman's remains. But having died in Colorado, it is here where his final resting place is located. 
Seeking some outdoorsy fun? Head to nearby North Table Mountain Park for abundant hiking or scenic Clear Creek for summertime tubing and rafting. At Clear Creek White Water Park you'll find swift-water obstacles developed for daredevil paddlers. Afterward revive with a meal at Tributary Food Hall, a 3,000-square-foot dining hub offering a rich assortment of goodies, from super-cheesy pizza to super-food smoothies.
About 20 minutes west of Golden, pause at Bergen Park's historic pioneer settlement before heading to Evergreen along Highway 74. Here, acres upon acres of pine trees stand stoically on lush mountainsides and green valleys near town. Fishing the area's streams and lakes, as well as backcountry hiking, is popular among locals and visitors.
A must-see crown jewel, Evergreen Lake Park offers hiking, boating and ice skating depending on the season. Look to the hillsides during winter for bighorn sheep who've descended to lower elevations in search of food. Or, roam Hiwan Heritage Park before imbibing at area breweries.
Next, meander to the canyon community of Idledale, a quiet place that sees more bikers and drivers than residents. Little Park, a sharp turn off Highway 74, is a picnic spot right in town. Lair O' the Bear Park Open Space, just west of Idledale, offers one of the best places to wander along a creek and hike high into the hills above town. Follow one of the short-loop trails for views of the foothills beneath Mount Evans, as well as the city of Denver. 
Continue on to Morrison, at the bottom of winding Bear Creek Canyon. It's perhaps most famous for the nearby Red Rocks Park and Amphitheatre. Artists running the gamut from U2 to the Beatles have all graced this natural outdoor concert venue. Even if no shows are scheduled, you can still tour the grounds and take in the beauty of the smooth, red-sandstone walls that encase the amphitheater. The town of Morrison itself has a charming main street, where small-town shops and eateries are found. 
For a true taste of Western fare, The Fort Restaurant on the outskirts of Morrison serves up buffalo steaks in a replicated adobe fort. Or go even further back in time at Dinosaur Ridge, a National Natural Landmark and the site of important dino discoveries in the late 1800s. Stegosaurus bones and Iguanodon tracks are preserved and on view at this outdoor museum.
Circling back to Golden, stretch your legs along Old Lariat Trail, which travels almost 5 miles and 1,500 feet from Golden to the top of Lookout Mountain. Finish your day on the city's delightful main street to sip delicious, locally crafted beer.
Events on the calendar: Golden Buffalo Bill Days, Evergreen Jazz Festival, Ullrgrass Music & Beer Festival in Golden, Colorado Cowboy Poetry Gathering in Golden, Mile High Nationals at Bandimere Speedway in Morrison
Side Trips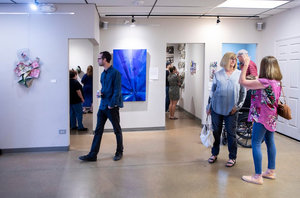 Lakewood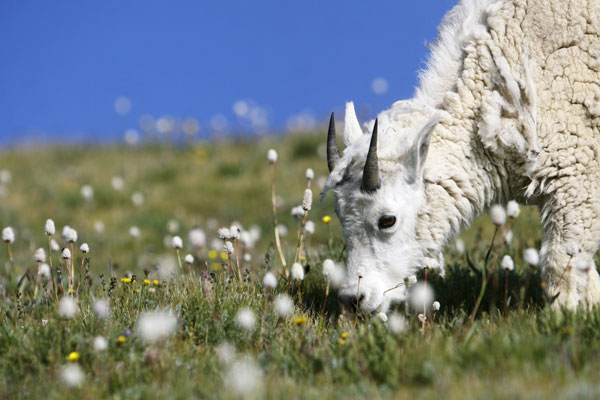 Mount Evans Scenic and Historic Byway
Genesee Mountain Park
About 20 minutes southwest from Golden, head here to the Buffalo Herd Overlook for expansive Front Range views and a chance to spot bison and elk.
See All Byways