Sample Some of Colorado's LGBTQ+-Owned Restaurants, Bakeries & Drinkeries
Your food is here. It's queer. Get into it! These LGBTQ+-friendly dining and drinking spots can satisfy your appetite for food and community.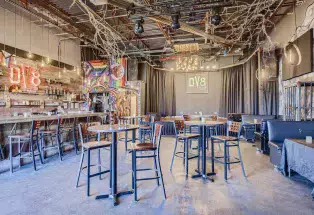 Try our favorite welcoming restaurants, bakeries and drinkeries from across beautiful and friendly Colorado.
Restaurants & Cafes
• Aperitivo (Boulder). Delight in Aperitivo's global-fusion concept that includes a full-service coffee shop, tapas and vegan dinner options. "We don't have an LGBTQ+ flag at the door, we are the LGBTQ+ flag," owner and executive chef Miguel Vazquez says. "That's our pride and, like my mama used to say, 'there is no better way, mijo, to show love and a welcoming environment than with delicious food, cooked in your kitchen.'"
• Under the Umbrella (Denver). A fixture in Congress Park for more than 15 years, this neighborhood hub owned by partners in business and life — Jyll and Kathleen — serves up velvety coffee drinks plus yummy breakfast burritos, salads, sammies and pastries. "Under the Umbrella had always been about inclusiveness," Jyll says. "The metaphor behind the name is that no matter who you are, the umbrella will protect you."
• Wong Way Veg food truck (Denver). Find Wong Way's two-woman team serving delicious vegan and gluten-free comfort food all from scratch — everything from tofu to lasagnas, soups, breads and even dressings! Ten percent of Pride-themed menu items, like lemon rainbow cake, is donated to local LGBTQ+ organizations. Food-truck locations include rotating spots like Sun Market and City Park's farmers market. Find their current schedule online >>
Desserts
• Bubby Goober's Baked Goods (Denver). Meet Bubby and Goober, a wife-and-wife team whose love for dessert is matched only by their love for one another. After losing their jobs during the pandemic, the couple turned their hands to artisanal Danishes, scones and hand pies glazed like doughnuts — all made with organic, local ingredients that proved to be an instant hit.
• Chocolatina Q Dessert (Denver). These pies have pedigree! The award-winning pastry chef and delightful doll known as "The Pie Queen of Denver" serves up homemade pastries with a heaping helping of fabulousness. Offerings — from sour cream apple streusel to chocolate mousse — change every week based on what's in season (Chocolatina uses as much Colorado produce as she can). They can be found in locations throughout the city or hand-delivered to you with a song.
Liquid Arts
• DV8 Distilling (Boulder). DV8 isn't only known for its gluten-free, rice-based spirits, like earl- grey-tea-infused vodka and single-barrel whiskey flavored with hints of vanilla. The distillery — a welcoming community gathering place run by Rawley Gunnels and Johnathan Tilley — operates as a queer-owned safe space for the surrounding LGBTQ+ community.
• Goldspot Brewing Company (Denver). When Kelissa Hieber bought Goldspot, she knew she wanted to make it a "truly inclusive, super-safe space" with great vibes for everyone in the queer diaspora and other traditionally underrepresented groups. Try the Invisible Women, a blonde stout with hints of vanilla, or a gluten-reduced American Lager called Prospector that's also available in a can.
• Lady Justice Brewing (Aurora). Based in the Aurora Cultural Arts District, Lady Justice — a queer-owned, woman-owned, Latina-founded brewery — doesn't just make delicious beer. Their slogan is "Great Beer, Better World," and they live that mantra accordingly. By enrolling in their Community-Supported Beer membership, you can support Colorado organizations that support women, girls and nonbinary individuals. Monthly brewing collaborations benefit local nonprofits, too.
• Montanya Distillers (Crested Butte). Boss babes. Women winning. We love to see it, and we love supporting it! At female-founded Montanya Rum, the company works hard at building a diverse team — through it's not LGBTG+-owned, Montanya recruited a staff where nearly 10 percent of employees identify as LGBTQ+.  
Want more?
Explore Colorado's LGBTQ+ experiences >>
We'd love to hear from you! If you know of more places that should be in this list, email [email protected].
Photo courtesy of Montanya Distillers, Wong Way Veg, DV8 Distilling