10 Free Museums in Colorado
Aristocratic summer homes, planks of wood that served as primitive skis and bronze Western art are just a few of the treasures you'll find at Colorado's free museums. Explore the halls of these establishments and learn about our proud state's resourceful and inventive roots.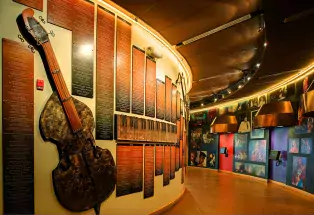 1. Walk the stone stairs at Red Rocks Amphitheatre & Visitor Center in Morrison and you'll soon see why the internationally acclaimed music venue and natural geological wonder attracts swarms of concertgoers each year. The 30,000-square-foot visitor center offers guided tours, Colorado-style cuisine and an extensive Performer's Hall of Fame where you'll find autographed photos and guitars from artists such as the Beatles and John Denver.
2. Whether you're a fan of snow sports or you've never set foot on the slopes, Vail's Colorado Ski & Snowboard Museum & Hall of Fame is worth a visit. Learn about the Winter Olympics, the history of Vail, and the 10th Mountain Division. Vintage ski tickets and gear, interactive mountain maps, a ski jumping exhibit and ski and snowboard timelines round out this experience.
3. With exhibits changing every few months, the Loveland Museum/Gallery's three distinct quarters keep visitors entertained and educated. The Front Range jewel houses approximately 30,000 objects, many by local artists, and showcases Loveland's history through displays that include the Great Western Sugar Factory and Sweetheart City USA. While there is an admission charge for the main gallery's art exhibit, the remainder of the museum is free.
4. Scope out moon rocks from the Apollo 17 mission at the Colorado School of Mines Geology Museum in Golden. View Colorado mining specimens and watch a video on area geology, then head to the basement for displays on radioactivity, fossils, gemstones and meteorites. A geologic trail featuring fossilized dinosaur tracks awaits outside.
5. Hiwan Homestead Museum in Evergreen was a prized mountain retreat for Denver's 1890s aristocratic society who sought summer solace here. This 25-room log lodge was placed on the National Register of Historic Places because of its unique construction and restored 1890–1930-era rooms indicative of early mountain-cottage living.
6. Just outside of Estes Park in Rocky Mountain National Park, Moraine Park Museum & Amphitheater is a historic landmark with interactive exhibits on the nearly 300,000-acre park's past and present landscape. Visit the bookstore, sit in on an environmental education program and walk the half-mile nature trail. The museum is open April to October.
7. Featuring five exhibition galleries, the University of Colorado's Museum of Natural History in Boulder invites visitors to delve into natural and human history. Examine dinosaur fossils in the Paleontology Hall, and dig into hands-on activities at the Discovery Center.
8. The Arvada Historical Museum in the Arvada Center for the Arts highlights the Denver suburb's distinct agricultural heritage with farm equipment, tools, furniture and household materials, decorative arts, clothing, books and photographs, along with the humble 144-year-old Haines log house.
9. Mountain West culture thrives at the Frisco Historic Park. Restored structures trace Frisco's history as a trapper camp and mining hotspot to its current status as a vacation destination and ski-resort stopover. Arrange a free guided tour of the old schoolhouse and log chapel. The park rests on the town's quaint Main Street, and the shaded grounds provide a perfect spot for picnics.
10. Peterson Air & Space Museum at the Peterson Air Force Base in Colorado Springs demonstrates the area's rich aviation and space history and features a Medal of Honor Park, missile displays and an impressive collection of 16 aircrafts. Note: For security reasons, if no one in your party possesses a current military or Department of Defense ID, you must contact museum staff in advance to arrange base access.
Want More?
12 Free Things to Do in Colorado
Free Tours in Denver, Boulder & Colorado Springs
See For Free: 6 Delicious Colorado Tastings
5 Free Things to Do in Colorado with the Kids
Photo: Courtesy of Red Rocks Amphitheatre & Visitor Center/Don Peitzman.