3 Days Isn't Enough: Stay In & Around Great Sand Dunes National Park
Three days is the minimum needed in and around Great Sand Dunes National Park and Preserve, the Sangre de Cristo Mountains and Alamosa if you want to see the area in all its glory. Use the trip ideas below as a baseline for planning your Alamosa getaway.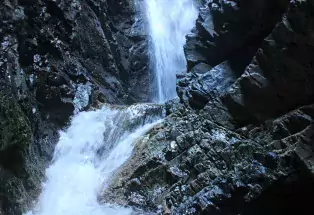 A magical light that appears within the Sangres, the southernmost range of the Rockies, and the Great Sand Dunes. At sunrise and sunset, the alpenglow spreads across the dark, layered metamorphic rock forming a scarlet curtain. The glowing peaks create a dramatic backdrop to massive golden sand dunes in the valley below.
Catching this unique, soul-inspiring scene is reason enough to pitch a tent and stay a few days in and around the park. But, there are so many other fascinating things to experience in the region, from high-mountain treks to waterfalls to brilliant, starry skies. To get a real taste of the place, you really need a minimum of three days — and probably more like a week.
If you love the outdoors and you're thinking about a quick daytrip to the dunes, consider a longer stay. We've detailed just a few of the activities you can put on your itinerary for an unforgettable visit.
Camping in Great Sand Dunes National Park and Preserve
There are very few places in North America where can you backpack into a field of giant sand dunes and pitch a tent for the night. You'll feel like an explorer in an exotic land as you cross mountains of sand en route to a remote campsite. When darkness falls, you'll enjoy quiet solitude beneath a magnificent night sky.
One of the great things about this experience is that you don't have to hike very far — only about a mile and a half — to find a secluded spot among the dunes, and you can carry a relatively light pack for one night out.
To camp in the dunefield, obtain a free permit in person and at the national park Visitor Center. Only 10 permits are allowed each night; plan to camp early in your trip so you'll have possible back-up nights. At a minimum, your backpacking trip into the dunes will occupy an afternoon, an evening and a morning.
More on Camping in the San Luis Valley
High-Altitude Hiking
The Sangre de Cristo Mountains are home to some of Colorado's most iconic 14,000-foot peaks. During a day or two of high-altitude hiking, you can challenge yourself physically and enjoy outstanding views as you ascend toward the summit. Whether you're a veteran hiker looking for a challenge or you prefer something more moderate you'll find a trek that suits you.
For something on the easier side, hike to the summit of Kit Carson Mountain (14, 165 feet). A mix of easy and moderate Class 1 and Class 3 routes climb to the top, and the views are amazing, giving this peak a reputation as one of the best fourteeners ers in Colorado. Experienced hikers seeking a challenge can try for the summit of Little Bear (14,037 feet), which includes difficult scrambling over Class 4 terrain.
To travel safely in a high-alpine environment, hikers should start very early — between 2am and 4am. This allows you to get off the summit by noon and return to the valley by early afternoon and avoid afternoon lightning, which can strike Colorado peaks throughout the summer.
Stargazing
Every traveler visiting the region should dedicate at least one night to viewing the night sky, especially if you live in an area with light pollution and you're not accustomed to seeing many stars. The dry air in and around Great Sand Dunes National Park reduces cloud coverage, and major towns are miles and miles away, so the night sky is particularly clear for star viewing and night-time photography.
Backpackers will have the most solitude and the greatest access to unhindered stargazing, but anyone camping in their rigs or tents near the national park can also hike across the sand at night, turn off their headlamp, and enjoy the blanket of stars, including the bright band of the Milky Way. Be sure to pack your tripod, as well as extra camera batteries and memory cards. Also, check with the park's Visitor Center about the ranger-led night-sky programs, including night hikes and presentations at the park's outdoor amphitheater.
Sandboarding
The prospect of sliding down an enormous sandhill brings out the kid in all of us. What could be more fun, right? And if you love skiing, snowboarding or sledding, you'll have a blast with a morning or afternoon of sand-sledding or sandboarding in Great Sand Dunes National Park.
The good thing is that you don't need to own any equipment to hit the dunes. Your skis, snowboards, sleds and cardboard won't slide on the sand anyway. Instead, pick up a specially designed sandboard or sand sled from Kristi Mountain Sports in Alamosa. The best time to drop into the sand is in the morning or later in the evening when the sand is cooler. You'll want to set aside enough time to pick up your rental gear, so consider running that errand the night before a morning of sliding on the dunes. Or, pick up the rental gear when you get into town and plan on keeping it for at least 24 hours so that you can enjoy the cool hours on the sand in the morning and the evening.
Zapata Falls Hike
The short hike to Zapata Falls has a sense of remoteness. The juxtaposition of walking across sand dunes and hiking to an oasis during the same day feels transcendent — plus, it's a great way to cool off on a warm afternoon.
Be sure to pack towels and snacks or lunch, because you won't want to rush exploring the cool gorge of Zapata. Consider spending the early morning at the dunes, and then around mid-morning heading out to Zapata, where you'll spend the rest of the day and perhaps stay for sunset.
To reach the trailhead for the falls, begin at the national park Visitor Center and drive south on CO-150 for 8.7 miles. Then, turn left onto BLM Road 5415 (the Zapata Falls road) and travel east for 3.5 miles. Be aware that this road is not paved, and a high-clearance vehicle is recommended. Enter the trailhead for South Zapata Trail #852, and walk uphill for a half mile. You'll continue ascending through a small gorge for one-tenth of a mile to Zapata Falls, which plunges 30 feet into the ravine.
Other Scenic Wonders in the San Luis Valley
Soak It All Up
When you've spent a morning in desert-like dunes and the remainder of the day splashing in a waterfall, you'll understand the diversity of this remarkable region. One day you can be perched atop a peak at 14,000 feet and the next you can be nestled low surrounded by sand looking up at the stars. There's more to this place than many people realize, and more things to do and see than any person can squeeze into a day or so.
Read 10 Things Your Family Will Love About Alamosa
A version of this article originally appeared on Alamosa.org.