Care for Colorado: Voluntourism Opportunities
We don't need to tell you Colorado is a pretty special place. And we don't mind telling you that you're a pretty special person if you want to help us keep it that way while you're roaming around it.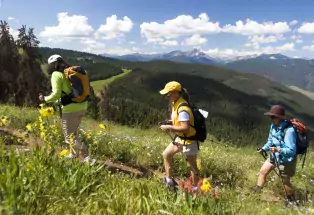 You already know that you can help ensure these places exist for generations to come by staying on roads and trails, keeping speeds in check, leaving campsites and picnic spots just as you found them, and following instructional signs while you're out and about in our state.
But if you want to go a bit beyond that, there are several ways you can help steward and restore our old friend that have a distinct advantage: Not only is your vacation a feel-good experience, you also get to see some Colorado's most beautiful scenery.
Volunteers for Outdoor Colorado 
Find outdoor-volunteer opportunities in the areas you plan to visit via Volunteers for Outdoor Colorado, from trail restoration and construction to planting, fence removal and weed removal — many of the opportunities combine with activities like family camping, canoeing and more. No experience necessary!
Colorado Fourteeners Initiative
Colorado is endowed with 58 mountains whose peaks rise at least 14,000 feet above sea level. Adventure seekers have been challenging themselves to climb these behemoths for decades and the heavy foot traffic on the high-altitude trails can be hard on the ecosystems. Volunteer vacations through the Colorado Fourteeners Initiative range from three-day trail builds to wildflower seed collection.
Colorado Trail Foundation
The Colorado Trail stretches 500 miles from Denver to Durango. It's a pathway for hikers who want to travel the majority of the state on foot, passing over mountains, around lakes and through a number of Colorado communities. Colorado Trail Foundation volunteers are continually working to maintaining its varied terrain. The foundation's volunteer crews make improvements to the trail, and visitors to Colorado are welcome to take part in the weeklong trips.
Continental Divide Trail Coalition
The Continental Divide Trail follows the United States' claim to the Continental Divide from Montana to New Mexico. In all, more than 3,000 miles of hiking trails constitute this grand route. As with the other trail-stewardship programs, no previous experience is required to help out. Projects range from repairing damaged sections to scouting missing trail links to building unfinished sections.
Other Ideas
Want more? 
Care for Colorado with sustainable travel >>
Keep the sustainability theme going and shop local at these Black-owned eateries and establishments in Colorado >>