Do Colorado Right With Sustainable Travel
We don't need to tell you Colorado is a pretty special place. And we thank you in advance for helping us keep it that way while you're roaming our mountains and plains.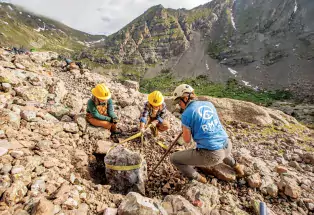 Here are some ways you can take care of your vacation paradise — so it's just as wild and wonderful every time you return.
Sustainable Wining & Dining
From locally sourced ingredients to restaurants that prioritize zero-waste efforts, these eateries (and drinkeries!) are doing big things.
At Adam's Mountain Cafe in Manitou Springs, refuel with healthy dishes — from house-made veggie burgers to gourmet salads — while supporting other small businesses, as this restaurant sources local ingredients whenever possible. And with a menu starring pasture-raised meats, locally sourced vegetables and "Best Choice Green" seafood, Root Down in Denver is a must-try for conscientious diners craving inventive international fusion.
Colorful street tacos, loaded-up burritos and unexpected cocktails (kombucharita, anyone?) are the draw at Jefes Tacos & Tequila in Longmont, committed to sourcing ingredients from local farms and ranches and skipping single-use plastics. Or, sip a lineup of award-winning rum at the tasting room of Crested Butte's Montanya Distillers, which boasts 100-percent wind-powered facilities, craft cocktails and globally inspired cuisine.
In Alamosa, enjoy a pint of the freshest craft beer possible at The Colorado Farm Brewery — the only brewery in the world where every ingredient in its estate beers is grown on the farm (and then brewed on site).
Meanwhile, the folks at Ska Brewing have a few passions: loud music, comic books and the well-being of their community. Tour the 100-percent wind-powered facility in Durango, and then stick around for a pint — from the pine-meets-citrus Modus Hoperandi IPA to the ultra-crisp Mexican Logger. 
One-of-a-Kind Eco-Friendly Stays 
From backcountry huts to eco-conscious bed-and-breakfasts, you've got options when it comes to getting away from it all and feeling good about it. Take a look at just a handful of examples.
The focus on "holistic hospitality" is apparent at SCP (Soul Community Planet) Hotel in Colorado Springs, where sustainable design, vegan-forward food options and yoga are a few of the perks. Another bonus? For every stay booked, a tree is planted through One Tree Planted.
Outside of Silverton, hike or snowshoe to the OPUS Hut, a full-service backcountry lodge with solar-powered lighting, indoor composting toilets, in-floor solar-thermal heating, and healthy, natural food served up daily.
Or, pitch a tent in a pasture at Sustainable Settings, a Carbondale working ranch, where you'll sleep under the stars before milking cows and harvesting your own food for lunch. 
Voluntourism & Sustainable Activities 
Being a sustainable traveler starts with knowing more about our impact on the planet. At Walking Mountains Science Center in Avon, watch award-winning films in the Sustainable Film Series, go on a free tour of a recycling facility or join trained naturalists for guided ecology hikes through the Eagle River Valley.
Ready to take your sustainable style a step further? Help out at one of the many voluntourism opportunities around the state. From land to water, Wildlands Restoration Volunteers offers a wide range of projects. Whether you're into clearing and maintaining trails, picking up litter from waterways or building rock structures to maintain natural habitats, there's something for everyone.
Home to world-class fly-fishing, dramatic waterfalls and glimmering lakes, the Roaring Fork Watershed is a major tributary of the Colorado River. Keep this area beautiful by signing up for one of the Roaring Fork Conservancy's events, which include clean-up efforts throughout the Roaring Fork Valley (made up of towns like Aspen, Snowmass, Basalt, Carbondale and Glenwood Springs). Bonus: You could win prizes for Most Unusual Trash, Best of Trash and more.
Did you know that Colorado is home to 58 mountains that are at least 14,000 feet high? (Fourteeners, as we call 'em.) These colossal summits draw hundreds of thousands of hikers every year. Join the effort to keep their trails in peak condition with the Colorado Fourteeners Initiative.
Looking for more vigorous volunteer opportunities? Work up a sweat — and some good karma — by clearing trails, spreading native grass seed and mulch, installing rock steps, and constructing stone and timber walls with Rocky Mountain Field Institute.
Group travelers can bring friends, colleagues or family members to one-day volunteer projects hosted by the City of Boulder Open Space and Mountain Parks. Spend the day constructing or maintaining a nearby trail for Boulder locals and visitors alike to enjoy.
Fun Fact: Carbon-Neutral Cities
Two of Colorado's cities are completely powered by renewable energy: Aspen, which uses hydroelectricity, wind and landfill gas to power its electric system, and Glenwood Springs, powered by wind and hydroelectricity.
Want More?
Check out this eco-friendly Vail Valley road-trip itinerary
Leave no trace with our Care for Colorado Leave No Trace Principles