Explore With Adventures Out West From The Garden of the Gods Visitor & Nature Center Activity Desk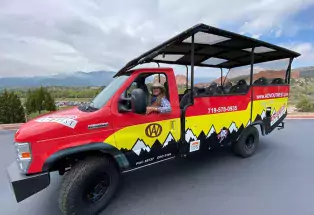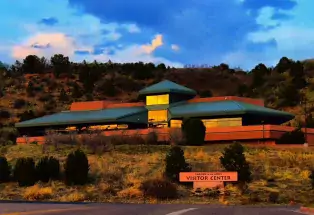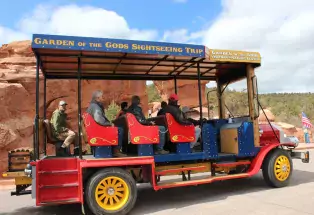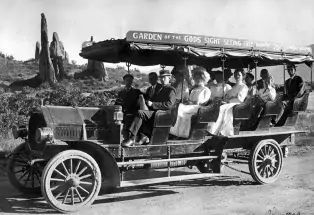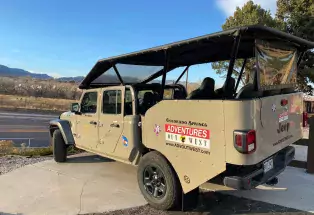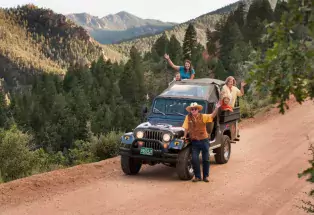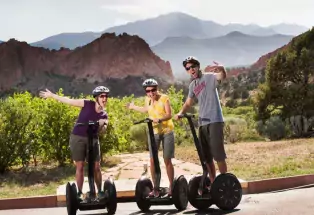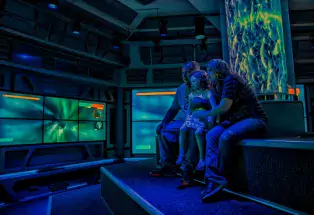 You can go by Jeep, Segway, The 1909 Trolley or take a guided hike. Group tours get the best park experience with Adventures Out West. Stop by the activities desk in the Garden of the Gods Visitor & Nature Center, your adventure destination for America's No. 1 city park, to learn more.
About Garden of the Gods
Garden of the Gods is a National Natural Landmark boasting views of towering red sandstone formations that'll make your eyes pop. Access to the park itself is free to visitors, and the Visitor and Nature Center is open daily. Here you can interact with historical and informational dioramas, a restaurant and souvenir shop as well as an educational movie. Insider's tip: The immersive movie, projected on three walls, runs every 15 minutes.
Want to explore? Next, head to the visitor center activities desk — it's the adventure gateway to Garden of the Gods Park where you can sign up for Jeep, Segway or trolley tours. Unique vehicles and guides provide an unmatched No. 1 city-park experience. Expect to hear tall tales and true stories of Colorado's Old West, plus information about local flora and fauna. Tours depart throughout the day, weather permitting, and all tours are weather dependent.
Van & Off-Road Jeep Tours
The Balanced Rock Adventure Van Tour includes a 90-minute journey through Garden of the Gods Park plus one historical district as time allows. This is a scenic open-air tour in a one-of-a-kind custom van that's big on fun and ideal for group tours.
The Off-Road Jeep Tour, done in a custom-built Jeep Gladiator, includes a 120-minute trek around Colorado Springs' well-known landmarks including Garden of the Gods, North Cheyenne Canyon, Rampart Range and more depending on the tour offered. Guests can additionally charter the Jeep for their own personalized tour including Pikes Peak. 
Experienced "cowboy" guides will tell historical tales about the state and the railroad as visitors enjoy classic Colorado foothills scenery and drive through 100-year-old tunnels. Gorgeous panoramic photo opportunities abound, and bottles of water, wool blankets and rain ponchos are available to all riders. Book your Jeep tours day-of at the park's adventure desk.
Segway Tours
There are two Segway tour types available at Garden of the Gods: Juniper Loop Tour and the expert-level Balanced Rock Tour. In both, guides pause along the way to point out breathtaking red-rock formations, plus animals and plants that are unique to the area — like red-tailed hawks and bighorn sheep. Expect to hear historical tidbits about Colorado Springs, the park and the Old West as you go. Tour routes are considered advanced, so participants should expect hills, slopes and steep drop-offs.
Not familiar with a Segway? No worries. Guides will train visitors on how to handle a Segway before heading out. For your safety, please no flip-flops, no children under 12 and no riders over 250 pounds. Book your Segway tour >>
Trolley Tours
Adventure Out West's open-air trolley tours seat 14 guests at a time and last 45 minutes. The trolley you'll ride in is a replica of the original one used at the park in 1909. Book it to see spectacular red-rock towers and formations from the comfort of a vehicle. Please arrive to the park early to reserve your tour at the visitor center's activities desk; advanced reservations cannot be made for this tour type. Insider's tip: Trolley tours may not be available in winter and tours are weather dependent.
Hikes
See Garden of the Gods Park up close and personal with a 2.5-mile, guided hike along Palmer Trail, or explore miles of trails on your own. Paved paths, rocky trails and scenic sights all get you up close and personal with gorgeous red-rock terrain. Pick up a map at the volunteers' desk on the second level of the visitor center. Insider's tip: Always carry two bottles of water with you due to Colorado's arid climate. Book your guided hike >>
Group Tours
Group-tour pricing is available for Jeep, Segway and trolley adventures. Group tours, motor coaches and small groups can all make the Garden of the Gods Visitor Center their home base to fun. Adventures Out West offers group-tour coordination directly from the visitor center. Book your group tour >>
Want more?
Learn more about Adventures Out West tour offerings >>
Meet Adventures Out West guides >>