3 Ways to Play at Colorado Adventure Center: Rafting, Ziplining & Obstacle Course
Just 35 minutes from Denver (and 45 minutes from Summit County on I-70), Colorado Adventure Center in Idaho Springs is guaranteed to put smiles on the faces of adventurers of all ages. For 30 years, they've been helping families and groups make lifelong memories. Each season, thrill-seekers scramble to ride the rapids while Colorado rafting, take on the Sky Trek's multilevel aerial-adventure park, and fly high over Clear Creek on eight ziplines.

 

Whoop the day away on just one of these experiences or book a combo package that bundles all three!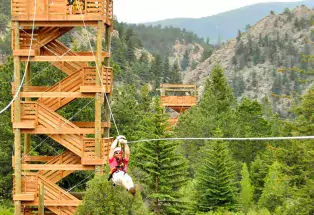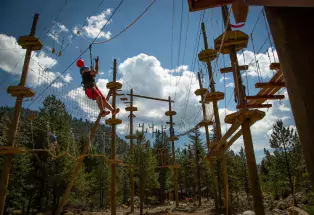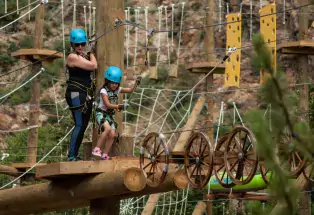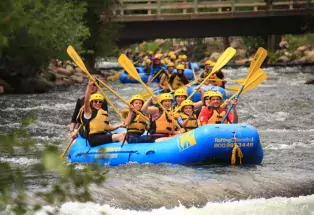 1. Experience the Thrills of Colorado Whitewater Rafting
Clear Creek tumbles out of the mountains nearby, providing a huge variety of opportunities to go river rafting on some of the state's most beautiful waters. From beginner to advanced, with Class II to Class V rapids, there's a little something for everyone. Paddle past historical Argo Gold Mine, shoot through a scenic canyon while tackling churning whitewater features, or take a family-friendly rafting trip on the upper Colorado River.
2. Test Your Mettle on the Sky Trek Aerial-Adventure Park
Calling all "American Ninja Warrior" wannabes: Colorado Adventure Center's Sky Trek boasts 60 challenging elements that will make you feel like you're training for the hit show. One of the state's newest attractions, Sky Trek's mining-themed course features three routes and levels of difficulty. Start out on the easiest level and — as your skills and confidence grow — work your way up to the harder sections. Favorite obstacles include a suspended bottomless raft, a pickaxe swing, monkey ropes, Swiss cheese, a spider's web and the most nerve-wracking of all … the tight rope.
The aerial-adventure park will challenge your perceptions and shake you out of your comfort zone (in a good way). You'll be amazed at how much braver you become as you learn to trust yourself and build confidence. Sky Trek guides are available to help coach you through the course, providing advice and encouragement along the way. And if you should "fall," you'll actually only drop a few inches.
3. Fly Sky-High With Colorado Ziplining
When it comes to even more high-flying fun, soar above the treetops in Clear Creek Canyon on some of the highest and longest ziplines in Colorado. Start by climbing the 65-foot-tall towers, then leap and fly like the wind from one tower to the next, for a total of eight separate ziplines. You'll squeal with glee for nearly a mile as you zip over the tumbling whitewater rapids of Clear Creek, with a stunning bird's-eye view of the surrounding canyon walls. This thrill ride hits speeds of 40mph, so adrenaline rushes are guaranteed.
Book Combo Packages to Max Your Excitement
Colorado Adventure Center's handy packages let you experience multiple activities without extra planning — and you'll save money by bundling your excursions. Choose what works best for you, your family or your group. Spend the morning sky trekking or ziplining and have a delicious lunch served creekside under a shady canopy. During the afternoon, cool off with a Colorado rafting trip. Photographers capture all the special moments and candid facial expressions of your adventures, so all you have to worry about is having a blast.
Relax & Rest Easy Thanks to Certified Guides
Colorado Adventure Center's guides are fully certified and extensively trained. They maintain current first-aid and CPR certifications. Some of the outfitter's guides even hold Swiftwater Rescue and Wilderness First Aid certifications or have extensive training as EMTs and Wilderness First Responders, but all are passionate about showing you a good time on the water and in the air. Before departing for a raft trip, zip tour or sky trek, you'll attend "safety school" where guides will provide instructions and answer any questions you many have.
Learn More
Adventure awaits at Colorado Adventure Center! Add the Sky Trek aerial-adventure park, whitewater rafting and ziplining to your summer vacation plans.
Book Your Colorado Rafting Adventure
Browse Sky Trek, Raft & Zip Packages