Year-Round Fun at Snow Mountain Ranch
Hear your kids squeal as they head down the tubing hill, indulge in a sleigh ride or test your agility in the ice-skating pavilion at Snow Mountain Ranch. Situated between Winter Park, Grand Lake and Rocky Mountain National Park, the ranch is a convenient destination for your next family vacation.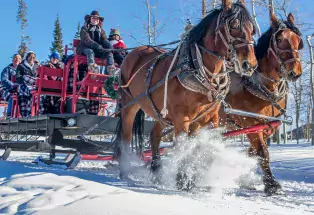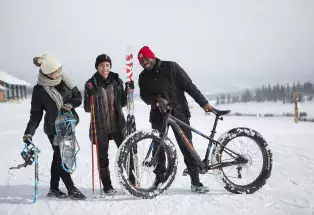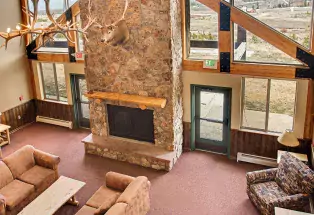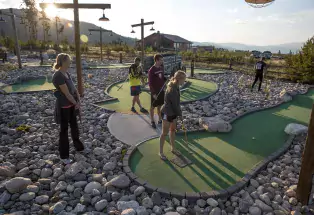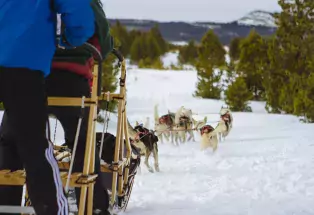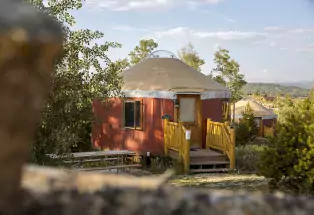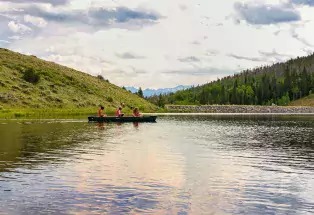 Each season brings something new — from dog sledding in winter to horseback riding and mini-golf in the summer. Trails stretch for as far as the eye can see — there are more than 100 km of groomed trails for Nordic skiing, snowshoeing and fat biking. Plus, the ranch has cozy accommodations, so you don't need to leave. 
Outdoor Pursuits
Summer
Slather on some sunscreen and get into Colorado's great outdoors. Start your morning by testing your skills at the archery range. First-timer? Learn the safe — and proper — way to shoot a bow during a one-hour session. Get on the water and canoe around Gaylord Reservoir. Paddle into the middle for shots of the hills that surround you and enjoy the gentle breeze as it blows across the water. Hang at the lake to cast a line for trout. If you catch the ranch's tagged fish, Rocky the Rainbow Trout, you win a two-night stay at the Indian Peaks Lodge. 
Maybe you'd rather do a little adventure seeking. If that's the case, a trip past historic cabins, natural hot springs and the thrill of a lifetime — cascading rapids — are calling your name on a whitewater raft. Or, climb into the sky for a ride on the 600-foot-long Forest Zip Line. 
Spend the afternoon hiking on the miles of trails bordering your lodging. We suggest the Waterfall Trail, a family-friendly 2.5-mile round-trip hike or the Grand View Trail, an intermediate 3-mile trail up Nine Mile Mountain to a beautiful overlook point. Spot soaring peaks, brilliant wildflowers, glistening lakes and roaring waterfalls. 
In the early evening, try to get a hole-in-one on the disc golf course, 18 holes of disc-flipping fun, plus a scenic hike to boot. Then round out the night with a family game of mini-golf to see who the champion of the colorful balls and kelly-green turf can be. 
Winter
When the sparkling, white dust settles on the mountainsides and valleys of Snow Mountain Ranch, a whole new set of activities kick off. Beginners can start with snowshoeing on miles of trails that accommodate all fitness levels. 
Maybe you've always wanted to live out a sleigh ride fantasy. The 45-minute to an hour wagon or sleigh ride is a winding journey through the Rocky Mountains. Glide past snow-frosted pines and scenic mountain vistas. Sounds like heaven, right? 
While you might not make the Olympic trials, try your stuff at the ice-skating pavilion. With the Continental Divide as your background, strap some skates on and get out there. Or experience fat biking, where 10 km of trails are explicitly reserved for those thick tires.
It wouldn't be winter in Colorado without skiing and snowboarding, and Snow Mountain Ranch has access to both. Rent your equipment at the ranch before heading to resorts at Winter Park and Granby Ranch. The Nordic center on site also has more than 100 km of world-class terrain. Beginners can ski on short, easy loops while experienced skiers can train on longer, expert trails with steeper climbs.  
Last, take a ride on the cutest form of transportation — a dog-led sled. You'll be hooked up behind a team of huskies on a snow-covered trail, and you might even feel like you're participating in the Iditarod. Rides wind through open meadows with show-stopping views of the surrounding mountains and include heart-stopping inclines and exciting turns.
Activities for All Seasons
Climb aboard a horse to release your inner cowpoke. In the colder months, go on The Ride: a gallop along the Rockies, through forests and meadows. You'll stop to admire the snowcapped peaks and take in the outdoors as the snow whirls around you. Summer brings rides from one to two hours in length. Each come with their challenges, but you can see beaver ponds, creeks, glimpses of the Continental Divide, Sheep Mountain and the White Cliffs.
Something that doesn't require a ton of physical expertise is tubing. In the winter there is an icy hill dedicated to squealing your way down. During summer, speed down a bumpy hill in a tube as the sun shines upon on you.  
Lodging
Where will you lay your head after an exhilarating day? Rent a cabin for a backcountry feel that comes with rustic charm and a fully equipped kitchen or choose a vacation home, complete with satellite TV. Stay in a hotel-style lodge room and gather around the communal fireplaces with hot chocolate. Or, spend more time in the elements in a red-sided yurt, or pitch a tent (or camper) on one of the many campsites available. 
Find out more about Snow Mountain Ranch >>