8 Things to Do in Cherry Creek
While Cherry Creek is a neighborhood of Denver, the area's wealth of attractions set it a part from the rest of Colorado's capital city. Located just five minutes from the downtown area, Cherry Creek has the largest and most diverse shopping space between Chicago and San Francisco, an impressive roster of restaurants presenting international and locally sourced cuisine and a wealth of chic art galleries.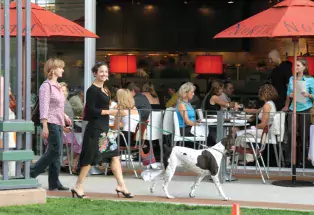 We know you won't have trouble uncovering fun things to do in Cherry Creek, but here are some ideas to get your started.
1. Shop at Hundreds of Stores and Boutiques
It's not uncommon for people to mix up Cherry Creek Shopping Center and Cherry Creek North, which are actually two distinctive areas located adjacent to one another. Cherry Creek Shopping Center boasts an indoor mall with more than 160 stores, including upscale shops and larger department stores, while Cherry Creek North is an outdoor retail, dining and mixed-use area with nearly 300 stores.
Seventy percent of the small retail businesses that call Cherry Creek North home are locally owned, making the 16-block neighborhood one of the largest gatherings of independently owned shops in the state. From one-of-a-kind clothing boutiques containing hand-selected fashion pieces from local and international designers to cookware and home furnishing stores, the area is packed with options for shopaholics.
For renowned department stores and global brands, Cherry Creek Shopping Center has favorites such as Nordstrom, Neiman Marcus, Coach, Tiffany & CO., H&M, Louis Vuitton and many more.
2. Meander Through Art Galleries
Whether you're a buyer or a browser, Cherry Creek North has more than 10 art galleries selling everything from fine art and furniture to handmade gifts. Take home a vintage European poster from Gallerie Rouge or view the work of Colorado artists at Cherry Creek Art Gallery. Moreover, art lovers will appreciate Cherry Creek North's multitude of outdoor art and garden spaces featuring benches, tables, chairs and creative landscaping. Discover more art galleries in Colorado >> 
3. Family-Friendly Fun
Cherry Creek Shopping Center's is home to Denver Museum of Nature & Science's Dinosaur Gulch, perfect for kids aged 0 to 5. You'll also find a ton of cool events for bonding with your brood. During Pawpalooza, well-behaved and leashed pups are allowed to shop with you; they can enjoy puppuccinos and caricatures, while you delight in family photos with the Easter Bunny, BINGO and cornhole. If you're seeking a way to distract older kids while you browse the shops, Cherry Creek Shopping Center also houses an eight-screen, dine-in movie theater.
4. Spend a Day at the Spa 
Occupied by more than 50 spas and salons, Cherry Creek North offers mind and body therapy was well as retail therapy. Book a massage and facial at one of the district's numerous spas, then head to a salon to get gussied up for a night on the town.
5. Savor a Gourmet Meal 
Cherry Creek is a great place to be hungry, for the dining options are endless, from burger joints to ethnic eateries. Those craving organic or locally sourced food experiences will find satisfying options at locales like True Food Kitchen, which specializes in organic dishes that support healthy living, and Barolo Grill, a restaurant highlighting northern Italian cuisine made with seasonal ingredients from local farms. 
For a special meal, make a reservation at the steakhouse owned by former quarterback and general manager of the Denver Broncos. Elway's in Cherry Creek, which serves up delicious hand-cut steaks and fresh seafood, is the original of four Colorado locations. You can't go wrong with the bone-in rib-eye steak with a side of Brussels sprout hash accented with toasted pistachios … touchdown!
6. Sip a Delicious Cocktail
Cherry Creek is dotted with several bars, many of which provide stylish spaces for intimate meetings and lovely outdoor patios for sunny gatherings. Sip a specialty cocktail or a bubbly glass of vino and snack on caviar, wagyu steak tartare or a Chicago-style hot dog at Forget Me Not, or throw back some freshly juiced margaritas at Machete Tequila + Tacos.
7. Attend a World-Renowned Festival
Every July, more than 350,000 people flock to Cherry Creek North for the three-day Cherry Creek Arts Festival, which celebrates visual, culinary and performing arts with exhibits, demonstrations and interactive family activities. The neighborhood also hosts a giant annual sidewalk sale in July and the Cherry Creek North Food & Wine in August. The popular Cherry Creek Farmers' Market sets up on Saturdays during the summer and early fall and is also worth adding to your calendar. Find more festivals and events in Colorado >>
8. Bike the Cherry Creek Trail
Spend an afternoon on the Cherry Creek Trail, a 45-mile path that runs from downtown Denver's Confluence Park south to Cherry Creek Reservoir and then to charming Franktown. The paved trail will take you by multiple parks and attractions, so you can explore at your leisure, wandering the likes of Cherry Creek Shopping Center and Four Mile Historic Park.
 
Want more? 
Explore urban vacations in Colorado >>