Alpine Slides in Colorado
In a state with so many beautiful mountainsides, it's impossible for the kid in all of us not to want to slide down a few of them once the snow melts each summer.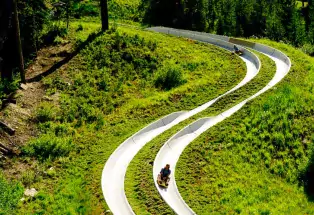 Several Colorado amusement parks have created alpine slides that zoom you down the hillside as fast as you can handle — all with amazing mountain views. Some are also available in the winter, in addition to summer, for a totally different landscape experience.
Spend your vacation playing at one of these fun parks:
After a scenic six-minute chairlift ride with amazing Winter Park views, bobsled (without the snow, of course) down 3,000 feet of slide that drops more than 600 vertical feet. While you're there, check out the resort's mountain-bike trails, gold panning, bungee tramps, human maze, zipline, climbing wall and many other family activities.
This fun park in Glenwood Springs has an alpine slide/roller coaster hybrid called, of course, the Alpine Coaster. The car is fixed to a track, so while you still control your own speed, you can shoot faster through hairpin turns and bumps without getting ejected. Once you reach the bottom, you're pulled 1,000 feet back up to the starting point — a good time to enjoy wildflower views!
The Breckenridge alpine coaster, Gold Runner Coaster, has elevated tracks to thrill you down 2,500 feet of mountainside (here, your car is also fixed to the track). They also have a typical alpine slide that gives you three different tracks to choose from. The park also offers a zipline, 4x4 and guided hiking tours, mini golf, scenic chairlift rides, gemstone panning, a climbing wall and other family favorites.
Alpine adventure finds kids in Durango, as well. Feel the fresh mountain air as you speed down the alpine slide track or take a leisurely ride to enjoy the spectacular wildflower panoramas for more than a half-mile descent. And check out the Inferno Mountain Coaster, which zooms passengers through nine switchbacks, one 360-degree circle and multiple dips while covering more than 300 vertical feet with incredible views. The park also hosts a zipline, scenic chairlift rides, a mountain-bike uplift, mini golf, ropes course, water runners and much more.
Located near the American Flyer lift, Copper Mountain's year-round Rocky Mountain Coaster is 5,800 feet long and descends 430 vertical feet. If you're seeking another way for youngsters to burn some energy, head over to Woodward Copper, an action sports paradise with skate parks, Olympic-grade trampolines, foam pit jumps, indoor ski and snowboard training, and more.
Other Colorado Alpine Slides & Mountain Coasters