Eco-Friendly Colo-Road Trippin'
Who says you need a gas tank to explore Colorado? Whether you're looking to keep your carbon footprint to a minimum or traveling on a budget, we've got a green itinerary that lets you explore the state's highlights — without having to fill up once.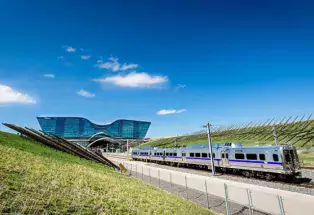 Day 1: Eco-Friendly Exploration in Denver
Start your journey in Colorado's capital city, where you'll have no trouble getting around thanks to ample public-transport options. Board the A Line RTD train at Denver International Airport and hop off at the 38th and Blake Street Station in the heart of RiNo Art District. Rent a Lime scooter (there's an app for that!) to propel yourself through the Denver neighborhood; the walls and alleyways are splashed with brilliant murals that'll brighten up your Instagram feed.
For lunch, scoot on over to Comal Heritage Food Incubator, whose mission is helping immigrants and refugees learn about the culinary profession while celebrating their cultures. Fill up on a rotating menu of treats — like smoky chicken-tinga tacos and Ethiopian almond-butter cookies — before zipping over to Altius Farms. At this sweet urban greenspace, you'll see one of the largest rooftop aeroponic gardens in the country, which uses about 10 percent of the land and water other farms do and produces 10 times the yield. You'll get to taste some of their delicious haul when you walk downstairs for dinner at Uchi, where you can savor sustainably sourced sushi and a mix of other delights, like lemon-chili Brussels sprouts and ponzu-tinged wagyu beef.
Stretch your legs with a walk over to Our Mutual Friend Brewing Company and cheers to a successful day of sustainable explorations. Each one of their beers — from the saisons to the stouts — is crafted using 100 percent Colorado grains. Raise another glass to the local farmers before scooting over for a good night's rest at The Source Hotel, which was built from recycled and regionally sourced materials. In addition to sleek, retrofitted-industrial vibes, you'll find fluffy down pillows and comforters, a rooftop pool and a market hall that's just downstairs.
Day 2: Busing to Rocky Mountain Views in Estes Park
Shake off your slumber and head downstairs to The Source Market Hall for a hearty breakfast of pastries from Reunion Bread. Guava croissants, Venezuelan sticky buns and vegan banana bread are all on the menu at this small-batch bakery.
Next, grab the RTD A Line and ride it one stop to Denver's Union Station, where you'll catch the Bustang to Estes Park for scenic views of downtown Denver and the Rocky Mountains. Once there, take a short walk to the Rocky Mountain Deli to chow down on sandwiches and locally loved caramel-pecan cookies, or grab a picnic lunch to take with you. Hit the free Estes Park Blue Route shuttle for a quick 10-minute ride to Lake Estes Marina for stunning views of snowcapped peaks and lots of fun on the water. The marina store rents everything from kayaks and paddleboards to pontoon boats and canoes.
Insider tips: Bustang rolls to Estes Park on weekends only, Memorial Day through the first weekend of October, and requires advance tickets to reserve a seat. The Estes Park shuttle runs during the summer through mid-September. It's also a good idea to book marina rentals in advance when possible.
When your arms are tired and you need refueling, jump back on the free shuttle taking the Blue Route to the Brown Route for some locally sourced foods. Try the smoked-pheasant chowder and the elk tenderloin at Bird & Jim or sip on sustainably made wines with bison meatballs at the Rock Inn Mountain Tavern.
Take the Brown Route to the downtown area to stroll the town's shops — packing those souvenirs in your reusable tote, of course — and stopping at The Taffy Shop to watch this Colorado-famous sweet being pulled. From here, it's a 15-minute walk back to the Bustang pickup, which departs Estes Park for Denver at 5pm.
Back in the Mile High City, you'll have sweet, green dreams at the Queen Anne Bed and Breakfast, where no eco-detail is spared. Each room is decorated lovingly by local artists, the mattresses are made with sustainable green-tea insulation, and their recycling and composting program will knock your ethically made socks off. In addition, each room boasts unique charms, like fireplaces, bed frames from the 1850s, cast-iron bathtubs and even a turret.  
Day 3: Green Adventures in Golden
Breakfast is served at the B&B, where herbs and vegetables from the property's own garden are the star of every meal. Dine in Victorian splendor at a community table or take your coffee in the shade of the flower garden.
If you slept in after yesterday's Estes Park explorations, opt for brunch at Root Down, where the funky upcycled decor and seasonal menu will overload your senses in the best way possible. While finishing your kombucha or Denver-roasted coffee, fire up the Turo app to check on the ETA of your electric-vehicle delivery (because you booked it well in advance to get the best prices).
Once you've picked up your EV for the day, zip over to Golden to take advantage of all the outdoors the city has to offer. Get up close with Mother Nature by tubing on Clear Creek or hiking one of the many trails in the area, all of which offer fabulous scenery and chances to spot wildlife. You might also opt to take a tour of the Coors Brewery, which has goals to be a zero-waste facility by 2025.
Now it's time to renew your own energy, so book it to Colorado + 49 Cidery & Pub to recharge with a frosty flight of house-fermented ciders paired with grown-up grilled cheeses, burgers, sandwiches and weekly vegetarian specials. The pub offers homemade ginger ale, too, which is perfect for designated drivers.
Cruise back over to Denver to bid your EV a fond farewell and treat your designated driver to a craft cocktail, speakeasy style. Dip through a bookcase into Williams & Graham to sip on your cocktail of chose blended with local and seasonal ingredients, or ask the bartender to make a drink based on your tastes or even your mood.
For dinner, tuck into a farm-to-table meal at Duo, where the menu changes with the seasons, but past offerings have included the likes of fried eggplant with green-bean gremolata and lamb chops with peach gastrique.
After that, you'll be catching CID Colorado's shuttle to Red Rocks Amphitheatre for a show — a bucket-list must. Sit back and enjoy the ride to this famous venue, which is the world's only naturally occurring and acoustically perfect concert space. There's really nothing like it anywhere else. 
A Red Rocks performance is bound to leave you tuckered out, so grab the short shuttle ride back to Origin Hotel Red Rocks (book shuttle seats in advance). The next day, you can shop at the on-site retail area, which features sweet YoColorado apparel from Golden. If your departing flight is late enough, you can borrow a free mountain bike to check out local trails before catching a rideshare to the RTD — which will take you all the way to the airport.
Want More?