Colorado Restaurant Bites: Elk Tenderloin at Tennessee Pass Cookhouse
A day spent playing in Colorado's highest reaches and deepest forests calls for a hearty, soul-warming meal. That's where the rustic Tennessee Pass Cookhouse comes in.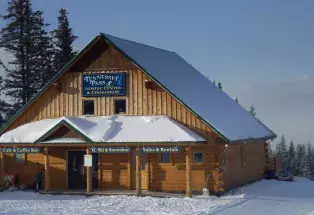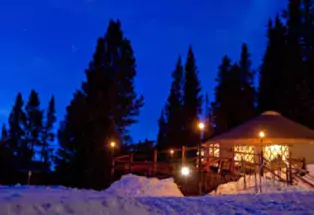 A trip suitable for all ages, adventurous diners meet at the Tennessee Pass Nordic Center at the base of Ski Cooper near Leadville at 5:30pm and traverse a 1-mile groomed trail to a yurt on cross-country skis or snowshoes.
After warming up around the wood stove, guests head to candle-lit tables for an intimate four-course dinner of classic Colorado cuisine.
With a respectful nod to the area's roughneck Wild West roots, winter entrees include elk tenderloin, rack of lamb, rainbow trout, roasted pheasant and vegetarian specials.
The grilled elk tenderloin is where it's at: The tender cut of leaner-than-beef elk is paired with a port reduction of blueberry and sage and served with the cookhouse's signature mashed potatoes. All entrees are served with a chef's whim appetizer, soup or salad, seasonal roasted vegetables and homemade fruit pie for dessert. Two lunch seatings are offered on weekends at noon and 1:30pm.
Reservations are required for this popular winter activity. Make a weekend out of it and check out adjacent Ski Cooper for an off-the-beaten-slope ski area filled with locals or visit Leadville's National Historic Landmark District.
Want More?
Queso Fundido at Tamayo in Denver
Granny's Pesto Pizza at Hot Tomato Cafe in Fruita
Dark Chocolate Caramel Salt Tart at Salt Bistro in Boulder