Colorado Restaurant Bites: Lobster Macaroni & Cheese at Mizuna in Denver
Any gourmand can tell you that Denver has its fair share of splurge-worthy restaurants, but for a raved-about locals' favorite (and a truly unforgettable meal), make your way to the Governor's Park neighborhood. This bustling enclave of small bars, quaint restaurants and historic landmarks is home to Mizuna, a dinner-only spot where you'll find chef Frank Bonanno's decadent version of mac 'n' cheese.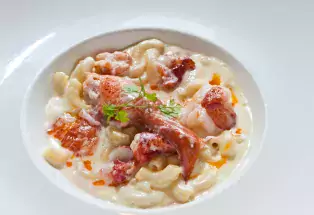 With one bite, it's easy to see why this indulgent dish is a "Food Network Challenge" winner. It features enriched elbow macaroni and tender chunks of poached lobster, swathed in rich, creamy beurre blanc (white-wine butter sauce) and soft mascarpone cheese. 
It's then topped with delicate tendrils of parsley-like chervil and finished with a brilliant, red-orange swirl of paprika-infused lobster oil. Balance out the richness of this dish by pairing a selection of crisp white wine from the extensive list.
After dinner, meander over to nearby Governor's Park, where you'll find two sprawling, historic estates: the Neoclassical Grant-Humphreys Mansion (Eighth Avenue and Pennsylvania Street) and the Georgian Revival Boettcher Mansion (the Colorado Governor's residence at Eighth Avenue and Logan Street). Both built in the early 1900s, they offer a peek into Denver's early high society.
Want More?
Granny's Pesto Pizza at Hot Tomato Cafe in Fruita
Queso Fundido at Tamayo in Denver