Performing Arts in Colorado
Colorado's music, dance and theater organizations are known for presenting popular masterpieces as well as innovative new works.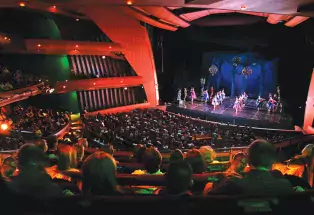 The state's love of the arts ensures the best seat in the house is any seat — and that there's always something to see in performing arts venues (especially the Denver Performing Arts Complex!).
Theater
The Tony Award-winning Denver Center Theatre Com­pany is the region's largest corps of theater professionals. One of its greatest successes is the annual Colorado New Play Summit, which encour­ages novel voices in theater by hosting up-and-coming writers, directors, actors and critics, and stages new works.
For less traditional fare, Denver's neighborhoods are rich with visionary performance venues. Curious Theatre Company and The Bug Theatre can all be counted on to show audiences something original. Theater lovers also head to Boulder each summer for the Colorado Shakespeare Festival on the University of Colorado campus, where outdoor stages offer majestic views.
Opera
Opera Colorado presents live classical operas performed in their original languages, with translations projected on the seatbacks. Previous seasons included such favorites as Rossini's "The Barber of Seville" and Puccini's "Tosca." Performances are held at the Ellie Caulkins Opera House, which was lavishly restored in 2005 and is part of the Denver Performing Arts Complex (DPAC), one of the largest arts campuses in the nation.
Dance
The Colorado Ballet also graces the stage at The Ellie, as the opera house is known. The dancers delight audiences with a contemporary and time-honored repertoire, including "The Nut­cracker" each Nov­ember and Decem­ber. Denver offers other dance-company experiences, too, inclu­ding Kim Robards Dance, Hannah Kahn Dance Company and Cleo Parker Robinson Dance Studio.
West of Denver, the Vail Inter­national Dance Festival is another can't-miss ballet institution. Held in August, three weeks of ballet and modern dance performances take place at the Vilar Center for the Arts and the open-air Gerald R. Ford Amphitheater.
Music
The Colorado Symphony Orchestra is the Rocky Mountain region's only full-time professional orchestra. Previous seasons have included performances from "Mozart Extravaganza" to "Broadway Rocks! From Phantom To Dreamgirls." Performances are held at the Boettcher Concert Hall in the DPAC. The 12-member Colorado Chamber Players present more than 50 events annually at venues around the state and are well known for performances on Colorado Public Radio. One of Denver's most beloved music events is the City Park Jazz series. Music filters out from the park's bandstand to the audience, which gathers on blankets with picnic baskets every Sunday summer evening.
Want more? 
Check out these small towns with big performing arts scenes >>
Catch a show at one of these stunning Colorado venues >>
Photo: Ellie Caulkins Opera House in the Denver Performing Arts Complex. Photo courtesy of Visit Denver, The Convention & Visitors Bureau/Steve Crecelius.