Q&A With Colorado's Local 'Top Chef' Judge: Jennifer Jasinski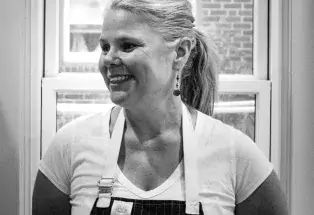 Jennifer Jasinski, of Denver's Rioja, Stoic & Genuine and Bistro Vendôme, was a James Beard Foundation Award winner for Best Chef Southwest in 2013 and was named 2004 Colorado Chef of the Year and 2005 Western Regional Chef of the Year by the American Culinary Federation. She was also a cheftestant herself on Bravo's "Top Chef Masters" in 2013.
Why do you choose to live and cook in Colorado?
I choose to live in Colorado because the people are great — friendly and smart. The weather has four great seasons — and all the sunshine!
What defines Colorado's food scene and sets it apart?
I think what defines Colorado's food scene and sets it apart is how "homegrown" it has been. Great chefs either grow up here or come here to "make it." We have tons of locally owned independent restaurants. We are not overloaded with chains. I love that.
Any Colorado food trends to watch out for?
I don't really know of any food trends to look for, but I am hoping Spanish and Portuguese are about to be, since I am opening up an Iberian-focused restaurant!
What is your favorite Colorado product to highlight in a dish?
I have so many favorites with Colorado products, but probably my most and what I seem to be know for is Colorado lamb. They even call me "the Lamb whisperer" — ha!
What are your favorite things to do in Colorado in your free time?
My favorite things to do in Colorado in my free time are hiking with my dogs on any of our extensive trails and mountain biking! The Colorado Trail has so many options, and Buffalo Creek is one of my favorite mountain-biking areas.
What are your Colorado culinary recommendations for visitors?
Of course I will tell them to come to all my places, but after that, I suggest Bar Dough for awesome Italian pastas and pizza, New Saigon for Vietnamese, Señor Bear for pan-Latin in a cute neighborhood spot and Sushi Ronin. As you can see, I usually eat out for ethnic cuisines on my days off.
Want More?
Read a Q&A with two local cheftestants from season 15.
See recaps from season 15, including how to visit the places seen on the show.
Watch Chef Jennifer talk about her love of the state's farm-to-table scene.