Scenic Drives from Boulder
Looking for a great fall drive for leaf-peeping, with golden aspens fluttering in the breeze and snow-capped peaks as a backdrop? Or maybe just looking for a head-clearing cruise with views of Boulder from afar. These five scenic drives will do the trick.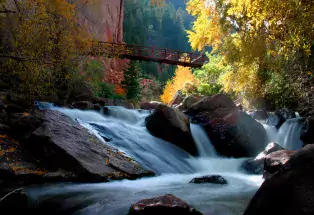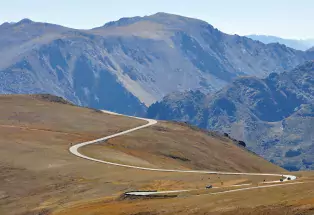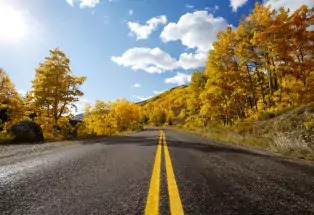 The Peak to Peak Scenic & Historic Byway
Total Drive Time: 1 hour, 30 minutes
The Peak to Peak Scenic and Historic Byway is Colorado's oldest scenic byway, established in 1918. The route winds 55 miles in and out of national forest lands through some of the state's most striking mountain landscapes and is very easily accessible from Boulder and Denver. 
This is one of the premier spots for autumn leaf peeping in Colorado, but it will give you access to spectacular scenery and outdoor recreation any time of year. 
Make Boulder your starting point, pack up picnic provisions from the Boulder Farmers Market or a gourmet grocer and head out on the road to enjoy a day of driving, hiking and photographing. 
Eldorado Canyon State Park & Coal Creek Canyon Scenic Drive
Total Drive Time: 2 hours, 15 minutes
It's just a 20-minute drive to Eldorado Canyon State Park from Boulder — take Hwy. 93 south to Eldorado Springs Drive. Once in the park (entry fees apply), set off on a hiking trail through sandstone cliffs or along South Boulder Creek to find your perfect picnic spot among the pine trees and golden rock walls. "Eldo," as it is known to locals, is a rock climbing mecca, so keep your eye out for climbers, or arrange a climbing lesson!
Once you're finished exploring the park, backtrack east on Hwy. 170 to exit the park, then continue on Hwy. 93 again and turn west up beautiful Coal Creek Canyon (Hwy. 72). 
Continue on until you reach the turnoff for Hwy. 119 to Nederland. Continue on 119 to head back down to Boulder through Boulder Canyon, a forested canyon with Boulder Creek running through it. About 7.5 miles from Nederland is the turnoff for Boulder Falls. This petite waterfall is just a short walk from the highway (use caution crossing the road).
Flatirons Vista Scenic Drive
Total Drive Time: 40 minutes
This route is a great low-elevation option with views of Boulder's Flatirons. From Boulder, head south on Hwy. 93. At the junction of Hwys. 93 and 128, you'll find a trailhead on the right. This is Flatirons Vista Trailhead, with a network of trails branching out through the ponderosa pine-dotted prairie and into the foothills. The northward-looking views to the Flatirons are legendary. 
Next, backtrack slightly to turn east on Hwy. 128. The road here is fit for a luxury car commercial. It snakes its ways through halcyon meadows and rolling hills, and you will pass several impressively large wind turbines at the National Wind Technology Center on your right.
After three miles, stop at the pull-off at the top of the hill and look back to the Flatirons — a full, panoramic effect you can't get while in town. Continue on, making a left at McCaslin Road to connect to Hwy. 36 (also called the Boulder Turnpike). 
On Hwy. 36, pull off at Davidson Mesa (follow the signs for visitor information) for photo ops of Boulder Valley farmland, the red rooftops of the University of Colorado and the snow-capped Rocky Mountains beyond. Continue back into Boulder to complete your loop. 
Estes Park & Rocky Mountain National Park Scenic Drive
Total Drive Time: 2 hours, 30 minutes
Boulder is just an hour from Rocky Mountain National Park, one of the nation's most majestic parklands. Follow Hwy. 36 north toward the town of Lyons, worth a stop for its cute cafes and shops.
Continue on to Estes Park, a charming tourist destination with a bustling downtown lined with fudge and ice cream parlors, souvenir shops and spectacular views.
You're now just minutes from Rocky Mountain National Park, with its crystalline lakes, fragrant ponderosa pine forests and sprawling meadows. If you're visiting late May through mid-October, you'll need to reserve a timed-entry spot for Rocky Mountain National Park in advance.
Hike, picnic, drive Trail Ridge Road (open only seasonally), spot wildlife and enjoy the spectacular terrain. If you plan on camping, you'll need reservations, and please be aware dogs are not permitted in the park. 
Please use caution when driving mountain roads. It's best to download a map before you leave in case you go into areas with no cell coverage. In winter, ensure you have snow tires or chains. And if you need to take a moment to enjoy the scenery or consult your map, pull over in a safe, out-of-the-way spot.