The Splurge & Save Guide to Colorado Restaurants
Looking to push your vacation dollars a little further this year? These dining pairings offer delicious places where you can find sweet deals, as well as a few that are well worth dropping the extra cash. Sample both ends of the spectrum on your next visit.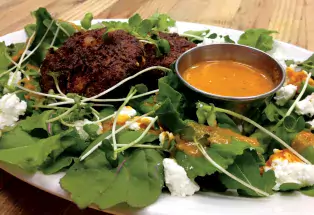 Splurge: The Farm Bistro
The Farm Bistro sources local produce and meat to craft award-winning meals. Indulge in the baseball sirloin — grass-fed beef doused in herb butter atop smashed potatoes and flavorful roasted mushrooms, all served in a cast-iron skillet.
Save: Silver Bean
Before setting off on a day of Colorado adventuring, stop by this Airstream trailer and grab a warm cinnamon roll slathered in icing or a breakfast burrito filled to the brim with green chilies and fluffy eggs.
Splurge: The Farmhouse at Jessup Farm
Set in a 19th-century farmhouse, this restaurant offers modern farm fare sourced from northern Colorado producers, brewers and creators. Share the lamb tacos — a crispy shell cradling chili-braised lamb drizzled in cilantro crema — but order the chicken and blue corn waffles all for yourself.
Save: Waltzing Kangaroo
Specializing in dinkum (meaning tried and true) Australian food, these pies are like nothing you've tasted before. Have a classic steak and gravy, then treat yourself to a baked-egg custard tart for dessert. (You deserve it!) Vegetarian? Try the plump veggie and Thai-peanut-sauce pie.
Splurge: Christine's Restaurant & Catering
Housed in a former church, Christine's beckons you with homecookin' like mama used to make. Pop in for their French toast breakfast — grilled homemade cinnamon bread kicked up with a caramel nut crunch. Lunch brings freshly cut prime rib nestled in honey wheat rolls.
Save: Lucy's Tacos
In downtown La Junta, Lucy's is located in an adorable low-slung Spanish-style building complete with a red tile roof and blue awnings. Try the colorful — and flavorful! — adovada pork, guacamole and salsa taco.
Splurge: For[a]ged
With a serious commitment to local and seasonal ingredients, For[a]ged rocks a rotating menu of globally inspired treats, with past dishes starring succulent Moroccan-style duck, miso Japanese eggplant and five-spice chicken wings.
Save: Tocabe
Enter Tocabe to find a world of American Indian cuisine waiting to be devoured. Walk down the line creating "tacos" using frybread — the star of the show here — as the shell. Load those with veggies or ground bison, adding a crunchy seed-mix topper for a divine texture. For dessert, grab some frybread nuggets with Northern Plains berry sauce (wojapi). 
Splurge: Vin 48
Every ski town has its fair share of splurge restaurants, but there's something special about Vin 48. The chef really brings it with menu creations that change with the seasons. Past favorites include the brown-sugar-brined, grilled boneless pork chop and olive-oil cake heaping with orange whipped cream.
Save: Northside Kitchen
A trip to Avon wouldn't be complete without an early morning stop into Northside for fresh-from-the-fryer doughnuts. From basic chocolate sprinkle to candy-flavored and coconut-covered treats, they have something for everyone's sweet tooth.
Splurge: Our Food is Art
Wholesome, local and organic ingredients are the hallmark of this downtown Crestone spot. Vibrant furniture and yellow walls make the space friendly for any meal, but dinner is extra bright. Splurge on the sirloin of the day — paired with twisted fries — or the paper-thin ahi-steak salad tossed in an avocado and citrus vinaigrette.
Save: Mandala Pizza
Crestone's very own organic, New York-style pizza shop wants you to feed your inner chi. Have a slice of the classic cheese or devour a hand-rolled ricotta pocket (aka calzone). 
Splurge: Laundry Kitchen & Cocktails
Kick-start your meal with Laundry's pimento cheese: The smoked cheddar, spicy peanuts and pickled Fresno chili will light up your taste buds in the best way possible. For a mouthwatering main, dig into the diver scallops wrapped in pork belly.
Save: Skull Creek Greek
After a day of hiking, playing and vacation shenanigans, you need food that's easy and comforting. The classic gyro from Skull Creek Greek does the trick nicely. Try the freshly grilled pita bathed in your choice of three different tzatziki sauces. Don't forget the baklava! This sweet phyllo dough is so sticky you'll have to wash your hands twice.
Want more?
Feed your cravings with these Colorado culinary trends >>