Top Colorado Hotels for a Winter Getaway
With the flip of a calendar page, Colorado's alluring winter season sets in and offers up a whole new way to enjoy the state. Check in to these cozy abodes and you'll be wishing winter lasted all year.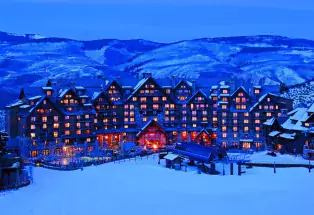 Getaway Appeal: Perched on an exclusive mountainside steps from Beaver Creek's ski lifts, the Ritz has perfected refined-meets-rustic luxury. From the moment you hand the valet your car keys, to the resonating "ahhh" as you sink into 400-thread-count linens, it's obvious why the resort is consistently listed among the world's best.
Cozy Factors: Plush leather chairs in The Great Room and floor-to-ceiling fireplaces offer a homey Colorado-cabin feel. Enjoy complimentary access to the eucalyptus steam rooms and rock-lined grotto complete with cucumbers for tired eyelids. At night, roast marshmallows over the massive fire pit.
The Bradley Boulder Inn
Getaway Appeal: The Bradley is a cozy pocket of comfort in a city popular for its dining, shopping and a one-of-a-kind culture. No need to plan much here. With coffee, pastries, fruit and hot quiche prepared every morning, the Bradley also satisfies your afternoon snack with a wine and cheese hour. Use the complimentary membership at the One Boulder Fitness facility nearby to curb those inevitable epicurean ventures.
Cozy Factors: A 12-room boutique hotel, the Bradley is a cozy and intimate stay right in the middle of Boulder's vibrant downtown. Snuggle up with a book and glass of wine in the fireplace-heated living room furnished with modern décor.
Getaway Appeal: This elegant 1898 Victorian hotel in Durango's historic district emanates prestige. Dark woods and soft lighting complement carefully selected period decor. Walk to galleries, theaters and restaurants and enjoy close proximity to Purgatory.
Cozy Factors: Hot, locally sourced coffee and freshly baked cookies are offered in the spacious lobby. Plus, on-site bellmen services give a subtle nod to old-fashioned hospitality.
Getaway Appeal: Centered in the state's cultural capital across from the Denver Performing Arts Complex, this boutique hotel takes the elegance of theater and convenience of modern amenities and folds them into an enchanting cold-weather hideaway.
Cozy Factors: Browse the theatrical memorabilia lining the chic Renaissance Revival interior. Dine at on-site award-winning restaurants and retire to your room of rich gold tones and cherry wood with down duvets, a cashmere mattress and a deep soaking tub.
Getaway Appeal: Once you step foot on this 3,000-acre AAA Five-Diamond complex, there's really no reason to leave. It's all here — a top-notch day spa, swimming pools, outdoor hot tubs, year-round championship golf courses, tennis courts, children's programs, specialty shops…we could go on.
Cozy Factors: After partaking in the above activities, or just strolling the pristine grounds, treat your epicurean side to one of the Broadmoor's numerous dining options ranging from fine French and Italian to modern American.
Getaway Appeal: Aspen's only ski-in/ski-out hotel lives up to the glamorous cosmopolitan reputation the mountain town has garnered over the years. The newly renovated lodge has a knack for making the average Joe feel like royalty.
Cozy Factors: First-class all the way, guests swoon for Little Nell's heated marble flooring and walls, comfy lounge chairs and impressively stocked wine cellar. The concierge team will walk your dog, wax your skis and warm your ski boots.
Getaway Appeal: Ride the gondola from downtown Telluride and float up and away over the snow-blanketed mountains to this full-service oasis where comfort and serenity are king.
Cozy Factors: Tap into 42,000 square feet of pampering bliss at The Spa at The Peaks Resort — the largest in Colorado. Try an alpine glow facial, sports massage or a moisturizing body treatment.
Getaway Appeal: Have the luxury vacation of a lifetime without leaving the Four Seasons' complex (except to head to the ski slopes, of course). Leave the skiing logistics to the hotel, where the staff will measure you upon arrival and have your gear warmed, waxed and ready to go the next morning at the Ski Concierge building located near Gondola One. Seriously, can it get any easier than this?
Cozy Factors: Everything is heated at this luxury-grade hotel: Ski boots, towels, robes, cookies, down comforters, the ginormous outdoor pool and adjoining outside patio. Try the steamy "Haut Chocolate," a deliciously creamy and rich spinoff of a wintertime favorite prepared table, or leather-chair, side.
Want More?
Read Only-in-Colorado Places to Stay and check out all our hotel and lodging listings and the Sleep Somewhere Cool Blog.