4 Unconventional Ways to Enjoy Colorado in Winter
In Colorado, winter beauty comes in many forms, whether it's a light dusting of snow on sagebrush, moonlit powder on a quiet trail or a mountainside blanketed in ivory — all grandeur best experienced in unconventional ways. Here are just a few ideas.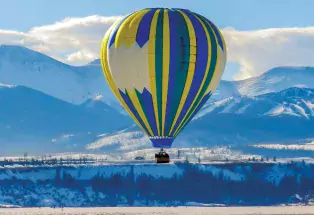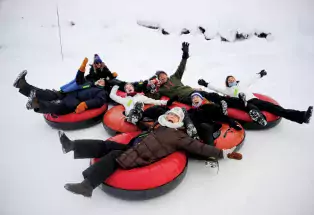 Airborne
Colorado's hot-air balloon pilots are so eager to make an aeronaut out of you that they'll even toast you with Champagne upon landing. 
In Fraser, Grand Adventures' pilots share area history and ballooning tidbits while floating above old stagecoach stops and the Continental Divide. Tip: Be on the lookout for elk, who fancy the cooler weather. 
With Life Cycle Balloon Adventures in Longmont, help the crew set up for your ride or enjoy a steaming pre-flight beverage. Then float with the gentle morning breeze over Boulder's cityscapes before reveling in sights of 14,259-foot Longs Peak.
With Adventures Out West in Colorado Springs, you might glimpse anything from the sprawling great plains to snow-marbled Pikes Peak. Bonus: Your Champagne toast comes with a continental breakfast. 
Find more hot-air balloon outfitters
From Behind a Lens
Whether the object of your affection is a phone or 35mm, images of our photogenic state will surely earn you plenty of bragging rights. Book a tour to get expert guidance and the best shots.
With Wilderness Rides and Guides, year-round half-day photo tours of Boulder hit the historic downtown, photogenic Chautauqua Park and Eldorado Canyon State Park. Without the summer crowds, Eldorado's dramatic sandstone cliffs are dreamily quiet and extra stunning dressed in white. 
On a photo safari in Rocky Mountain National Park near Estes Park and Grand Lake with Yellow Wood Guiding, your subjects might be elk, mule deer, turkeys and coyotes, or ice patterns on Dream Lake worthy of an abstract masterpiece. 
Big Sun Photo Tours' two- to three-day excursions offer opportunities to capture the March crane migration through southern Colorado's Monte Vista National Wildlife Refuge. Thousands of greater sandhill cranes flock to this San Luis Valley wetland between the Sangre de Cristo and San Juan ranges, so the alpenglow provides bonus photo ops.
Read about other great winter photo spots
Horse Powered
Experience Colorado's snowy landscapes like our early explorers and settlers did — from the back of a noble steed or horse-drawn carriage.
Travel via horsedrawn sleigh with Bearcat Stables in Edwards for a culinary experience in an original cabin. You'll explore a historical homestead while sipping a toasty-warm beverage, all while admiring Vail Valley's spectacular views.
At Snow Mountain Ranch in Granby, wintertime horseback rides with Rocky Mountain Stables traverse snow-kissed meadows and forests, but evening sleigh rides are like a living Christmas card: A pair of horses will whisk you to a campfire next to an old homestead for hot cocoa.
Saddleback Ranch in Steamboat Springs doesn't only boast tubing on its groomed Yee-Haw Hill and gourmet dinner at the lodge. You can horseback ride along snowy, tree-lined trails while enjoying endless panoramas of the Flat Tops Wilderness Area and Mount Werner. Yee-haw, indeed.
Discover more horseback-riding outfitters
Other Awesome Ways to See Our Sights
Encounter next-level viewpoints of our wintry landscapes on these out-of-the-box rides.
Get a bird's eye view of Denver and the surrounding region with a helicopter ride. Geo Heli Denver offers charters and tours that let you experience Colorado's rugged beauty from up above. 
The sight of steam rising from a balmy hot springs as snowflakes fall from the sky is truly unforgettable. Soak it all in at Iron Mountain Hot Springs in Glenwood Springs, which provides water-wheelchair accessible ramps. These 16 natural mineral pools and a freshwater family pool adjacent to the Colorado River delight the body and soul in any season.
Climb through the Roosevelt National Forest on a private snowcat tour with Estes Park Outfitters for an outlook so high, you'll see all the way to Denver. If the timing's right, book a full moon tour for extra-special panoramas.
Peek out from a tree stand or ground blind during a hunting adventure on Colorado's eastern plains with J&D Outfitters. They'll put you up, home-cook your meals and transport you to the best hunting spots on 160,000 acres of prime deer, antelope and turkey country.
Keep in mind: Whether you're hot-air ballooning or chasing the sunrise on a photo tour, winter activities are weather dependent.
Want more? 
Find magical winter adventures for the whole family
Explore winter activities beyond the ski slopes