Colorado Casino Towns, Past & Present
The glittering prospect of gold in the mid-19th century drew droves of fortune seekers to Colorado, founding wealthy boomtowns brimming with amusement-seeking entrepreneurs.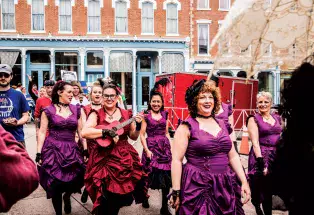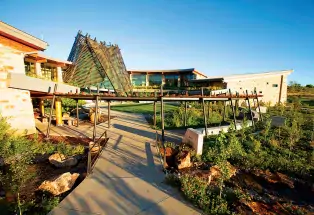 Still earlier state history points to Ancestral Puebloans and Ute peoples being deeply rooted to the ancient landscape for centuries. One thing is certain: Colorado casino towns straddle the past and present with Old West roots and modern-day offerings, both to be enjoyed in tandem.
CRIPPLE CREEK 
Start your Cripple Creek adventure with a walk down memory lane — or, rather, the historical red-light district on Myers Avenue. The Old Homestead House Museum, built in 1896 by famed madam Pearl DeVere, showcases the history of Cripple Creek's most opulent brothel, which charged wealthy customers $250. Fun fact: The average miner's pay at the time was $3 a day.
Next see the Outlaws & Lawmen Jail Museum, housed in the original Teller Jail, for tales of local disorder and mayhem. Eyeball yellowed newspaper clippings, authentic mugshots from the early 1900s and maybe spot a ghost. Paranormal groups flock to investigate the building's storied hauntings.  
These days, Cripple Creek's got nine casinos for games of chance — like the Victorian-styled Midnight Rose Casino & Hotel or Western-themed Bronco Billy's. Tucked in historical buildings on the vibrant main drag, both gaming hot spots satisfy your inner high roller with the newest slot machines, lively table games, decadent dining options and comfy rooms.
Now let's talk grub: Dine on USDA-prime dry-aged ribeye or tender Colorado rack of lamb at Bronco Billy's The Steakhouse. Then fuel your morning with a no-nonsense three-egg scramble at Midnight Rose's own Dynamite Dick's.
TOWAOC
Tour Ute Mountain Ute Tribal Park for a wealth of history set in a stunning natural landscape. Here you'll see ancient pictographs and petroglyphs, protected sites (such as cliff dwellings) and eye-popping rock formations like the towering Jackson Butte. Full-day, half-day and private tours are all available. Please note: You must reserve your tour ahead of time and you cannot enter tribal land, considered a sovereign nation, without a Ute guide.
Daytrip to nearby Mesa Verde National Park for excursions to see ancient sandstone dwellings tucked within mesas and cliffs. These hard-to-reach sites housed the Ancestral Puebloan people for more than seven centuries. Watch for soaring kestrels and hawks, stargaze (Mesa Verde is an International Dark Sky Park, after all) and hike scenic Morefield Canyon.
Play the odds in the shadow of Sleeping Ute Mountain at Ute Mountain Casino Hotel, where you'll find the latest in gaming entertainment, plus one with a retro twist — bingo! Dig into regional goodies like pork green chili served with perfectly crisped Native American frybread. Then rest your eyes in a luxe king suite or at the full-service RV park. 
BLACK HAWK & CENTRAL CITY
Central City Opera House was built in 1878 by music-loving gold miners in "the richest square mile on earth." Now it's a National Historic Landmark known for its summer opera festival. Can't make a show? Tour this stately stone structure for the elaborate murals inside.
Celebrate another successful madam, Louisa Bunch, who has her own special day — Madam Lou Bunch Day. When an epidemic threatened the town, kind-hearted Bunch turned her Pine Street sporting house into an impromptu hospital. Now she's remembered every June with bordello-themed costumes, bawdy cabaret performances and bed races (picture fantastically clad teams wheeling beds, full speed, down Main Street).
In matters of luck, Colorado's neighboring gaming towns are swimming in action. Here you can visit any of the 20-plus glitzy casinos, like the Monarch Casino Resort Spa in Black Hawk and Century Casino & Hotel in Central City. Experience the palatial Monarch for an assortment of slots and betting games (table and sports), including poker and high-limit gaming. We bet (heh) you'll love the resort's other luxuries, too, such as its soothing spa, gigantic rooftop pool, opulent suites and meat-lovers' delicacies like wagyu coulottes served at Monarch Chophouse.
For boutique-style betting, make the Century your spot where you can play all the fan favorites. Take a scenic sky-bridge to Central City's historical downtown, then return for Mid City Grill's Americana favorites including classic cheeseburgers and like-mama-made apple pie.
IGNACIO
Tracks Across Borders, one of the state's 26 scenic and historic byways, uncovers the intersecting paths of Native Americans, gold-seekers and the Old West railroad — from Durango all the way to Chama, New Mexico. Motor along 125 miles of roadway to reach Chimney Rock National Monument, Navajo Lake and, of course, Ignacio. Wander the Southern Ute Cultural Center and Museum's collection of exhibits to see thousands of priceless Ute artifacts, from intricate beadwork to black-and-white photos. Displays teach about traditional Ute culture and how the lives of Colorado's longest continuous inhabitants have changed over the centuries. The vast museum offers more than meets the eye: It's an educational meeting space, a library, an archive and a medicinal native-plants garden — all designed together with a symbolic "Circle of Life" theme.
Folks come to Sky Ute Casino Resort for its 45,000-square-foot gaming floor, but they return for all the family-friendly amenities. Roll strikes at the 24-hour bowling alley while your wee ones make off with quarters for the arcade. Play your best game under bluebird skies on the 18-hole mini-golf course. Or float indoors on the lazy river. With themed hotel suites, an RV park and four on-site restaurants, you'll never want to leave.
WANT MORE INFORMATION?
Learn all the ways to strike it rich in Colorado's vibrant gaming towns >>
Discover the distinctive grandeur of Colorado's four national parks 
and nine national monuments >>  
Photo credits: Facebook/Madam Lou Bunch Day, Instagram/@PamLaBlancAdventures, Instagram/@TripleCrownCasinos, Sky Ute Casino Resort