Discover the Magic That Is Colorado's Ice Scene
Bundling up and soaking up the magic of our winter is a Colorado experience you shouldn't miss. But there's more to us than decadently fluffy snow … we've also got a spectacular ice scene that's straight out of a fairytale.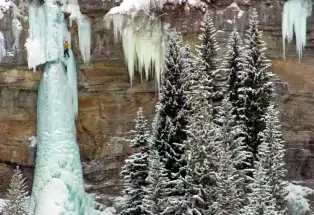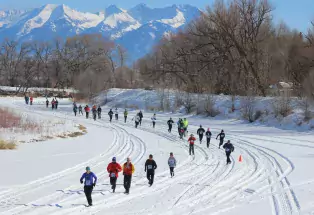 Find six ways to revel in Colorado's glazed glory this winter.
Tip: Make sure you dress properly for the weather and your icy activity of choice, including some sort of traction for your boots if you're exploring outdoors.
1. Rifle Ice Caves & Rifle Falls
Around December through February each year, Rifle Mountain Park is home to ice caves that delight with glittering glacial-blue stalactites. Make sure you check out all four: Soul on Ice, Ice Palace, Stone Tree and The Final Curtain. For more frozen fantasticness in Rifle, drive 10 minutes south to Rifle Falls State Park to marvel at frosty cascades of water suspended mid-air.
2. Frozen 5K in Alamosa
Alamosa's self-proclaimed "beach party in the coldest place in the nation (sometimes)" celebrates ice in every way possible. Look for polar plunges, ornate ice sculptures and children's costume contests. But the main event is definitely the Rio Frio 5K, in which runners race along the surface of the frozen Rio Grande. Find more Colorado winter races >>
3. Ice Climbing
Climbers from around the globe flock to Colorado each winter to tackle sheets of ski-blue and cloud-white ice. You can watch the pros climb at annual festivals or up the adventure ante and try it for yourself. At Ouray Ice Park and Lake City Ice Park, you'll scale some of the same chilly pitches as the elites. You'll also find a wealth of guided excursions for climbers of all levels, including adaptive ice-climbing outings via programs like Telluride Adaptive Sports Program and Adaptive Sports Center. Find more adaptive winter adventures in Colorado >>
4. Ice Sculptures in Cripple Creek
When imagination meets ice, an enchanting fantasyland is created. See for yourself at the Cripple Creek Ice Festival, when the town of Cripple Creek is taken over by intricate, crystalline structures created by chainsaw-wielding artists — think scaled dragons, feathered birds and castles where you can see each individual brick.
5. Ice Skating
You'll find rinks and local ponds perfect for this cherished winter pastime across the state. In Silverton, glide across the glassy surface with a backdrop of the stunning San Juan Mountains at Kendall Mountain Ski Area. For an upscale experience, try the Beaver Creek Ice Rink in Beaver Creek, where plush couches, hot cocoa and luxe lodgings are within easy reach. For a more natural vibe, lace up and whirl around Evergreen Lake. The charming town of Evergreen is filled with shops and local eateries perfect for exploring when you need to warm up. Find more Colorado ice-skating locations >>
6. Seven Falls at Night
With its frozen veils seemingly paused as they tumble down seven layers of cliff, Seven Falls in Colorado Springs brings the drama any time of winter day. However, the sight is especially alluring at night when the falls are illuminated with a vibrant array of rainbow-colored lights. Bundle up: There's really not anything else like this in the world, and the sight is so entrancing you'll likely spend longer than you expect admiring it. Find more Colorado waterfalls >>
Want more?
Find more winter magic in Colorado >>
Discover more winter fun in our cities >>