Cool Running: Winter Races in Colorado
In a state where outdoor recreation is a way of life, Coloradans don't stow away their sneakers during winter. Register now for these wintertime races that range from traditional 5Ks and marathons to fat bikes and uphill snowshoe treks.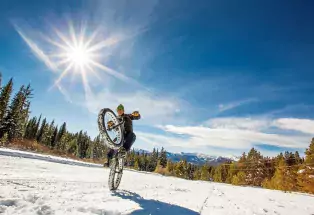 Oct. 28, 2023
In 1889 when Emma Crawford died of tuberculosis, her final wish was to be buried atop nearby Red Mountain. Her fiancé honored her command, but rainfall tempted fate and released her coffin down the mountainside. Emma's body was never found, but the coffin became a rallying point for this modern-day race where period-dressed racers roll coffins up Manitou Avenue. 
Dec. 31, 2023
Washington Park's beloved Resolution Run is a time-honored tradition. Post-race music, food and drinks set your night on an energetic, runner's- high-induced trajectory. After the race, continue the countdown at one of Wash Park's neighborhood breweries, like Grandma's House on Broadway.
Jan. TBA, 2024
The Rio Grande River is a powerful force of nature, carrying snowmelt from Colorado's San Juan Mountains to the Gulf of Mexico. This lifeblood of the Southwest is awe-inspiring from its banks, but race organizers in Alamosa want runners to see and feel the landscape from the river itself. Hard-packed ice permits racers to run directly on the Rio Grande and experience a newfound appreciation for the waterway.
Feb. 25, 2023
The people of Leadville are hardcore. Each August, elite athletes run the Leadville Trail 100-mile race (yes, 100 miles). Not to be outdone, winter residents lovingly founded a cross-country ski race with five distances, ranging from 44k and 22k (each an American Birkebeiner-qualifier) to a 5k costume ski and a 1k for kiddos. Those who endure are rewarded with one heck of a bucket list item — and an after party with plenty of warm-you-up foods.
Feb. 5, 2023
The Old Man Winter Bike Rally & Run gives runners the chance to weave and wind through gravel, snowy singletrack and red-rock canyons in some of the most beautiful landscapes Colorado has to offer. Take your pick between the 5K and 10K races, or put your legs to the test by combining the 10K running and 50K cycling events. (There's also a 100K cycling route for those who prefer only to pedal.)
Feb. 19, 2023
Vail visitors are used to swishing down world-class slopes. Not so in February, when racers charge up 2,200 vertical feet from Lionshead Village to the top of the Eagle Bahn Gondola. The Winter Uphill is a la carte: Choose from running, snowshoeing, cross-country skiing or any other winter transport you can fashion.  
March 11, 2023
For the habitual long-distance runners out there, put Salida's Run Through Time on your list. Elevations of more than 7,000 feet and views of the Arkansas Valley have made it a favorite among trail-running junkies. A half marathon and 2-mile option are also available.
Additional Heart-Pumping Winter Races in Colorado:
Find more events in Colorado >>
Tips for Running in Colder Weather
Footwear: Less mesh equals less potential for wet feet. Depending on the race, consider buying running crampons that will give you more traction on ice.
Clothing: Don't forget Colorado's mantra: layers! Our high elevation means you can be in a T-shirt one second and a heavy jacket the next. Tip: Dress as if it's 20 degrees warmer than the actual temperature
Fabric: Wear fabrics that wick away moisture, especially on your feet, where cotton harbors uncomfortable chilliness.
Efficiency: Gloves, face masks and hats help maintain your body heat. Tip: Put hand warmers in your shoes and gloves. 
Warm-Ups: Avoid shocking your body with a sudden drop in temperature. Instead, warm up inside before heading out.
Want more?
Discover locally loved running and biking destinations in Colorado >>
Explore challenging cycling routes >>