Colorado Farm-to-Table Restaurants: Q&A With an Organic Chef
Colorado's restaurants embodied the locally grown, fresh-food movement long before it was popular, and rest of the world has finally started to notice what our chefs are bringing to the table. We asked one of the most celebrated, who has his own farm to supply his restaurants' menu, why he thinks Colorado is fast becoming a hot spot for young chefs and foodies who love the natural life.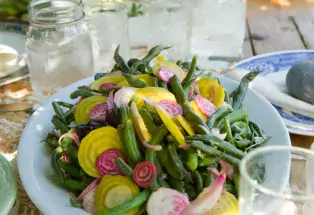 Chef Alex Seidel was named one of Food & Wine magazine's Best New Chefs in 2010. When his Fruition Restaurant opened in Denver in 2007, Gourmet magazine said, "If the life of a city can be documented in its restaurants, then the advent of tiny Fruition has opened a whole new chapter for Denver." In 2014, Chef Seidel opened Mercantile Dining & Provision in Union Station.
How would you describe your cuisine and cooking philosophy?
Alex Seidel: At Fruition, we call our food "sophisticated comfort food." I want the food to be approachable. I also want it to be the best quality, taste and texture without being pretentious or people having to save all year just to come here. My philosophy is simple — use ingredients that people understand, use the best techniques and remain focused on the smallest details.
What do you love about Colorado's food scene?
AS: That it is growing and I am growing with it. Every year we get more talented chefs, cooks and restaurants. I love the support among the chef community and that I can call all of them my friends.
Do you think Colorado's cuisine is developing a new reputation — that is, are we becoming less known for Rocky Mountain oysters and Denver omelets, and more closely associated with something else?
AS: I think that we have moved away from being a steak-and-potato town. As the quality of chefs and restaurants has grown, so has the Colorado diner. More people want to know where their food comes from. They want to support a local movement because people from Colorado are proud of their state and what it produces.
What do you grow at Fruition Farms?
AS: I purchased a farm and with the partnership of Josh Halder, Jimmy Warren and Val Landrum. We are supplying many Colorado restaurants with varieties of microgreens, lettuce, vegetables and artisan sheep's-milk cheese. We turned one of my barns into a full milking and cheese-making facility.
If you had to pick a quintessential dish at your restaurant, what would it be?
AS: Our pasta carbonara dish. It is made with milk-braised pork belly, Fruition Farm's ricotta cavatelli, fresh pea shoots from the farm and a poached farm-fresh egg.
What beer or wine would you pair that dish with?
AS: Avery White Rascal [brewed in Boulder]. It is brewed with coriander, and our pork belly is cured with coriander as well.
What do think are some of Colorado's best restaurants?
AS: In Denver: ChoLon Modern Asian Bistro, Table 6 and The Squeaky Bean
In Boulder: Frasca Food and Wine
In Vail: Sweet Basil and Larkspur Restaurant
In Durango: Cosmo Bar & Dining (now Eolus Dining & Bar)
What's your favorite way to enjoy our beautiful state?
AS: In summer I enjoy motorcycle rides through the mountains and quiet roads, fly-fishing with buddies, golf with fellow chefs and hiking with my family. In winter I enjoy snowboarding and working on the farm.
When you have friends or family visiting Colorado, what things do you tell them they have to see or do?
AS: Every family member is different. We take them to Red Rocks, Garden of the Gods, Estes Park and Rocky Mountain National Park. Just a drive through the mountains satisfies most. Skiing at many Colorado resorts, rafting the many rivers, mushroom foraging and hiking on Mount Evans, working at the farm and working at the farm again.
Photo: Courtesy of The Little Nell.