Colorado Ski & Snowboard Terrain
Skiing and snowboarding come in many forms, and though every Colorado ski resort offers a nice variety of terrain, each has its own flavor. Use this cheat sheet to find the slopes that might be the best fit for you.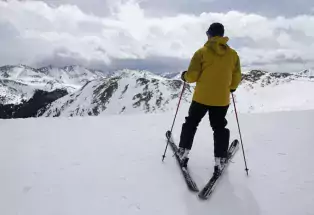 If You Like: Family-Friendly Groomers (wide, mogul-free runs)
Head to: Buttermilk
Buttermilk in Aspen offers truly enjoyable, easy-to-intermediate trails ideal for those just getting their snow legs. You'll still get a workout: The longest run is three leg-burning miles.
Bonus round: Steamboat
Tons of easy and intermediate terrain (not to mention a super-friendly atmosphere) make Ski Town USA an ideal family resort. Oh, and the fluffy, trademarked Champagne Powder® makes falling not seem like such a terrible thing.
If You Like: Steep Slopes
Head to: Arapahoe Basin
Looking for white-knuckle verticals? Take the Pallavicini lift up more than 1,300 feet in elevation to access wide-open, above-treeline slopes ranging from 38 to 40 degrees (translation: very steep). 
Bonus round: Wolf Creek Ski Area
Famous for receiving huge dumps of snow, Wolf Creek boasts 1,604 vertical feet. Expert skiers should check out the cliffy, straight-down Peak Chutes run.
If You Like: Moguls
Head to: Winter Park Resort
Winter Park's Mary Jane peak is famous for its knee-hugging bumps. In fact, it's a training ground for the U.S. Freestyle Mogul Team. 
Bonus round: Copper Mountain
Feel like a pro at Copper Mountain, where perfectly round bumps make linking turns (combining several turns) a breeze. For a real challenge, hop the Super Bee or Alpine lifts; or go big on Far East — a long run with moguls that are mini-mountains unto themselves.
If You Like: Terrain Parks
Head to: Keystone
There's always buzz around Area 51, Keystone's terrain park, that impresses seasoned boarders, but the park has enough beginner features to ensure you don't have to go big all at once. A dedicated chair lift means you never have to leave the park.
Bonus round: Breckenridge Ski Resort
The birthplace of Colorado's snowboarding scene, Breckenridge is a park rat's fantasy — five terrain parks have rails to grind, jumps to launch and superpipes to drop. You'll at least understand what all of those things mean after a one-day Park & Pipe clinic.
If You Like: Backcountry Exploration (outside a ski area's traditional boundaries)
Head to: Silverton Mountain
Heck, yeah, there's heli-skiing in Colorado. Guides are a must at this experts-only, ungroomed mountain, which also runs helicopter drops to nearby San Juan peaks where you're unlikely to run into someone else's tracks. (For a glimpse of what the area's backcountry terrain looks like, check out this video of Olympic gold medalist Shaun White on his personal half pipe outside Silverton — just don't expect Red Bull to build you one!)
Bonus round: Crested Butte Mountain Resort
With many boundary-free areas, Crested Butte offers intrepid ski buffs 1,125 acres of ungroomed terrain, fields of powder, glades (wooded areas) and untouched bowls.
Want more?
Level up on the mountain this winter >>
Check out adaptive winter sports in Colorado >>