Colorado State Park Profile: Eleven Mile State Park
Just outside Pike National Forest in south-central Colorado, you'll find Eleven Mile State Park, an outdoor recreation area that is well known for its Gold Medal fishing, backcountry camping and big-game hunting.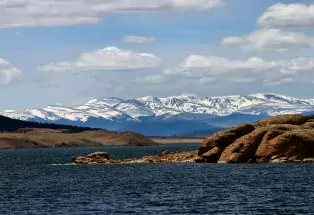 All year-round, anglers and ice fishermen can find an ample supply of northern pike, kokanee salmon and several varieties of trout. During hunting season, small- and big-game hunters can take their pick from a range of wildlife, including deer, elk, bears, mountain lions and waterfowl. The abundance of migratory and resident birds also make Eleven Mile State Park a prime viewing destination for birders, as they can spot everything from bald eagles to white pelicans.
Spend a night or two at one of the park's many camping areas. Visitors can choose from 325 campsites distributed throughout the park, or they can hike or boat into one of the 14 backcountry spots. In the backcountry area, there are approximately 5 miles of hiking and mountain-biking trails to explore, and self-guided hiking tour maps are available at the park office.
Magic Moments in Eleven Mile State Park
Ice skate along the frozen lake while enjoying surrounding views of snowcapped mountains. See a herd of deer quietly traipse through forested trails. Spread out a picnic blanket and watch the sunset over the south shoreline.
Extend Your Trip
Royal Gorge, Gold Belt Tour scenic byway, Florissant Fossil Beds National Monument, Pikes Peak, Garden of the Gods, Cave of the Winds
Nearby Towns
Florissant, Cripple Creek, Cañon City, Manitou Springs, Colorado Springs
Want more?
Uncovering Treasures: Cripple Creek Area 1-Day Itinerary
Colorado Springs & Pikes Peak Country – A 3-Day Itinerary
Photos: Copyright flickr/Jasen Miller; courtesy of Colorado Parks & Wildlife/Kevin Tobey