Cozy Colorado Winter B&B Getaways
If waking up to snowflakes falling gently outside your window and staying nestled by the fire while breakfast is served right to you sounds like your kind of vacation, then we've got an idea for you.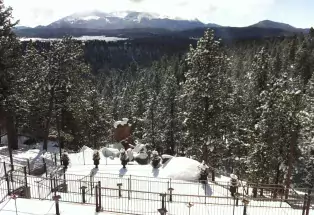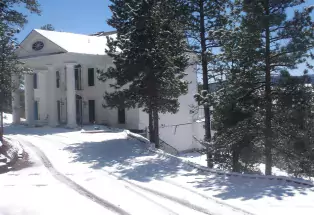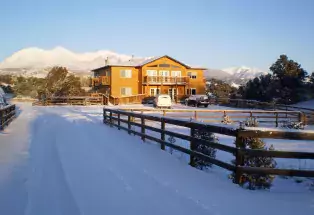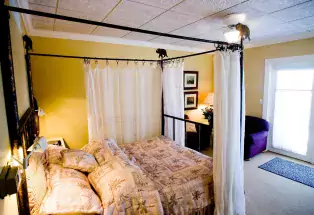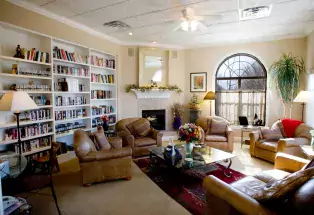 Throughout the state, there are many bed and breakfasts that offer unique amenities sure to make for an unforgettable getaway. Here are a few favorites:
If you're looking to stay in a unique B&B for your next Rocky Mountain getaway, you've found it. Guests share 19 acres with resident goats and chickens that provide cheese, eggs and milk for delicious homemade breakfasts and espresso drinks. Surrounded by a peaceful combination of snow-capped peaks and wide-open pastures, Mountain Goat's quaint hospitality is a perfect fit for the dreamy mountain town of Salida. Why not throw in a cheese-making class during your stay to cap it all off?
Every room at this modern inn adjacent to peaceful Pike National Forest has a view of Pikes Peak, America's mountain. Private hot tubs, fireplaces, decks and a quiet, remote location ensure you won't have to leave your room for one ounce of relaxation. If you decide to venture out, the innkeepers are ready with the best routes to forest exploration, as well as tips on nearby restaurants and attractions (though you shouldn't even consider leaving Pikes Peak Paradise for breakfast).
Fresh flowers in every room, a glass of wine in the evening and concierge service are all part of your stay at this castle-esque urban B&B. You're just a short walk or horse-drawn carriage ride from downtown attractions — that is if you're willing to leave the luxurious, comfy bed and whirlpool tub behind. Check out unique packages, like the "Crazy in Love."
Out on the open plains, this inn is often described as luxury where you least expect it. Spacious rooms, whirlpool tubs, bathrobes and murder-mystery weekends make it the perfect country setting to hole up in on a chilly Colorado evening — followed by breakfast served right in your room, if you choose. Guests especially love the inn's experiences and packages, like the on-site escape room, wine-tasting and cooking classes. 
Play hard and relax harder at this 1915 log cabin situated in between two of Colorado's most popular ski resorts, Vail and Beaver Creek. After a day on the slopes or snowshoe trails, slip under luxurious cottons covered with a hefty down comforter in your fireplace-heated room or walk out the front steps and stroll Minturn's historic Main Street. Fall asleep in your quiet retreat on the banks of the Eagle River before waking to the smells of breakfast. 
Soak away your worries in the personal hot tubs on private porches while the fireplace blazes nearby at this AAA four-diamond hideaway. Although the building was constructed in 1997, it fits in seamlessly with the historic charm of Old Colorado City, where rooms with a view of Pikes Peak are highly sought after. Thoughtful details like mints on pillows and in-room breakfast trays ensure return visits.
Originally used as a boarding house for local miners in the early 20th century, this landmark inn feels like a step back in time. The longest running family-operated biz in Silverton, the villa is still cared for by descendants of the original owners. They've taken great care to ensure the period decor coexists nicely with modern amenities — like an on-site spa — and they also delight in imparting local history to curious guests.
Privacy is paramount whether you wish to be sequestered in romance or spend quality time with your family at this 1885 National Historic Registry homestead set amid a lush mountain backdrop with llamas and goats grazing on the grounds. Choose from garden or creekside cabins, two rooms with eclectic detailing like wrought-iron blackbirds perched on the bedframe, or a comfy suite (think claw-foot tub and gas fireplace) crafted from the former milk room of a giant red barn.
Want More?
Check out all our Colorado B&B business listings, Only-in-Colorado Places to Stay and the Sleep Somewhere Cool Blog