Historic Colorado Restaurants & Watering Holes That Stand Test of Time
Colorado has a storied dining and drinking history, evidenced by the plethora of establishments dating back more than a century. Here's where you can relive the Old West, quench your thirst and satisfy your appetite.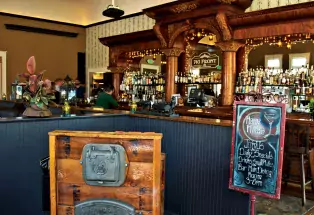 This steakhouse's original structure has endured being taken apart and moved three times, after previous stints in Dillon, Frisco and a small mining village known as Kokomo. The Summit County treasure has survived fires and seen the rise of skiing as a sport, and today it closely reflects its original incarnation — with some modern perks. Diners can select their cut of steak and then prepare it themselves on a specially seasoned lava-rock grill.
The city's oldest continually operating bar was once a favorite hangout of Beat Generation writers Jack Kerouac and Neal Cassady. While there's no sign outside, you'll know you're in the right place when you hear classical music drifting from the speakers. Tuck into a wooden booth and order a Johnny burger — topped with three kinds of cheese and grilled onions. 
Formerly the home of the town's founder, this stately Victorian house has welcomed the likes of former presidents Ulysses S. Grant and Theodore Roosevelt. Over time, the pink sandstone structure has evolved from a private residence to an event and dining venue with spectacular views of Pikes Peak. In the full-service restaurant, feast on upscale fare like crab cakes and buffalo striploin.
While living in Leadville, notorious gunslinging dentist Doc Holliday could regularly be found gambling, tending bar or playing the piano back when the Silver Dollar was known as the Board of Trade Saloon. Stop by for modern takes on pub fare (we like the Jumpin Goat Poutine made with local curds), served alongside a selection of small-batch Colorado whiskey. 
Several different iterations of dining and drinking venues have operated out of this Vail Valley location since the turn of the century, but the current version got its start in 1976. Enjoy a menu of Mexican and American specialties, including local ribs from MacDonald Farm in eastern Colorado's town of Brush and margaritas (available in single, half-liter and full-liter sizes). In the winter, the saloon is a popular stop for out-of-bounds skiers experiencing the Minturn Mile. 
There were originally 13 saloons that lined a three-block strip on Front Street and 740 Front is the last one standing, also boasting the oldest ongoing tavern license in the state. Details like a copper spit trough — once equipped with running water — still exist, as do the tales of lingering spirits from the days when a brothel operated in the back of the building. The menu features something for everyone, from wild salmon to grass-fed bison and an array of craft cocktails.
Hand-built by Jacob Kochevar (the patriarch of one of Crested Butte's oldest families), this gaming hall is the perfect spot to play some pool or shuffleboard while knocking back a few cold ones. The oldest tavern in the quaint ski town has lived past lives as a family home, hay barn and bowling alley, and rumor has it that outlaw Butch Cassidy left his gun at the bar as he fled a bounty hunter. 
Like most 19th-century haunts, the Buckhorn Exchange predates its liquor license but can brag that it has Colorado's first, which was issued after Prohibition. These days, this National Historic Landmark is a steakhouse in a museum-like setting, adorned with Old West memorabilia and taxidermy. Adventurous eaters should ask about the off-menu ostrich and yak entrees. 
Original appointments like the handsomely carved front bar, mahogany wall paneling and spectacular lead-glass divider panels are proof that not much has changed in its 120-plus years of operation within a hotel of the same name. But modern touches — think: pool and foosball tables, Colorado beer, $5 Jack Daniels and live music on Thursday nights — help the New Sheridan Bar carry its torch as a local gathering place.
Want more?
Find fine-dining hidden gems in Colorado
Explore restaurants where the views are as impressive as the food