Greeley & Loveland: Art in the Outdoors
While these two historic towns have their roots in agriculture, visitors will discover much more today. Both cities were recently named Certified Colorado Creative Districts, with two of the most vibrant arts communities in the nation.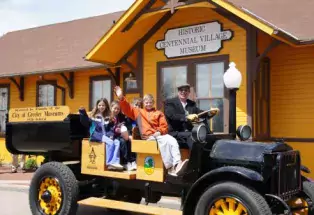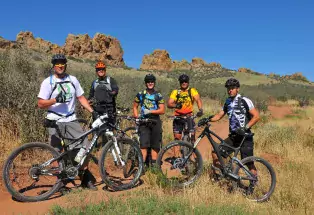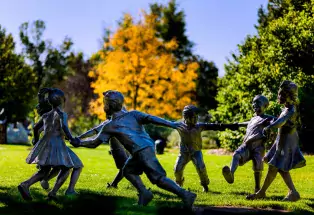 Morning
Like any good college town, Greeley has a colorful selection of coffee shops, serving residents and University of Northern Colorado students. Get your fix at spacious Zoe's Cafe before hitting the streets, where, as part of a Historical Preservation Commission walking tours and Brown Bag Series, you'll learn about the city's neighborhoods, historic sites and architecture.
Greeley's museums offer glimpses into the lives of the town's celebrated historical characters, such as Rattlesnake Kate, who hunted 140 rattlesnakes and then sewed a rattlesnake-skin outfit, complete with headband and shoes. See the strangely fascinating rattlesnake dress at the Greeley History Museum.
Peek into the lives of more average settlement-era citizens at the Centennial Village Museum, an eight-acre outdoor living history museum with more than 30 vintage homes and structures. Get friendly with cowboys and miniature farm animals in the interactive atmosphere. Nearby, railroad buffs can marvel at more than 600 railroad artifacts, 20 scale miles of track and hundreds of miniature buildings at the Colorado Model Railroad Museum at Greeley Freight Station.
Throughout your visit, you'll find more than 50 pieces of public art sprinkled around Greeley, as well as lovely parks that feature lakes, small streams, bridges, waterfalls and islands. Newly opened Homestead Park and Open Space has walking paths, a playground and public art, including artist Joshua Wiener's Rain Symphony sculpture inspired by the city's sophisticated water system.
Or take a swing along the Poudre Learning Center along the Poudre River Trail, with beautiful views, easy hiking trails and access to the Cache la Poudre, catch-and-release fishing and wildlife viewing. The center has fishing club, summer science camps, chuckwagon dinners, stargazing nights, bike trails and more.
Afternoon
Point your compass west to Loveland, a community committed to the arts. Spend time at Benson Sculpture Garden, featuring more than 150 sculptures. The park's annual shows are two of the largest outdoor art exhibitions in North America. A web-based app tour will guide visitors around this special site. For more sculpture admiration, check out Art Castings of Colorado's foundry tour, which shows you how they're made (make reservations before visiting).
Head downtown, where charming blocks showcase historic buildings, shops and restaurants, and the beautiful art the city is known for. Visit the Loveland Museum and Gallery to see all of the stamps used in the Loveland Valentine Re-Mailing Program; stop by the famous Post Office from where all of those love letters are forwarded, an Art-Moderne style edifice built in 1937.
Check out The Foundry, a new downtown destination packed with shopping, a movie theater, hotel, restaurants and events. Or, stop by the Loveland Visitor Center for information on the Loveland Ale Trail, which will lead you to the Sweetheart City's breweries.
On the subject of sweethearts ... Loved ones can lock their love for one another on two 10-foot-tall LOVE sculptures. Buy a lock at the visitors center and have your name engraved on it. Step outside or head to Lake Loveland to lock your love on the grid. Whether you keep the key as a souvenir or throw it away to lock your love for an eternity is up to you!
Hikers should seek out The Keyhole rock formation at the Devil's Backbone Open Space, an impressive geologic landmark. Boaters, fishers, paddleboarders and other water lovers will find plenty to do in the area with Carter Lake, a picturesque affair set in the foothills with mountainous views, as well as Lake Loveland, Boyd Lake State Park, Lou Hagler Reservoir and others.
Evening
Door 222 Food and Drink pairs delicious tapas with local draft beers — don't miss the chicken and waffles. Next door, see what's going on at the Rialto Theater, built in 1919 and once hailed as "the finest theater north of Denver." 
Or head to Taste Local for scratch-made all-day breakfast (we like Marino's blueberry flapjacks and The Devil's Backbone panini).
Admire Mother Nature's contribution to the town's public art program: The splendor of the sun setting over Lake Loveland, right in the middle of town. Or head back to Greeley for a night of food, cocktails and first-run and indie movies at the all-in-one Kress Cinema & Lounge.
Round out the evening with a visit to Wicked Tequila Room to choose from 40 luxury brands of tequila and mezcal. For dessert: Sweet Heart Winery has opened in west Loveland — the perfect stop for a sip if you're making the 35-minute drive between Loveland and Rocky Mountain National Park. The wine tasting room is open to the public seven days a week.
Another option is Sylvan Dale Guest Ranch's dinner horseback rides (or anytime rides!), which come with a trek to beautiful to Eagle Ridge.
Or, back in Greeley, every summer Friday brings live music on the 9th Street Plaza, with street performers, fire spinners, face painting, balloon artistry, sidewalk chalk and more. The city's culinary offerings are growing every year. Check out 477 Distilling and Luna's Taco's & Tequila to taste things the in-crowd is into.
Want More?
Check out our Colo-Road Trips itinerary: 5 Days in Greeley, Loveland, Longmont & Fort Collins >>