Get Inspired on a Northern Colorado Creative District Road Trip
With sweeping views of snowcapped peaks and vivid swatches of fields brimming with sunflowers and zinnias, Northern Colorado (affectionately known as NoCo) is a treat any time of year. But there's more to this part of the state than lush landscapes and scenic views. The area also has a renowned arts scene and is home to numerous Certified Colorado Creative Districts.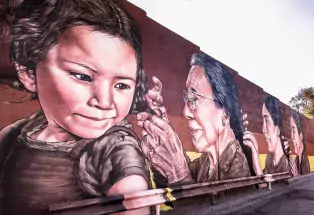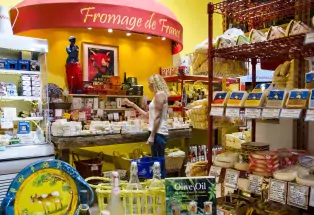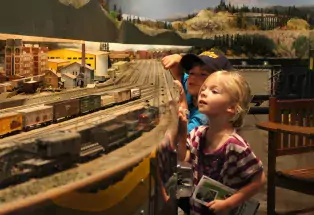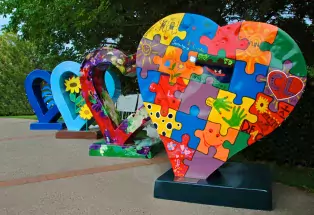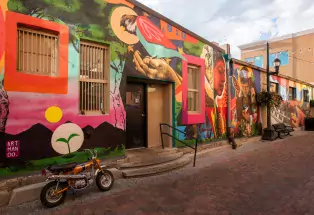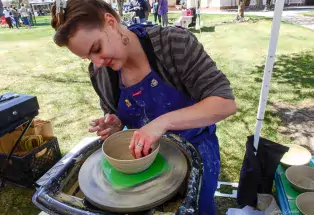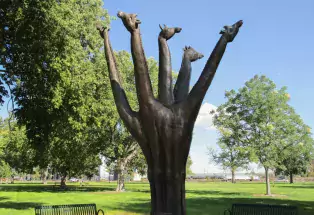 Visit a few of these NoCo cities (or all of them!) over the course of a few days or stop and stay awhile in just one. They're all within easy drives of each other, so you have plenty of options for curating the perfect creative road trip filled with sculptures, live music, public arts, historical architecture and so much more.
Longmont
Snuggled along the Rockies, Longmont is an artistic haven just waiting to be explored. Start at the aptly named Creative Block, where you'll find a boon of local galleries, studios and artist co-ops. Create your own works at shops like Crackpots, Longmont Yarn Shoppe and Maker General or take a gallery tour for inspiration and gifts to take back home.
Wander the Longmont Museum for captivating exhibits on area history and curated collections of international art and cultural explorations. Feel mountain breezes play on your face as you relax at St. Stephen's Listening Plaza. Local music is broadcast throughout the plaza daily, making it ideal for unwinding and getting lost in Longmont flavor. Speaking of flavors, you'll find them from around the world at Cheese Importers. Snack on mellow goudas, sharp cheddars and spicy salamis and browse their European-style market for olives, kitchen trinkets, pasta and more.
Greeley
Rooted in agriculture, the charming town of Greeley now blossoms with creativity. Take a walk down 8th Avenue amid a grove of perfectly Instagrammable art trees. The whimsical sculptures are a treat for the imagination and their branches resemble everything from clouds to cairn-topped cacti. Get your own artistic ideas chugging at the Colorado Model Railroad Museum. Walk through a real caboose and marvel at an intricate miniature world as model trains roll down the tracks. 
Catch a show at Union Colony Civic Center, which hosts everything from nationally known musical acts and touring Broadway productions to dance recitals and concerts from the Greeley Philharmonic Orchestra. Or opt for an indie film at Kress Cinema & Lounge, an Art Deco theater that offers a tapas-style menu and a robust cocktail list. 
Loveland
Everything about Colorado's Sweetheart City is swoon-worthy, but Loveland's creative scene takes the heart-shaped cake. At Benson Sculpture Garden — home of the nation's largest outdoor juried sculpture show — stroll 10 scenic acres dotted with nearly 200 unique and interactive works. Feeling inspired? Book a tour at a working bronze foundry to watch sculptors in action and learn about their process.
Step back in time on a historical building tour of Loveland. Along this self-guided excursion, you'll be treated to architectural delights dating back to the 1860s, including the likes of English-Norman cottages, Victorians and stunning old opera houses. Finish the day at Black and Blues Music and Brews, a one-of-a-kind guitar boutique and listening room. As you jam out to live tunes you can also sip Colorado craft beers or cocktails with cheeky music-themed names like Major Tom and Ring of Fire.
Fort Collins 
Don't let Fort Collins fool you: Though known as Colorado's Craft Beer Capital, the city is brimming with creativity. You'll see it for yourself as you walk around thanks to FoCo's Art in Public Places program. Brightly painted pianos wait for you to play them, vibrant murals adorn building facades and electrical transformer cabinets, and sculptures line the streets. Take it all in on a third-Friday Foodie Walk, where you'll pop in and out of culinary shops offering gourmet chocolates, fine teas, olive oils, fragrant spices and more.
There's never a dull day at the Museum of Art Fort Collins, where the visual art exhibits rotate regularly. Peruse nationally acclaimed traveling exhibitions from world-renowned artists, meet the makers at artist talks or enjoy nights of music paired with the artwork. And no visit to Fort Collins is complete without live music. Revel in a cozy night of jazz at an intimate listening room, dancing to your favorite Colorado bands at their many concert venues, a unique rock concert at a riverside amphitheater surrounded by the Rocky Mountains or a family-friendly open-air concert in historical downtown Fort Collins.
Sterling
Sterling is a creative gem set in Colorado's golden plains. See for yourself at the Sterling Creatives Art Cooperative and Gallery, which hosts a variety of workshops, whether you want to express yourself through painting, silk dyeing, jewelry making or via some other medium. Keep your eye on their events calendar for special featured-artist open houses, First Fridays and other exciting happenings. As you make your way through town, you'll spot the striking works of Bradford Rhea. Soak up the beauty of delicately hewn sculptures inspired by nature, history and biblical verses. Rhea's cottonwood carvings are so moving they earned Sterling the nickname of the "City of Living Trees."
Dive into the town's past at Overland Trail Museum — a 14-building historical village come to life through exhibits featuring blacksmiths, barbers and schoolmarms. Learn about the gold seekers and fortune hunters who passed through on the Overland Trail, once the heaviest traveled road in the country. Head back to modern times with summer concerts throughout June and July at Sterling's LOCAL Jamz and July Jamz gatherings. On select summer afternoons and evenings, dance on the courthouse lawn as local artists fill the sweet prairie air with the sounds of country, jazz and rock. 
Want more? 
Check out these other stops along your NoCo Creative Road Trip >>