Trail of the Ancients
Four Corners Monument
116
Hovenweep National Monument
Year-Round
Mountains & Mesas
5 to 8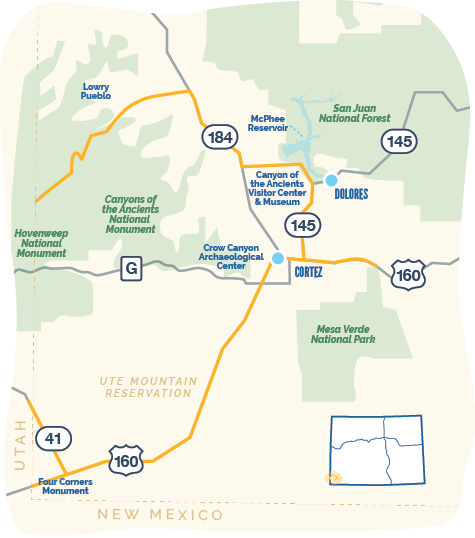 Trip Tips
While 2WD vehicles will be fine along this drive, expect some gravel sections and mud if it's wet.
Though much of Mesa Verde National Park can be explored on your own, most cliff dwellings can only be viewed via ranger-guided tours. You can purchase tour tickets online, but make sure to read the guidelines about where to pick tickets up — you must have a physical ticket with you to take your tour.
Enjoy Mother Nature at its finest by watching for wildlife in canyons, on hills and in the sky.
See some of this byway's highlights — and read below for many more!
Colorado's Trail of the Ancients byway travels between two remote national monuments and Mesa Verde National Park. As you drive, you'll pass through wind- and water-carved sandstone canyons, sagebrush-scented mesas and centuries of American Indian history. This National Scenic Byway near Cortez and Dolores takes you through the heart of the landscape and unique past of the American Southwest. 
Because there are so many destinations of archaeological significance, it's best to take your time along the tour to enjoy its sandstone landscapes.
Start your byway jaunt at the Four Corners Monument: It's the only place in the United States where the borders of four states (Colorado, Utah, Arizona and New Mexico) meet. Find the marker — a bronze disk — and stand in four states at once.
Continuing along the drive, head to Ute Mountain Ute Tribal Park in Towaoc. Here Ute tour guides will help you learn about and explore Ute and Ancestral Puebloan culture, architecture and art. Full-day, half-day and private tours are available, as well as primitive camping and cabin rentals.
A bit farther along, you'll find Cortez. The city is home to numerous attractions, including the Phil's World mountain-biking trail system, a fast, fun and well-maintained singletrack trail; Cortez Cultural Center; and wineries like Yellow Car Country Wines and Sutcliffe Vineyards. 
Crow Canyon Archaeological Center, another Cortez-area stop, boasts an archaeological site focused on education and research. Join the one-hour Crow Canyon Tour or the Archaeology Day Tour to learn more about Ancestral Puebloans.
Make sure to budget ample time for an extended stop at Mesa Verde National Park, located 8 miles east of Cortez. This World Heritage Cultural Site houses some of the most dramatic archaeological sites on earth. Visit dwellings at Cliff Palace and Balcony House, where you can climb into kivas and immerse yourself in the wonder of this ancient civilization's handiwork. Mesa Verde is, in fact, home to more than 4,000 archaeological sites, 600 of which are cliff dwellings. 
Hop back on the byway and head to Dolores, a historic town with Ancestral Puebloan ties that lies halfway between Durango and Telluride. An outdoor enthusiast's paradise, it offers access to McPhee Reservoir, Colorado's second-largest body of water, and the San Juan National Forest — perfect for hiking, biking and fly-fishing. Before you go, head to the Galloping Goose and the Rio Grande Southern Museum to bone up on narrow-gauge railroad history.
Next up on your drive is the Canyons of the Ancients Visitor Center & Museum, where you can explore the archaeological museum and pick up maps to guide your travels through the National Monument itself. (Keep in mind that many of the monument's top sights are some 30 minutes from the visitor center.)
Within the Canyons of the Ancients National Monument, you'll find a remote and rugged patchwork of land containing the highest known concentration of archaeological sites in the United States. From stone towers to kivas to modest check dams, these structures enable you to visualize how the landscape must have looked when the Ancestral Puebloans lived here. Stop for a brown-bag lunch at Lowry Pueblo — a 1,000-year-old Ancestral Puebloan ruin — where in addition to fascinating history, you'll find a picnic area and restrooms.
Finish your drive at Hovenweep National Monument. Located directly west of Cortez, this remote and often uncrowded national monument includes a bevy of structures, namely a series of stone towers built by the Ancestral Puebloan people. Gaze at round and square towers, some of which can be visited by a quick hike. Return at night for stargazing opportunities. 
Events on the calendar: Escalante Days in Dolores, Ute Mountain Mesa Verde Birding Festival in Cortez, Dolores River Fest, Dolores Harvest Fest

Side Trips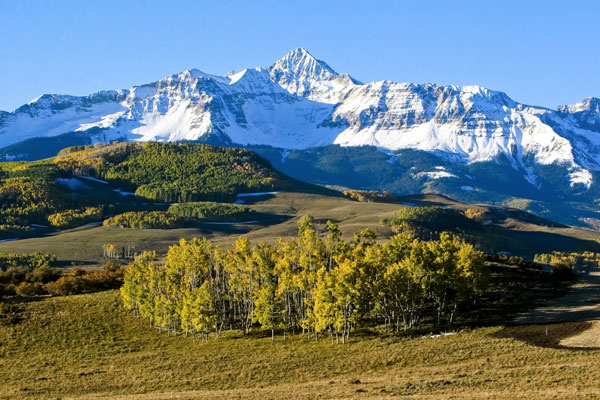 San Juan Skyway
This 232-mile loop features unparalleled Alpine views, especially as autumn colors paint the landscape, and can be enjoyed as a multiday trip.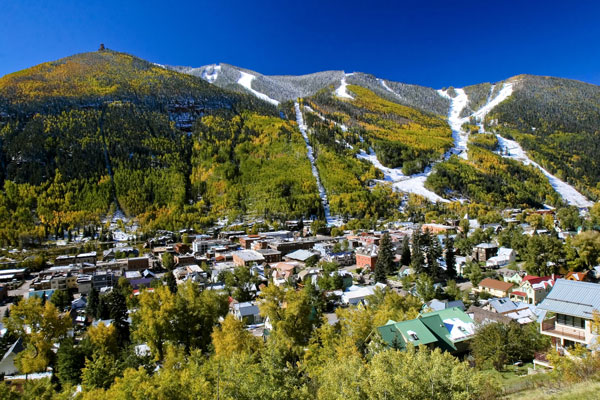 Telluride
Nestled in a box canyon and surrounded by jagged peaks, this Victorian mining town offers challenging skiing, gourmet restaurants and numerous summer music festivals.
Durango
Explore unspoiled wilderness by foot, bike or raft, then enjoy a walkable downtown with hip shops and delicious eateries.
See All Byways