Nucla
Nucla, a tiny town near Naturita in Colorado's scenic Southwest, boasts eyeboggling desert plateaus overlooking rolling farmland in the Uncompaghre Valley.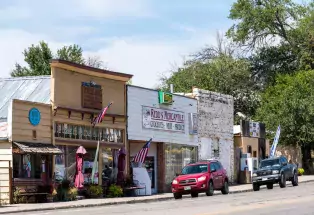 Founded by utopians in the late 1800s, Nucla later became a center for uranium mining and continues to be rooted in mining and agriculture. 
Visitors driving the Unaweep Tabeguache scenic and historic byway, of which Nucla is a part, will be dazzled by the spectacular landscape decorated with cliffs, canyons and desert outcroppings, along with views of the rushing Dolores and San Miguel rivers. 
In the mood for stargazing? Nucla is a designated International Dark Sky Community, making it a perfect spot to gaze upon glittering celestial bodies set against a velvety black night sky.
This secluded Colorado enclave may have fewer than 1,000 residents but its expansive rural landscape — including access to acres upon acres of Uncompaghre Forest and Bureau of Land Management land — is an ideal locale for for all manner of recreation activities, like hiking, mountain biking, hunting, bird-watching, camping and fishing.