Carboy Winery
Carboy Winery,
6885 S Santa Fe Dr.,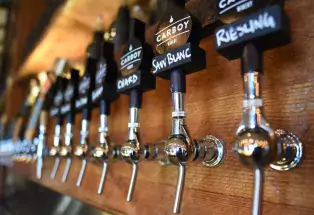 Carboy Winery is a unique winery working hands-on with vineyards & winemakers from Colorado and other prominent wine regions around the world. We carefully select and source high-quality wine grapes, juice, and single-varietal wine that is then brought to our winery and put through the delicate winemaking process, crushed and fermented, aged further, blended, and kegged and/or bottled to make our select brand of Carboy Wines.
At our unique winery in Littleton we offer weekly wine tastings and tasty small bites. We offer four unique wine club for enjoying or collecting and we also distribute to local restaurants and wine stores for the wine-loving public.
Facility Amenities:

Bus/Motorcoach Parking,
Food/Beverage Service,
Gift Shop,
Parking on Site,
Restaurant On Site
Group Amenities:

Accommodates Tour Groups,
Bus/Motorcoach Parking on site