Blaze Your Own Trail: Self-Guided Tours to Discovery in Colorado
Whether you're an art lover, a bird watcher or a craft-beverage connoisseur, explore at your own pace with Colorado's numerous self-guided trails.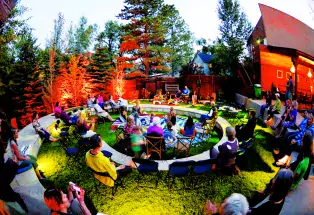 Identify your passion, then hit the road. Here's what to taste, see, learn and do along the way.
COLORADO BIRDING TRAIL
Deepen your awareness of Colorado's varied avian wildlife on this scenic driving route that connects 54 trails, more than 500 bird types and 800 sites across western Colorado, the Rocky Mountains and Eastern Plains. Do just one section or identify a few to tackle during your day. Whether you're in wetlands or high desert, walk softly to discover a diversity of habitat teeming with birds and other creatures.
Learn more about birding basics >>
ALONG THE TRAIL...
TASTE: Dig into country-comfort a favorite at Drovers Culinary Cafe in Brush. The small-town diner serves hearty American fare, like biscuits and gravy or chicken-fried steak. A slice of rave-worthy pie will bring on a delightful post-lunch food coma.
SEE: Explore 193,060 acres of rolling prairie at Pawnee National Grassland on the Eastern Plains. Find the Pawnee Buttes, a regal geologic feature, for fossil discovery and dramatic prairie views. Grab your binoculars to spy on falcons, hawks and swallows.
LEARN: Head to Denver Museum of Nature & Science for its orinthology collection, among others, as well as planetarium shows, IMAX and kids' activities.
DO: Found in an early Fort Collins farmstead, Jessup Farm Artisan Village bustles with eateries and shops. Enjoy its farm-to-table favorites, craft beer, locally roasted coffee and other handmade goodies.
COLORADO CREATIVE CORRIDOR
Wander between five artsy western towns that are also Certified Colorado Creative Districts: Carbondale, Crested Butte, Paonia, Ridgway and Salida. The winding 331-mile driving route invites you to explore arts-and-culture offerings at your own pace while experiencing the state's flawless natural beauty. These thriving creative communities showcase a marvelous mix of working artists, from landscape painters and fine-art photographers to jewelers, potters and beeswax candlemakers. Extend your drive with a bucolic farm stay along the way.
Learn more about the Colorado Creative Districts >>
ALONG THE TRAIL...
TASTE: Stop into Carbondale Beer Works for an ever-changing rotation of suds — from a barrel-aged porter to pale ale — depending on the season. The Biker & The Baker in Salida, meanwhile, serves savory charcuterie plates piled with house-pickled delicacies and sumptuous desserts.
SEE: Absorb Crested Butte's quirky creativity — for free — with evening art walks that take place throughout the year. 
LEARN: Expand your skillset with an absorbing maker's workshop via Creekside Pottery in Paonia. Learn techniques in hand-building, wheel work and Raku firings used to create a multicolored glaze effect. Individual and group classes are available by appointment.
DO: Stretch your legs by exploring historic Ridgway's Clinton Street, a stretch of road peppered with studios, boutiques and restaurants. Then head to the Sherbino Theater for live music.
COLORADO HISTORIC HOT SPRINGS LOOP
Celebrate the skin you're in with a trek to five historic hot-springs destinations within a 720-mile loop. There are more than 20 thermal hot spots in Glenwood Springs, Steamboat Springs, Pagosa Springs, Ouray, Buena Vista, Salida, Moffat, Hooper and Alamosa. From splurge-worthy resorts to clothing-optional pools and steaming vapor caves, each hot-springs location offers lots of laid-back relaxation. Book a spa treatment in between soaks for abounding restfulness.
Learn more about the Colorado Historic Hot Springs Loop >>
ALONG THE TRAIL...
TASTE: Delight in local flavors with a winery tour and small plates at Vino Salida Wine Cellars. Or, for a more formal affair, head to Aurum in Steamboat Springs for seasonal dishes paired with full-bodied wines on the Yampa riverfront. Be sure to stop for pie at the Pagosa Baking Company & Cafe in Pagosa Springs.
SEE: Locate Doc Holliday's grave site with an easy trek through Glenwood Springs' Linwood Cemetery. The infamous Holliday — a Wild West dentist turned outlaw and gambler — found his final resting place in Glenwood at the age of 36.
LEARN: Book a private showing of Ouray Alchemist's expansive frontier pharmacy museum, displaying Colorado's oldest prescription, along with 16th-century medical artifacts.
DO: Explore the San Juan Wilderness with a hike along Wolf Creek Pass, a legendary jaunt bedazzled with sights like Lobo Overlook and Treasure Falls.
COLORADO SPIRITS TRAIL
Helmed by artisan makers, Colorado's robust distilling community spans the Eastern Plains to the Western Slope and everywhere in between. Tour more than 50 craft distilleries, and designate a driver, so you can taste, too. Download the free map online or ask for one at a participating distillery. Collect stamps for prizes and street cred.
Learn more about the Colorado Spirits Trail >>
ALONG THE TRAIL...
TASTE: After your Breckenridge Distillery tour, head to the restaurant for shareable snacks like Brussels sprouts and maple-pepper bacon. In Denver, stop at The Family Jones Spirit House to nibble roasted artichoke fondue served with bourbon-butter croutons and sunflower seeds after a tasting.
SEE: Mesa Verde National Park, near Durango, houses more than 5,000 archaeological sites, including 600 cliff dwellings. Explore remains of the Ancestral Puebloan civilization that thrived here for nearly a century. Follow a day of exploring with refreshing tasters at Durango Craft Spirits.
LEARN: Join an Art in Vail Art Walk, held Wednesdays all summer (and first and third Wednesdays in the winter), for ski-town history and whimsical public art, like Lionshead's Sunbird Park play area and burbling public fountains. The town's collection includes more than 55 pieces — paintings, sculptures, murals and more — across both Vail ski villages. Reward yourself with a stop at 10th Mountain Whiskey & Spirit Company.
DO: Paddle on Fort Collins' Cache la Poudre, Colorado's only nationally designated Wild & Scenic River. Whitewater rafting for newbies is best enjoyed on the Lower Poudre, while experienced rafters head to Mishawaka Falls' white-capped Class IV rapids. Certified outfitters stand by to find the section of river that suits your crew's wish list. A day on the rapids yearns to be washed down by a cocktail on the patio of Coppermuse Distillery.
FRUIT & WINE BYWAY
Love Colorado's farm-to-table movement? You've found the motherlode! Plan stops at peach orchards, vineyards, meaderies and wineries, lavender gardens and bountiful farm stands. Choose from three routes — best enjoyed by bike or car — across Palisade, Clifton, Grand Junction, Cedaredge, Paonia, Delta and Olathe. Pause at sunset for rose-tinted views of Mount Garfield and the Bookcliffs.
Learn more about the Palisade Fruit & Wine Byway >>
ALONG THE TRAIL...
TASTE: Complement your well-marbled steak with native cabernet at Grand Junction's downtown Winery Restaurant. Or grab a bite at nido, where the tacos and tamales feature locally sourced ingredients and are made with love.
SEE: If you're not too busy eating and drinking, detour to Unaweep Canyon, near Grand Junction, for ragged rock-wall views and high-desert adventure. A climbing and hiking paradise with geologic renown, this scenic spot is best enjoyed spring through fall.
LEARN: Museums of Western Colorado offers three locations, including Museum of the West and Cross Orchards Historic Site in Grand Junction and Dinosaur Journey Museum in Fruita. Absorb the area's rich paleontological history, along with Wild West lore.
DO: A trip to Delta's Sweitzer Lake State Park means lots of playtime. Enjoy picnicking, waterskiing, boating, birding and lots of fresh air.
HIGHWAY OF LEGENDS AUDIO TOUR
Head off the beaten path and travel through Colorado's iconic Spanish Peaks, former mining camps and a handful of ghost towns. Download this two-hour audio tour before seeking out historic tales about the area's Indigenous peoples, the coal-and-steel boom, plus traveler tips along the way. Tour area towns like Walsenburg, Trinidad, Cokedale, La Veta and more.
Learn more about the Highway of Legends Audio Tour >>
ALONG THE TRAIL...
TASTE: Enjoy wood-fired pizza pie and cheesy bread with an ice-cold beer at Bella Luna Pizzeria in Trinidad. Or, head to Walsenburg where you can dig into the locally loved open-faced green-chili cheeseburger at George's Drive Inn, known for portions that sate the hungriest hikers' appetites. 
SEE: Cokedale's honeycomb of arching structures appear more reminiscent of the Roman Empire than mining activity. The historical coke ovens, however, were used in the early 1900s to smelt coal from a neighboring mine. They're also the best preserved of its type in the state.
LEARN: Housed in an 1896 jailhouse behind the courthouse, Walsenburg Mining Museum boasts Huerfano County mining-camp tales and memorabilia from a more lawless time.
DO: Operating for nearly a century, La Veta's Yellow Pine Guest Ranch features family fun like horseback riding, fishing, hiking and river walks.
Want More? 
Blaze your own trail along one of Colorado's 26 scenic and historic byways >>
Check out our Colo-Road Trips >>
Photos courtesy of Visit Palisade/Mark Hoberman and Carbondale Creative District/Lewis Cooper.