10 Ways to Spend Winter in Pagosa Springs
The real fun begins as the mercury drops in Pagosa Springs. Whether it's backcountry snowshoeing and cross country skiing, or skiing and snowboarding on a fresh blanket of powder and ending the day with a dip in the hot springs, there are plenty of ways (presented in no particular order) to make the most of wintertime in and around Pagosa Springs.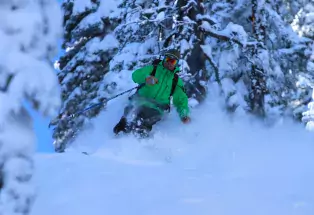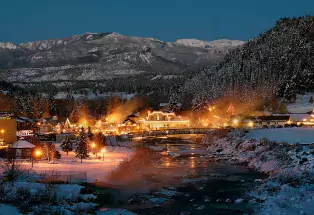 1. Pagosa Hot Springs
Stiff joints and chilly bones can be cured with a single dip in Pagosa Springs' mineral-rich waters — making winter the best season for a hot springs soak (or five). Healing Waters Resort & Spa's large outdoor pool, hot tub and indoor European-style bath facility are perfect for budget-conscious visitors. For views overlooking the majestic San Juans, head to Overlook Mineral Springs Spa — their rooftop tubs and convenient downtown locale make this resort a popular choice. Or pay a visit to The Springs Resort: With 23 pools to choose from, it's easy to spend all day soaking, followed by what might be the best sleep of your life. See a Pagosa Hot Springs Video >>
2. Brewery Hopping
In true Colorado fashion, there's no better way to warm up on a brisk winter day than with a local craft brew in one hand and a bowl of piping hot, home-style chili in the other. Sample award-winning Powder Day IPA and brewpub chili made from grass-fed beef from Pagosa Brewing Company, then head downtown to Riff Raff Brewing Company for a taste of their flagship Skallywag English Pale Ale. Along the way, make a pit stop at The Break Room for a fun, laid-back atmosphere and brews on the patio.
3. Dog Sledding
When the dog days of summer are over what better way to celebrate winter's arrival than with a sled-dog tour of the snow-covered mountains? San Juan Sled Dogs and Mountain Paws Dog Sled Tours takes special care of their four-legged friends (their breed requires them to run and pull) with many options to let you in on the fun. Expeditions include meet-and-greets with the furry fidos, photos of your mush, and warm drinks and snacks to conclude your sledding adventure.
4. Cross-Country Skiing & Snowshoeing
Southwestern Colorado's wintry backcountry is a sparkling sight not to be missed. To those serious about discovering this pristine landscape: strap on a pair of snowshoes or Nordic skis. Thanks to the Pagosa Nordic Club, the 50km of groomed trails are free and dog friendly. Families and beginner freestyle and skate skiers embark on the Reservoir Hill Nordic and Cloman Park trails, while those who are more advanced take to the Coyote Hill Nordic Loops. Snowshoers may share these trails with skiers, as long as they stay clear of the skating lane.
5. Ice Fishing
Lakes may freeze over when deep frost sets in, but that doesn't mean the fish stop biting in Pagosa Springs. Several reservoirs in the Pagosa Springs vicinity yield some of the best ice fishing in southwestern Colorado. Find rainbow trout and yellow perch in Echo Reservoir, or wet your line in Williams Creek Reservoir for kokanee salmon and trout of the brook, rainbow and cutbow varieties. Before making your way out onto the ice, be sure to have your fishing license in tow — it is required year-round and can be purchased online.
6. Skating Ponds
It's a favorite winter pastime the whole family can enjoy — or a romantic outing the two of you won't soon forget. The ponds behind River Center are maintained throughout the winter months. As long as the ice is at least four inches thick, pond skating is free game — with special emphasis on the "free" part, as there's no charge to skate atop the ponds. The Multi-Purpose Pavilion is another ideal place for ice staking. Rent your skates and enjoy pick-up hockey and broomball, or simply get a few laps around the ice.
7. Sledding & Tubing
A sled, tube or toboggan can mean hours of endless fun for adults and kids alike. Rent a sled and make a break for the nearest hill in Pagosa Springs. Free local favorites include Reservoir Hill in downtown Pagosa and the parking area near Lobo Overlook on Wolf Creek Pass.
8. Sleigh Rides
Traverse through snow-covered meadows and forests on a peaceful winter sleigh ride. Keep warm with woolen blankets and hot cocoa as you take in the sights of Pagosa Springs' beautiful backcountry. Choose between Astraddle A Saddle, a 40-minute sleigh ride pulled by a team of draft horses, or Buckaroos Horse-Drawn Rides, a half-hour venture that includes an unforgettable scenic horse-drawn ride encompassing the San Juan River, iconic hot springs and majestic San Juan mountains..
9. Skiing & Snowboarding
Some of Colorado's best skiing and snowboarding is located just 23 short miles from Pagosa Springs. From November to April, visitors and locals alike flock to ski at Wolf Creek Ski Resort, with its average of 430 inches of natural (not manmade) snowfall per season. Wolf Creek ski area is known for its relaxed vibe, awesome hike-to terrain, snowcat shuttle and incredible affordability and free parking. Fewer crowds, no lift lines and seven chairlifts spread across 1,600 acres make the 11,904-foot-tall summit a draw to powder hounds of every level.
10. Snowmobiling
Sightsee through the San Juan National Forest in one of the quickest and most exciting ways we know possible — on a snowmobile. With hundreds of miles of groomed trails and untouched backcountry powder to choose from, the hardest decision you'll have is deciding where to begin. Before heading out, view trail conditions for Wolf Creek Pass, East Fork, Toner Road and other maintained trails. Alternatively, take a guided tour with Third Generation Outfitters or Wolf Creek Snowmobile Tours —both local businesses promise tips and tricks, epic views and memories to last a lifetime.
Want more?
Find our 10 best things to do in Pagosa in the summer And from breweries and the best places to eat during your stay to connecting with outfitters for outdoor adventure, Pagosa Springs has trip ideas to keep you busy all year long.