Backcountry Adventures: Guided Hiking, Climbing, Fishing, Camping & More
Ah, the fabled Rocky Mountain backcountry — stunning, wild and invigorating. But all that natural enchantment can be intimidating!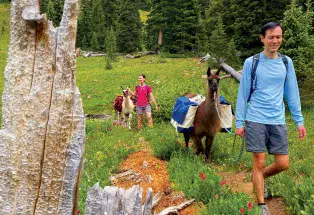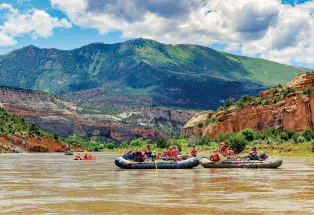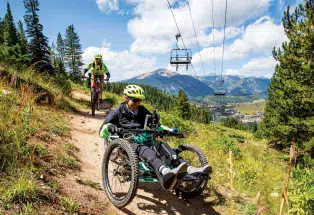 Our tip? Connect with a guide. They get you all the gear and safety info you need and point you in the exact right direction for maximum quality of time spent in quiet spots. Here are a few ideas to get you started on what's possible.
Mountain Bike Like Ladies
Each summer, the Adaptive Sports Center in Crested Butte offers a three-day Ladies Mountain Bike Session tailored for women with physical, visual and orthopedic disabilities on the area's world-class trails. Each participant and their one-on-one instructor tear up the terrain on lift- and non-lift-assisted trails at the ski resort, as well as others in Crested Butte and Gunnison, while focusing on skills progression. The recent advancements in adaptive mountain bikes accommodate a broad range of needs, and one of the best benefits of this program is the instructor fitting the rider with the bike and customized adjustments.
Check out other adaptive adventures in Colorado >>
Learn the True Definition of "Whitewater"
The Yampa River through remote Dinosaur National Monument is perhaps one of the state's wildest rides. Mild to Wild Rafting & Jeep Tours runs four- and five-day trips on this class III and IV, free-flowing, canyon-cruising adventure. You'll woosh by (and sometimes pull over to explore) dinosaur fossils, petroglyphs, trails to Native American sites and Wild West artifacts from the homesteaders and outlaws who roamed this red-rock area in the 1800s. No need for you to live like an outlaw, however — your guides set up a gourmet camping experience each night and make sure you've got all the calories and rest needed for the day to come. They'll also regale you with tales of astronomy and the history of the area, as well as an accordion singalong or two.
Learn more about Colorado whitewater rafting >>
Leave the Car, Take the Llama
Paragon Guides' five-day llama trek from Vail to Aspen is probably the cutest way to make that scenic journey. While you hike through aspen groves, skirt sunny meadows and step carefully over burbling streams with just a daypack, the llamas do what they excel at — carry your food, water and overnight needs. You and your new best friends will make the journey between two beloved mountain towns, bunking in historical 10th Mountain Division huts along the trail each night. Be sure to give the llamas a good pat before you put the campfire out.
Wake Up Atop a Red-Rock Tower
You'd think only expert climbers could scale one of Colorado National Monument's 500-foot towers and experience its indescribable sunrises. Apex Mountain School welcomes those experts, but also invites folks with little to no multi-pitch rock-climbing experience to make the trek as well. Following the lead climber, who establishes anchors for those who'll come after, the party ascends as a group, soaking up exhilarating views on the way to the top. Apex will design a tour around your group's abilities and fitness levels, so you'll want to start this adventure with a conversation about what will suit you best. They'll give you a list of items to bring along, while they provide the Porta-ledge (Google it — if your heart doesn't stop at the sight of it, then this adventure is for you), harnesses, climbing shoes, helmets and all the climbing hardware you'll need.
Find other climbing adventures >>
Get to Know the Arkansas River
ArkAnglers' wade-float combo trip offers the best of a couple worlds to fly-fishers on one of the nation's favorite alpine fishing routes. Near Salida and Buena Vista, the Collegiate Peaks are also part of the package. For beginners or those looking to shake off the rust, spend a half day on an instructional wade trip to work on your cast, line management and fish-sighting skills. A hands-on guide will get you in tip-top shape before the next day's float trip, when you'll really start reeling in the big ones, thanks to the previous day's prep and your guide's knowledge of the best places to drop a line. These pros take guests of all fishing and physical abilities into the backcountry for unique excursions, so reach out for other adventures, as well.
Find other Colorado fishing ideas >>
Soak Up Serious Family Time
Leave behind homework, jetting to and from all those practices, and your own persistent meetings and chores for a week of the simple life with Flat Tops Adventures. Popular with multigenerational families, a customized, seven-night progressive camping trip through northwest Colorado lets you hike, mountain bike, Jeep or horseback into the wilderness. Your guide can get you set up and leave you on your own or stick around to lead you on wildflower hikes, cook you steak dinners and take care of the horses and other logistics. Trips can even be arranged so that some family members horseback ride into camp to be met by others who arrive by car, so those of all abilities and fitness levels get in on the action.
Look for other camping ideas >>
Take a Wild Ride
Unlock the wilderness achievement on your Colorado adventure with the help of an ATV or side-by-side. Starting from Silverton, head into remote areas inaccessible by cars for three days and nights of staggering mountain views and taken-away breaths with San Juan Backcountry. By the time they're done with you, waterfalls, wildflowers, wildlife, ghost towns and Ute trails will be something you expect to see every day. Your guides will ease you into the journey before you tackle some of the San Juan Mountains' famed roller coaster routes, breaking for excellent meals and exploration by foot along the way. With options for camping each night or jetting to town for a hotel sleep and shower, you can choose how rugged your trip gets.
Going Your Own Speed
All these outfitters offer more mild offerings, too, making Colorado's outdoors accessible for those looking for less intense forays. The Colorado Trails Explorer app can help sort trails by activity, length, difficulty, wheelchair accessibility and other aspects.
Find Your Crew
Head out into the wilderness with one of the many groups working to make Colorado's outdoors more diverse and welcoming to everyone — Latino Outdoors, Blackpackers, Colorado Mountain Club, Outdoor Afro, Native Women's Wilderness, Walk2Connect, The Venture Out Project, HECHO, (Hispanics Enjoying Camping, Hunting, and the Outdoors), and Big City Mountaineers are just a handful of the fun crews curating adventures.
Want More?
Find other adventure tours and ideas for the whole family.
Photo credits: Paragon Guides, Taylor Ahren/Crested Butte Mountain Resort, Mild to Wild Rafting & Jeep Tours.