Colorado Scenic Byway: Tracks Across Borders
Tracks Across Borders, one of Colorado's 26 scenic and historic byways, offers access to dramatic mountain scenery and layers of history, from the storied pasts of our earliest Native American inhabitants to the golden age of railroad travel and rise of Wild West towns bustling with gold-seekers.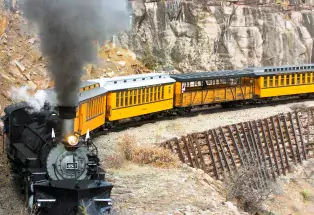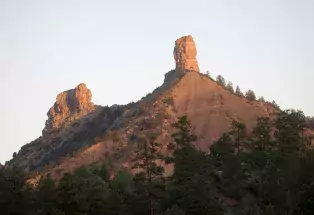 The southwest Colorado route travels along historic narrow-gauge portion of the Denver & Rio Grande Railroad from Durango to Chama, New Mexico, and connects two of the state's existing narrow-gauge routes: the Durango & Silverton Narrow Gauge Railroad and the Cumbres & Toltec Scenic Railroad.
Begin your journey in Durango, a city established along with the Durango & Silverton Narrow Gauge Railroad in the 1880s by the Denver & Rio Grande Railroad. The mountain-traversing line transported passengers and gold and silver ore from mines in the surrounding San Juan Mountains.
Stroll the shops, restaurants and hotels housed in Durango's preserved late-19th-century buildings and board the railroad for a super-scenic, 45-mile detour to Silverton.
Back in Durango, drive east on U.S. 160; get your camera ready for breathtaking views of the snow-flecked La Plata Mountain Range. Then, head toward Ignacio on CO Hwy. 172.
If you have time, Ignacio's Sky Ute Casino Resort is also a worthy stop. Operated by the Southern Ute Indian Tribe, the casino has a variety of slots and table games, four restaurants, including a delicious steakhouse, and luxurious accommodations.
From Ignacio, take Hwy. 151 to Arboles. Chimney Rock National Monument, located less than 25 miles from Arboles off Hwy. 151, is a must-see. The monument, known for its twin rock structures, was once home to the ancestors of the modern Pueblo Indians and boasts more than 200 ancient homes and ceremonial structures. Explore the visitor cabin and take a guided walking tour of the area (offered mid-May through September).
Arboles will be the final Centennial State stop before you drive south on Archuleta County Roads 500 and 551 east and south into New Mexico. Resplendent Navajo Lake, the chief attraction in Navajo State Park, is nestled on the border between Colorado and New Mexico. The 15,000-acre reservoir's sapphire waters hug flat-topped buttes and canyons, and the picturesque expanse is a prime fishing, boating, camping and wildlife-watching destination.
In New Mexico, the motorway becomes Rio Arriba County Road, which leads travelers east to Dulce, home to jagged mesas and the Jicarilla Apache Nation. From here, hop on U.S. 64 east to Chama.
While the Tracks Across Borders scenic byway ends in Chama, your journey doesn't have to. Climb aboard the Antonito, Colorado-bound Cumbres & Toltec Scenic Railroad for a 64-mile journey across 10,000-foot Cumbres Pass. The excursion, which abounds with photo-worthy panoramas, includes a stop in Osier for lunch and a bus back to your car in Chama.
Distance: 125 miles (89 miles in Colorado)
Suggested time: Allow 4 to 5 hours
Want more?
Colorado is home to 26 Scenic and Historic Byways, 13 of which are also federally designated America's Byways. Read about all 26 in our Quick Guide to Colorado's Scenic & Historic Byways; check out our new Colorado byways microsite with videos, trip tips and more; or view our virtual Colorado Byways Guide.