Favorite Colorado Festivals: Xfinity Birds of Prey World Cup
The world's best skiers converge in the United States each winter for Birds of Prey, the FIS Ski World Cup tour — an alpine event consisting of Mach 2 speeds, on-a-dime turns and simply put: everything there is to love about skiing.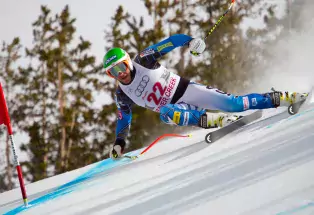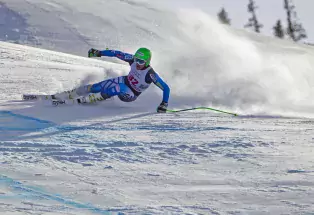 Beaver Creek Resort, the one-and-only tour stop in the United States, makes its international statement with one of the more challenging, and beautiful, courses in ski racing. This year's Xfinity Birds of Prey World Cup will take place Dec. 1–3, 2023. 
Beaver Creek hosts three men's division races: two downhills and a Super-G. For those ski race newbies out there, the Super-G has quicker, technical turns that put athleticism to the ultimate test, while the downhills are all about speed. It's a toss-up whether or not the course, or the skier, is the true predator here; downhill daredevils like Bode Miller and Ted Ligety can reach up to 80mph on the vertical course, soaring over aptly named jumps like the Golden Eagle, Harrier and Red Tail. If you've ever skied Beaver Creek's Birds of Prey Way without the red and blue gates, you know there's no joking around on this challenging high-alpine terrain.
Sure, every four years you've watched (with envy) the high-spirited spectators at the Winter Olympics, but here's your best opportunity experience the same ski-frenzy atmosphere on Colorado's home turf. The best part of the Birds of Prey World Cup: It's free! The second best part: The race itself is just a small portion of the festivities. At the Bird's Nest near the finish stadium, spectators enjoy a beer garden, food, live music and camaraderie with fellow fans of ski racing and Beaver Creek's world-class slopes.
Find event details on the official Birds of Prey World Cup site
How to Get There:
Shuttle, ski, snowboard or snowshoe your way to the Red Tail Finish Stadium (the designated spectator area for the race). Concessions and restrooms are available at this mid-mountain viewing area equipped with a big-screen monitor relaying ski-by-ski action.
Access to the finish stadium via the shuttle is free and picks up every 5–10 minutes from parking lots located at the base of the mountain. Skiing and snowboarding to the event is dependent on weather conditions.
Want More? 
Explore adaptive winter sports in Colorado
Check out these cool winter races
Photos courtesy of Cody Downard/Beaver Creek Resort; Johnathan Selkowitz/Vail Valley Foundation; Johnathan Selkowitz/Vail Valley Foundation